Here are 8 thrilling activities to do in three color lakes, Kelimutu in Flores Island. Will you go there someday?
Kelimutu Lake
Trekking to three-color lakes of Kelimutu gives the breathtaking sight of a mountain you will love to experience in your next traveling.  
Located in a conservation area in Ende, Flores, Kelimutu Lake is well-known for its three-color lakes that can change from blue, green, red to black.
Its wonder and beauty has attracted many people from around the world to visit and appreciate this amazing work of nature.
Kelimutu Lake is situated at the top of Mount Kelimutu with aheight of 1690 m above sea level.
Other mountains near it are Kelibara and Kelido. They reside in the conservation area of Kelimutu National Park.
Climbing up to the crater lakes is a fascinating journey as you will encounter a variety of flora and fauna with some endemic species, as well as getting to know the cultural heritage of Lio tribe, Dutch colonial building, and camping in Kelimutu National Park.
How to Explore Kelimutu Lake
The National Park of Kelimutu encompasses 4.5 hectares of land and is the smallest among the 54 national parks that Indonesia has.
Despite the fact, the great landscape of Kelimutu Lake along with more than 100 flora, and endemic birds, with an exotic view of Flores traditional houses, make your exploration worthwhile.
These are several best activities to enjoy Kelimutu Lake and other exciting attractions around it.  
#1 Climbing Up to Enjoy the Three Color Lakes of Kelimutu
Kelimutu Lake is renowned for its amazing three color lakes that can change from blue, green, black to red.
Each lake has a carter wall of a minimum of 35 m high from the surface of the lakes. And the colors that used to appear are commonly green and red. It will be a great view to enjoy when you find 3 different colors appear as you visit.
Experts from Wesleyan University, Connecticut, found that the chemicals materials inside the water make the colors changing.
Another unique facts is that each lake has an interesting mythical story according to the local's beliefs. The lakes are believed to be a place for deceased souls.
The lake in the west part namely Tiwu Ata Mbupu is believed to be a place for the Old Man's soul.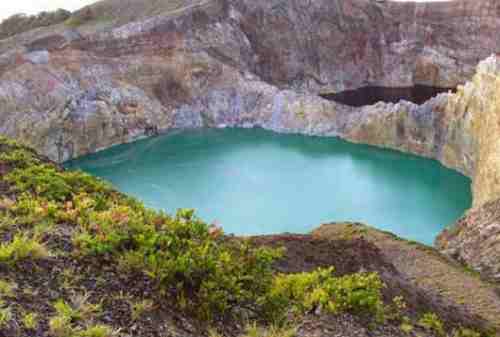 [Read Also: 6 Best Tourist Destinations of Sumbawa to Visit In 2021]
Lake Tiwu Nuwa Muri Koo Fai means a place for the young soul and Lake Tiwu Ata Polo for souls of the evil people.
Regardless of the belief, the spot around the lakes is perfect for sunrise gazing.
The bright sunrise that comes out sheds its light around the lakes, revealing a remarkable sight of the mountain that makes you want to record it in a picture. To catch the sight, begin your trekking at 3.30 am.
To climb up you will need to start from Moni Village. There will be stairways up to the lakes that make the climbing easier.
It is better if you can stay overnight in the village before climbing the next day.
Address: Kelimutu National Park, Ende, Flores
Website: Kelimutu.id
Ticket: Rp 20.000 for local tourist and Rp 150.000 for non-local tourist
Though Kelimutu Lake is the main appeal in the area, take a chance to explore other tourist attractions with exciting activities to do around the park.
#2 Muru Esi Waterfall
If you love trekking Kelimutu National Park offers scenic waterfall spots with exciting trails.
One of them is Muru Esi Waterfall that is located in Niowula trekking, Niowula Village. The trekking will get you a lot of sweat for it takes around 2.5 hours to the waterfall.
However, the view along the journey is worthwhile. Once you arrive, you can relax and enjoy the beautiful sight of Muru Esi around the lush green forest that is so calming.
Soak in its fresh pool or let your body feels the cascading cool water from the cliffs.   
#3 Eating A Fresh Apple at Edelweiss Garden
4 km from Kelimutu Lake, there is a picturesque Edelweiss Garden where the local plants strawberry.
The site is suitable for a family vacation. After enjoying the lake you can head right to this spot and pick some organic strawberry directly from the garden.
Also, you can pick a fresh apple from a plantation the owner just cultivated recently.
You can either bring it home or eat directly while chilling in the fresh air and enjoying the mountain nuance around the garden.
#4 Travel Back In Time to Pesanggrahan, A Legacy of Dutch Colonial Building
Pesanggrahan is a building from the Dutch colonial period. It was a place used to rest and as a stopover by Dutch officers when visiting Kelimutu Lake or transiting to and from Ende.
Its architectural building is a combination of Dutch and Lio architectures. The foundation and walls are made of cement in Dutch style and combined with wood and reeds for the rooftop in Lio style.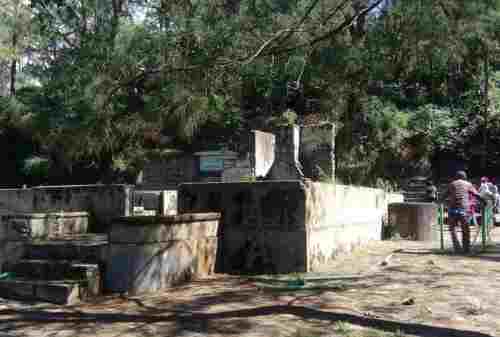 [Read Also: 5 Thrilling Things To Do In Wae Rebo Village]
There are two floors of the house, where the bedroom, fireplace, kitchen, toilet, and bathroom are on the first floor. While the second floor can be used as a bedroom, food storage, or place to keep important items.
These two floors are connected by a wooden stair that is placed near the fireplace. After Indonesia's independence, the building was used as a post to observe the volcano.
But now, there are only the remaining of the building because of the age and little maintenance.  
#5 Lio Tribe
Lio is one of the tribes in Flores. Some of them live in Ende and Sikka. People of Lio believe that they are from the eight tribal ancestors and one mother tribal ancestor.
With the other relatives, they formed a tribal basis group with a strong tribal tradition that is passed on from generation to generation. The people call themselves 'Ata Lio' meaning Lio Man.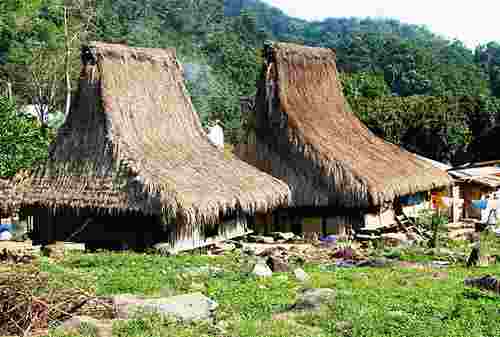 [Read Also: 6 Fascinating New Gems in Sumba Island Worthy of Exploration]
Every August 14, The Lio tribe holds a tribal rite called Pati'Ka in Kelimutu Lake. Lio people believed that the colors of the lakes are the result of Ata Polo (evil witch) who wanted to eat two orphans but were protected by Ata Bupu (the good witch).
The story ends with all of them were swallowed into the earth. The place where Ata Polo got buried was a red lake, while from Ata Bupu comes a blue lake, and the orphans a green lake.
#6 Listening to the Song of Endemic Bird, Garugiwa
In Kelimutu National Park you have a chance to listen to Garugiwa, an endemic bird from Nusa Tenggara. Birding where an endemic bird sing is a unique experience.
Garugiwa is a special bird. It can imitate the voices around its habitat. It also has a beautifully unique chirping from 12 different tones. People also call Garugiwa as a spirit bird.
To reveal their cheerful voices visit the park from 6 am to 10 am. The bird is used as an icon of Kelimutu National Park.
#7 Visit Perekonde, A Spirit Gate to Kelimutu
Lio tribe believes that Perekonde is a gate for the spirit to enter Kelimutu. They believe that Konde is a judge and Konde Ratu or Konde Queen as the ruler of Kelimutu.
In Perekonde, the spirits are judged according to their action in life and their age. That is why when a Lio dies, the body will not be buried directly but is kept for several days.
Based on the stories of the elders, there was a man who passed away for two days but was alive again. They believe it was because Konde Ratu did not allow him to live in Kelimutu, yet.
A tribal leader, Mosalaki, used to give Pa'a Loka or a sacrificial food to Konde Ratu as the ruler of Kelimutu.     
#8 Go Camping in Boelanboong Eco Camp
Go camping in Boelanboong Eco Camp is an uplifting outdoor activity to do besides climbing. The site is situated at the foot of Mount Kelimutu, in Resettlement Village, Central Wologai.
The place has a jaw-dropping view of the pond, Embung Sokolo'o. It is surrounded by a large meadow with an appealing scenery of hills and mountains, and fine cool air.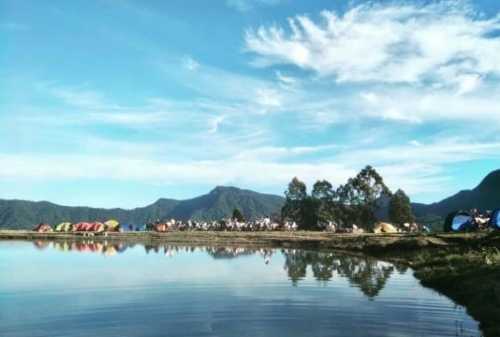 [Read Also: Recommended! 9 Places You Must Visit in Kuta Bali]
This pond is used by the locals to water the rice fields. And they also used to feed the cattle in the meadow.
When the full moon appears, the moonlight brings a graceful reflection on the surface of the pond, creating a lovely nuance in the night that everyone will love to witness.   
Besides camping, you can also take pictures, birding, or chill in a café around the campsite.
How to Get to Kelimutu Lake
Kelimutu Lake is located in Pemo Village, Kelimutu District, Ende, Flores. Book a flight to get to Ende Airport, Aroeboesman. As you arrive rent a motorbike or use travel service to Moni Village with 50km distance. Moni Village is right at the foot of Mount Kelimutu.
It is better if you stay overnight in Moni Village before start climbing. The locals offer room to stay for Rp 150.000 per night. It takes 15km or around 30 minutes walk from Moni to the entrance of Kelimutu National Park.
#Route 1 By Air
To get to Ende, the fastest and relatively cheap route is by plane. Take a flight to Labuan Bajo where Komodo Airport is operated. Labuan Bajo airport is connected to several cities in Indonesia including Ende, Alor, Denpasar, Kupang and Mataram, and other cities in East Nusa Tenggara: Maumere, Larantuka, Bajawa, Ruteng, Tambolaka, and Sikka. 
#Route 2 By Land
If you prefer an overland trip you can take a bus from Denpasar, Bali. You will spend a lot of time on the road, so unless you really want to do the overland trip, it is wise to choose a plane or sea transport. Before taking a ferry to Labuan Bajo, you will have several transits in Mataram in Lombok, then Bima in Sumbawa, and Sape.
#Route 3 By Sea
To take the sea route be sure that the time and weather of visiting is good unless your trip will get cancelation. You can use PELNI ship, Tilongkabila that cruise from Makassar to Labuan Bajo.
Wilis ship also departs from Makassar to Larantuka before arriving at Labuan Bajo. From Tanjung Perak, Surabaya, you can use Leuser ship from PELNI. Leuser also cruises from Benoa Harbor, Bali.
To get a specific update and detailed information on the shipping schedule of PELNI, you can browse here pelni.co.id.
Download Sekarang! Ebook PERENCANAAN KEUANGAN Untuk USIA 20-an, GRATIS!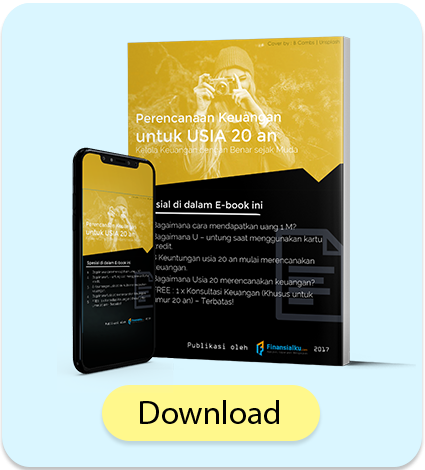 Where to Stay Near Kelimutu Lake
Here are some options of delightful places to stay near Kelimutu Lake.
#1 Santiago Bed and Breakfast
The closest stay from Mount Kelimutu that is only 1.4 miles away is Santiago Bed and Breakfast. It is located in Kelimutu, Woloara Village.
The property features a garden view, private parking, and a terrace with 24-hour front desk service. The place is also near Muduhaekale Waterfall, one of the top attractions in Kelimutu, and restaurants.
Price: Santiago Bed and Breakfast
Address: Jalan Moni – Kelimutu, Woloara, Flores.
#2 Kelimutu Crater Lakes Eco Lodge
Settled only 2.9 miles from Mount Kelimutu, Kelimutu Crater Lakes Eco Lodge provides you a fresh sight of rice fields before your terrace.
The lodge committed to the eco-friendly concept that hires local employees, growing food, using renewables, and sewage recycling, as well as providing a training program for stakeholders, and protect the local environment.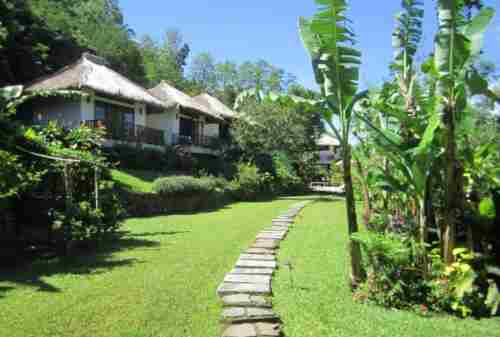 [Read Also: Makassar, A Great City Port in Eastern Indonesia to Spend Your Vacation]
The room features a private balcony overlooking rice fields, a bed with a mosquito net, and toiletries. You also can have a free breakfast in its restaurant.
The lodge also offers Art Tour for artists, and Trans Flores Safari to visit Komodo Dragons. If you look for a countryside view of Flores where you can be in a solitude place, this lodge is fit for you.
Website: Kelimutu Crater Lakes Ecolodge Flores
Price: Kelimutu Crater Lakes Eco Lodge
Address: Main Rd, Flores
#3 Bintang Lodge
Located 2.5 miles from Mount Kelimutu, Bintang Lodge is a simple stay nearby the road of Moni Village. The room features bed with a mosquito net, a terrace, and a toilet.
The lodge has a bar, and restaurant that overlooking green field rice and mountain across the road.
It also offers you airport transportation service, free parking, and free breakfast with 24-hour front desk service.
Price: Bintang Lodge
Address: Moni, Flores
Conclusion
Visiting Kelimutu Lake is the right option if you expect to have an adventure trip in Flores Island. Its gorgeous natural sight, and the rich culture of its tribal living, will definitely create an unforgettable moment to share.
Prepare the budget for your trip through Aplikasi Finansialku for an easy, and fast calculation. It is available for iOs, and Android versions.
Download Aplikasi Finansialku Sekarang!!

Tag other climbers you want to take with you along the journey!
Reference:
Admin. Taman Nasional Kelimutu. Kelimutu.id. https://tinyurl.com/yxj6ynqp.
Andy Trisandy. December 26, 2020. Wisata Danau Kelimutu Flores: Rute, Harga Tiket, dan Tipsnya. Idntimes.com. https://tinyurl.com/y4rc5h3x.
Admin. Danau Kelimutu Pesona Keindahan Dan Hal Unik Lainnya. Gotravelindonesia.com. https://tinyurl.com/yynqnp9p.
Admin. Pesona Gunung Kelimutu yang Mendunia Dengan Danau 3 Warnanya. Indonesiakaya.com. https://tinyurl.com/y6fuaewp.
Image Source:
Kelimutu Lake 01 – https://bit.ly/38ON4I8
Kelimutu Lake 02 – https://bit.ly/3sonCAK
Kelimutu Lake 03 – https://bit.ly/2XJeqsP
Kelimutu Lake 04 – https://bit.ly/2XR9X77
Kelimutu Lake 05 – https://bit.ly/3nIrTvq
Kelimutu Lake 06 – https://bit.ly/3nOT9IG
Kelimutu Lake 07 – https://bit.ly/3nMsYSL
Kelimutu Lake 08 – https://bit.ly/3oOLD1T
Kelimutu Lake 09 – https://bit.ly/2XKv2jH
Kelimutu Lake 010 -https://bit.ly/2XJfJIf
Kelimutu Lake 011 – https://bit.ly/3oNOqbq
Kelimutu Lake 012 – https://bit.ly/3iq9ToE