Looking for some places to go in one of those popular places in Bali, Indonesia? Check out here where to visit when you are in Kuta Bali!
Kuta Bali
A party night near a beach in Kuta with friends and family can be a great idea to celebrate the coming New Year.  
The vibe of night life resonates from the myriad of cafes and restaurants that dotted along the Legian Street. Several bars located near the white sands of Kuta beach, allowing people to chilling and enjoying drink.  
Once a fishing village now turn into one of the most vibrant tourist area in Bali, Kuta is known for its long sandy beach, best surfing area, and beach resort besides its shopping center.
Travelers, and tourists find Kuta a perfect place not only to enjoy the scenic beach but also to have a good time in Kuta' best tourist draws during their long vacation.
For party goers and those who enjoy night life gathering, Kuta provides one of the best beach resort, and nightclub.
How to Explore Kuta Bali
Kuta offers you various places from various culinary spot, gorgeous beaches, waterpark, to unique art gallery. Here are some of the best attraction you can enjoy while being in Kuta.
#1 Kuta Beach
Learn surfing for the first time need a safe place. In Kuta Beach, you'll be able to surf without worry provide its soft sand bar as a safe spot if you fall. Rent a board, and get a surfing lesson from an instructor are also available in Kuta.
Besides a surfing spot for beginners, you will find the best view of sunset in Kuta. Sitting near the beach with a cold drink, and meals, and enjoy the perfect sunset in Kuta.
The beach is also a great place to be with family and friends provides the luxury resorts, restaurant, and club that settled along the beach.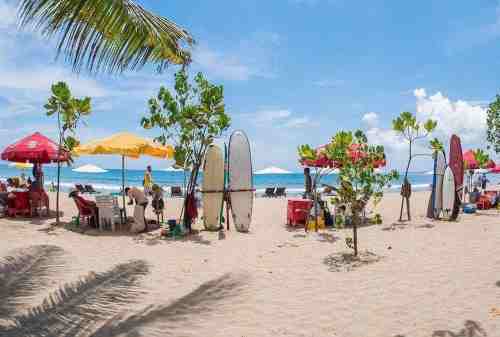 Address: Jl. Pantai Kuta, Kuta
Ticket: free
Open: 24 hours
#2 Beachwalk Mall
With a stunning architectural design, anyone who visit Beachwalk take delight in its calming waters, the greenery sites, and the blowing ocean breeze from Kuta Beach.
You will be glad to have a cultural experience found in the area as you pass by the shops, and tenants.  
Settled near Kuta Beach, the mall offers variety of international brands, domestic, shows, with complete facilities, and tenants with Bali lifestyle experience.
Many areas and stores are for kids and family to enjoy together. Being here feels like shopping in a resort.
Purchase your gift for your loved ones from one of its souvenirs and handicraft stores. And get to the upper floor to see the display of Indonesian textiles.
If you love to party around, there is also a rooftop bar with a DJ to accompany your dinner with cool music.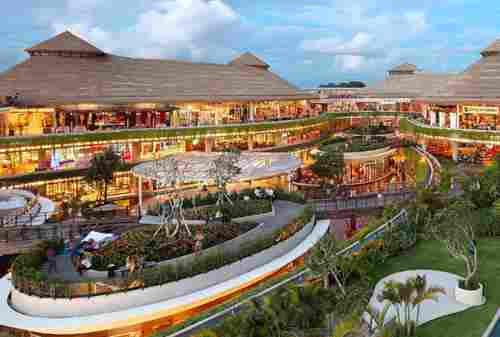 Address: Jl. Pantai Kuta, Kuta
Website: Beachwalk Mall
Open: Monday to Thursday from 11am to 8pm, & Friday to Sunday from 12pm to 9pm
#3 Waterbom Bali
This huge waterpark in Bali will make a fascinating moment with your children. Your kids will love its numerous fun rides.
Experience these exciting rides such as the Boomerang, most popular slides consist of rainbow tube, and a giant quarter pipe at the end of the slide.  Or you can try a more moderate level such as the Superbowl, a rainbow translucent tube that has a giant cauldron. The Climax does make its riders scream. It is known as the Asia's steepest drop slides that has inverted loop at its end.
Enjoy the Indonesian and Western meals at its food court, and restaurant before continue sliding.
The site also provides rides that can be enjoyed with all family such as Lazy River, and Funtastic. It is also committed to an eco-friendly concept that makes the environment refreshing, and comfortable.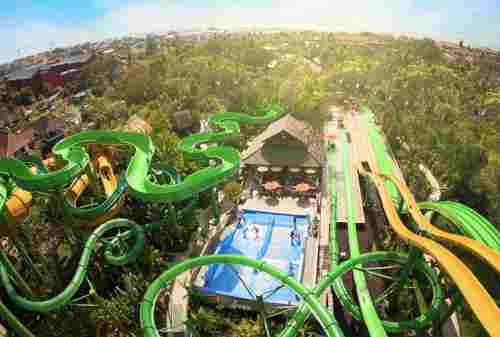 Address: Jl. Kartika Plaza Tuban
Website: Waterbom Bali
Ticket: IDR 350.000 (for more price discount info visit the site)
Open: 10am to 5pm
#4 Double Six Beach
Crowded but a relaxed beach, Double Six Beach makes a perfect sunset beach dining experience to anyone.
Come here to chilling and unwind during the day especially after wandering around the town. Have your body massage near the beachfront from a Balinese masseuse for an affordable spa treatment.
The beach is open for public, and you can stroll around on its long sands to enjoy the sunrise where only few are around.
Beachfront restaurants also provides you all-day dining. It gets more crowded in the afternoon as they spreading colorful parasols, beach bags, and even mini tables on the beachfront.
The site is also an LGBT-friendly beach in Bali, and a popular spot to gather for gay couples. Moreover it is a perfect place for beginners to learn surfing or joining surfing school nearby.
If you want to enjoy the ocean view with a luxury dining option, go to a rooftop lounge at Double Six Luxury hotel nearby.

Address: Jl. Double Six, Legian, Kuta
Ticket: free
Open: 24 hours
#5 Dream Museum Zone Bali
Get the best trick photos from these collection of Illusionistic 3D art works inside the Dream Museum Zone. These huge three dimensional paintings are hung in the wall such as the amazing realistic picture of great white shark, sprawling temple gardens, and wildlife set pieces.
Take your kids to make memorable moment with these display of surreal artworks.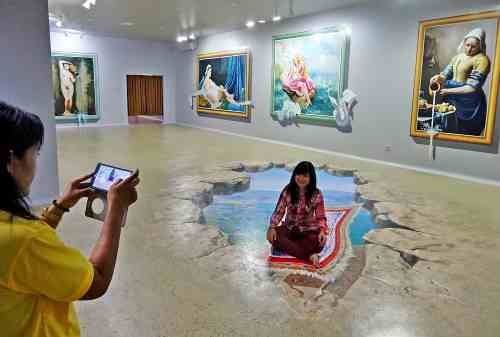 Address: Jl. Nakula No.33X, Legian, Kuta
Website: Dream Museum Zone Bali
Ticket: IDR 478.000
Open: Monday to Friday, and Holiday from 8am to 5pm
#6 Bali Bombing Memorial  
A memorial building made of a delicately carved stone is dedicated to the victims of Bali bombing in 2002. The site is located right where the event took place at Paddy's Pub on Legian Street (a new bar Paddy's: Reloaded is open in the Legian Street).
On the site, there is also a large marble plaque where the names and nationalities of the victims were written. The victims were mostly from Australian besides Indonesian who were working on the area.  
You will see the site is decorated with two light stands on its side. People usually come at night to put flowers and praying near the monument.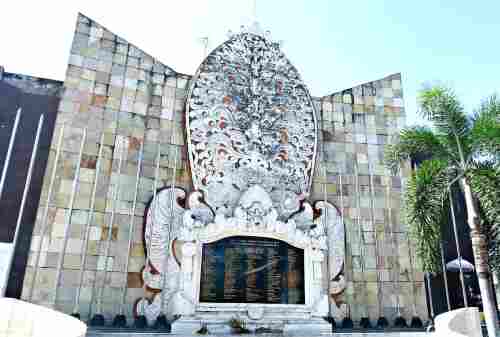 Address: Jl. Raya Kuta
Open: 24 hours
#7 Pandora Experience Bali
Taking your adventure experience to the next level. An escape room game with thrilling yet fun activities for the whole family. Pandora Experience Bali takes you to solve mysteries, discover secret passages, and hidden chambers. Feel like being in Sherlock Holmes's movie doesn't it?
If you expect something similar to Holmes's story, in here you get the episodes of the myths and legends such as Jack the Ripper, Bermuda Triangle, and other world-known mysterious stories.
The game master will brief you a specific mission for your team. And you will find clues, solve puzzles, and escape in time to finish the mission.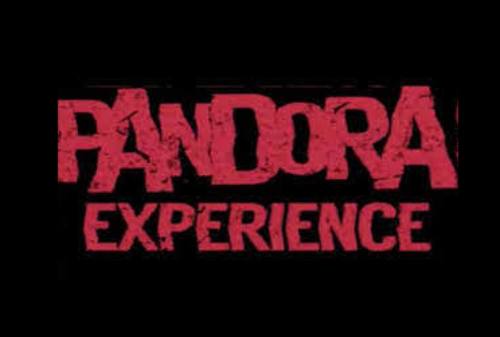 Address: Jl. Dewi Sri 45D, Kuta Bali (across Anomali Café)
Contact: 087862251822
Website: Pandora Experience Bali
Price range: From IDR 230.000 to IDR 290.000
Open: 10.30am to 8pm  
#8 Wanaku Bali
A Chinese restaurant designed in semi indoor concept, Wanaku Bali is a place where you get the taste of juicy Chinese and Indonesian food in the Bali culture atmosphere.
Recommended course in the restaurant are Pan-Fried Cheong Fun With XO Sauce, Fried Shrimp Rolled With Beancurd Skin, and Durian Mochi In 'Wanaku' Style.  
While enjoying your meals appreciate the beautiful garden around your table, and the traditional music performance from the local artist.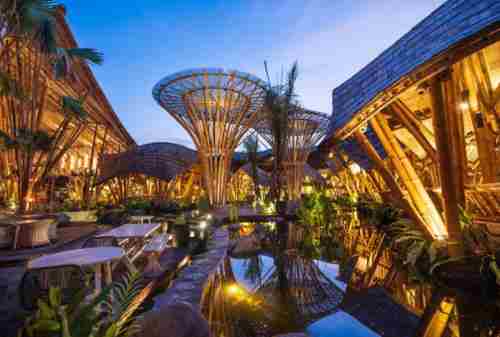 Address: Jl. Kediri No.45A, Tuban, Kuta, Bali 80361
Contact: (0361) 475 5100
Website: Wanaku Bali
Price range: From IDR 45.000 to IDR 200.000
Open: Monday to Saturday from 11.00am to 12am & Sunday from 9am to 12am 
Bonus: Palmilla Bali Beach Club
What's more exciting than spending a New Year eve at a beach club for party goers? Expect features that brings the excitement of your party night.
A reminiscent of Tulum in Mexico, Palmilla is a new beach club that has swinging bar chairs, pool, and beachfront hammock where you see the towering cliff view. The features allow you experience both the leisure and party night in the bohemian vibe around Melasti Beach adorable view.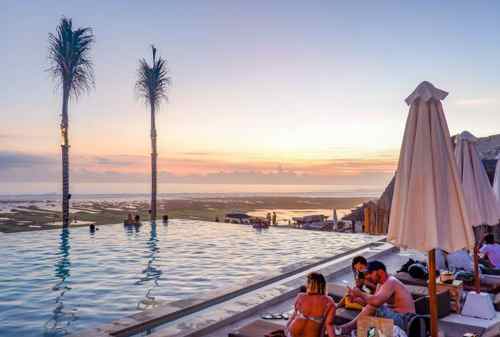 Address: Melasti Beach, Ungasan, South Kuta.
Website: Palmilla Bali Beach Club
Price range: Mains from IDR 80.000
Open: Monday to Sunday from 10am to 9pm
How to Get to Kuta
Kuta is located in South Bali, and only 15 minutes away from Ngurah Rai International Airport, Denpasar. You can get there by taxi from the official airport, rent a car or arrange with your hotel if the service available.
Here are routes to get you to Denpasar Bali.
Route 1 by flight
Flights of major international cities regularly fly in and out of Denpasar, capital city of Bali. The airport, Ngurah Rai, is only 13 kilometers from Denpasar. If you are in one of major cities in Indonesia, you can easily find a regular domestic flight to Denpasar.
The best option for transport is a taxi since the bus does not always come to the airport. 
Route 2 by road
It takes 23 hours longer if you want to make your way through the road from Jakarta, the capital of Indonesia using the bus. This option is best for those who love some adventures by travelling through several places in Indonesia.
Route 3 by ship
If you love travelling by the sea, take a flight to Singapore, Sumatra or Java and book your ship ticket to Bali. Bali port is regularly visited by most cruise liners traversing through South East Asia.
Where to Stay in Kuta
Here are some affordable places to stay in Kuta with comfortable and cozy offer. If you travel on budget they are a right option for you especially if you come with family or friends.
#1 Cara Cara Inn
The name Cara Cara represents the idea of a traveler who always goes on a trip. With trendy, and modern style, this boutique hotel is strategically located near the iconic Legian Street, and only 3 minutes away from Kuta Beach.
Those who travels on budget will find this hotel affordable. Its Triple Superior Room package consist of 1 queen bed, and 1 loft, enough to have all families rest in the room. Its pool has many beanbags, and floaties where you can take selfies photos with your children.
The hotel is close to variety of restaurants, and shopping centers. It provides a free bus that takes you from, and to Double Six Beach, Krisna Souvenir Center, and Seminyak area.
Address: Jl. Kahyangan Suci, Lingkungan Pande Mas, Kuta
Contact: (0361) 475 4888
#2 Aquarius Star Hotel Kuta
A hotel with pool view, Aquarius Star Hotel is a quiet place to chill, and relax from the busy and noisy town of Kuta. From your balcony, enjoy the greenery planting around the building.
Its beautiful pool that separates the adult and children is also available for your kids to enjoy safely. You also can watch over them from the sofa near the pool.
Address: Jl. Raya Legian No.116, Kuta, Kabupaten Badung, Bali 80361
Contact: (0361) 756 573
#3 B Hotel Bali & Spa
A minimalis modern style design, B Hotel Bali & Spa combines the modern elements with ethnic touch. It provides comfortable room, spa, and pool, and playground for kids.
The hotel provides a fitness center, airport transportation, and business center. Some popular sites to explore are Margot Spa Bali, Bali Provincial State Museum, and Gubug Mang Enking.
Address: Jl. Raya Imam Bonjol No. 508, Kuta
Contact: (0361) 846 5757
Conclusion
All the pleasures and delight from the culinary treat around the city, party night scene to the gorgeous beach dining with family, and friends. Kuta make this memorable experience possible for every visitors who wish to create meaningful moment during their vacation.
Through Aplikasi Finansialku preparing your trip budget is made easier, and fast. It is available for iOs, and Android.
So, who are other people you want to take with to a Kuta trip? 
Reference:
Admin. 25 Best Things to Do in Kuta (Bali). Thecrazytourist.com – http://bit.ly/2Jj0eD4.
Pictures:
Bali – https://bit.ly/2KzGgog
Kuta beach – https://bit.ly/3rmvu5g
Beachwalk – https://bit.ly/2M9utxt
Waterbom – https://bit.ly/2KAjmgy
Double Six beach – https://bit.ly/3nQBsZZ
DMZ – https://bit.ly/38CDMgH
Palmilla Beach Club – https://bit.ly/2KYXCKU
Bali Bombing Memorial – https://bit.ly/3aJnaGW
Pandora Experience – https://bit.ly/34LCvD3
Wanaku – https://bit.ly/2LZMqhK