15 Best Things to Do to Discover Bintan Island's Hidden Beauty
Ever heard one of small yet beautiful island of Indonesia, Bintan? If you haven't, you might miss out one of the biggest treasure ever. Bintan island is located just few ride away from Singapore and is very close to Batam Island.
Bintan Island is the largest island among all small island in the Riau Islands Province. This island becomes the getaway of high-end hotels and resorts, beautiful coastal view and you will discover other charms in this hidden beauty.
You can discover its hidden beauty because Bintan Island still hides many historical heritage sites. Because the population is the perfect blend of Malay, Java and Dutch culture especially the architecture styles.
To discover more about Bintan Island's charms, read this article till the end to really know the cultural diversity which is very breath-taking:
The Sack Race by the Sea with The Children of Panglong Village
The kids in Panglong village love sack race so much. Take this chance to bring out your inner kid by competing yourself against them.
 It will be as much as you see how bright the joy in the kids face, but it may not easy as it seems!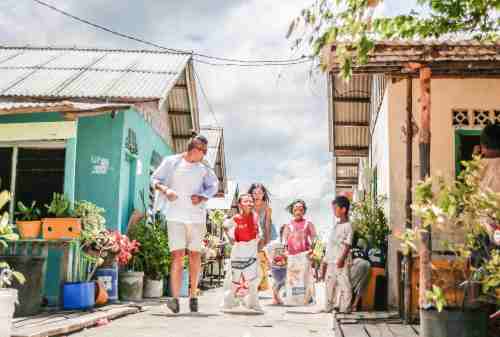 Air Adventures Bintan, Unusual Way to See the Beauty of Bintan Island from Above
Enjoying view from above must be fun, but it couldn't be more fun as you ride the Air Adventures Bintan to see the beautiful view of Bintan from 100.000 ft in an open air.
Don't worry, you will be guided by professional team to keep your belt safe!
This experience is both thrilling yet exciting. With the open cockpit style, this challenge will be the wonderful experience you will not soon be forgetting. Before flying from 100.000 ft, you will be given a detail safety briefing and will have the highest safety standards.
What's more interesting is all passengers will be given achievement certificate after the flights. To experience this flight, you will need Rp1.200.000 per flight for 20 minute.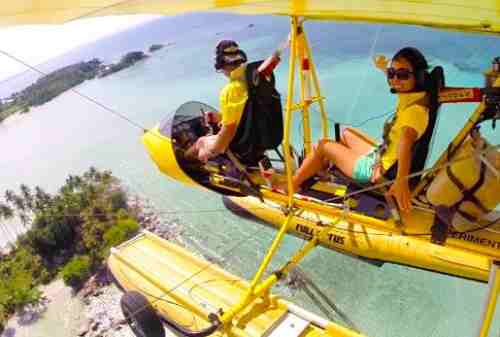 This business is founded by Stuart Perkins, an English who has been living for more over 3 years in Bintan Island with his significant other. His career background is in commercial flights and have been more than 22 years owning flying experience.
However, he wants to create something more than regular flights. Thus, he created this Air Adventures Bintan. Knowing his background and experience, you will be in professional hand to fly above Bintan Island.
Have you ever Heard the Dancing Fish? Try It While in Bintan
Some people might think fishing is extremely boring activity but it may be a favorite activity for others.
However, in Bintan, fishing will be joyful activity even if you dislike it. Because, instead of just sitting and waiting for the fish to catch your hook all day long, Bintan people make it more interesting by introducing the famous dancing fish.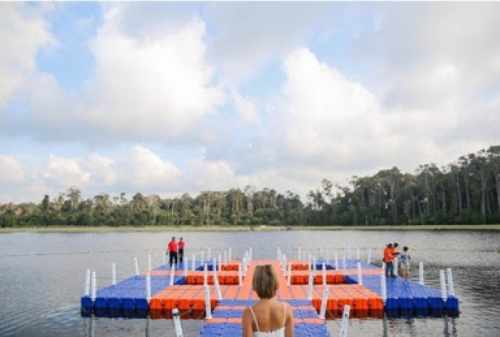 The teal will be helpful on site to execute it and check once your fish has taken by your hook. If you are interesting to try fishing the dancing fish, try to do it in the evenings, you will be easier to catch Bawal, Patin, Nila, Mujair or even Gurame fish.
But don't worry if you never tried fishing before, because the fish will swim around confined area so the chance to catch the fish will be higher.
This is great activity for the family vacation and relaxing to enjoy evening. To try this activity, you can spend Rp100.000 per hour.
Dare Yourself to Ride the Jetovator
Currently, people are so into Fly Boarding which makes people lift up and fly above the water. One of the famous fly boarding in Bintan is called jetovator. The jetover is the easier alternative if you want to fly on the water.
However, most people find it difficult to balance themselves on a single board. But with the jetover, the riders will just have to ride on the device which help them balance and lift them up above the water. It works more like a jet pack in the motorcycle – like contraption.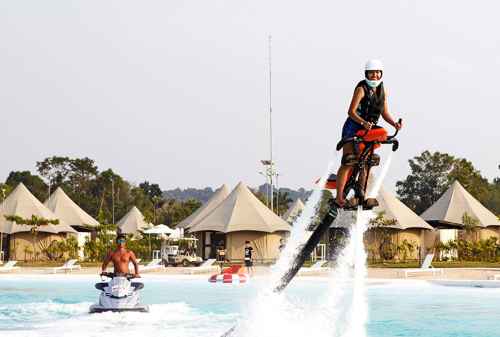 It looks tempting to try, but you just need to keep your core and legs strong to support your body while the device lift you up.
Any visitors can try this service at Treasure Bay Resort in Bintan. If you want to try, you will need to purchase Rp1.890.000 for 30 minutes ride and Rp3.150.000 for 1 hour ride.
The Nirwana's Happy Valley, as Happy as Sliding Off Three high Platform
As how it is described, the Nirwana's Happy Valley has three platform to climb to before sliding up through the air.
Although it seems so daunting by climbing up high platform, but it is all worth it as you sliding for the flying fox game. It is very safe, fun and rapid. This game can be tried at any time.
To try this extremely fun and thrilling activity, get the information at Nirwana Gardens. You will need to purchase Rp115.000 per slide for in-house guests and Rp145.000 per slide for external guest.
The Nirwana Garden is located in Panglima Pantar Street, Lagoi 29155, Bintan Resorts.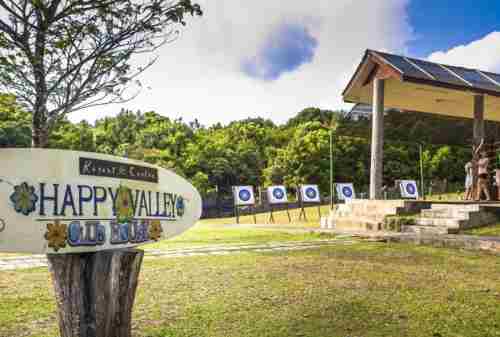 The Plaza Lagoi Weekend Bazaar, the Food Paradise You Won't Miss
Holiday is incomplete without trying some local foods, Bintan food is no exception.
However, the local food is usually sold for higher price by the local for only tourists. But if you want to get the local food at local price, you can get it at Plaza Lagoi Weekend Bazaar.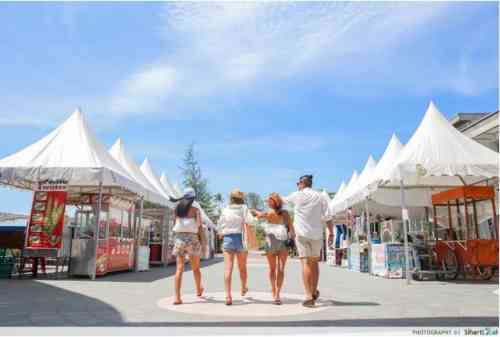 The Plaza Lagoi is Bintan's first retail mall which has been opened in the mid of 2015. There are two floors with around 60 shop units on almost 1000 sq meters.
The food bazaar will always open on weekend and you will get some local food stalls set up.
Various local food such as Ramly burgers, fried chicken, or Pop Ice, Indonesian's famous ice – blended with various flavors and toppings. Those worth around Rp10.000 – Rp15.000!
Taste the Most Authentic Wood Fired Pizza in Bintan
It is true that Bintan is located in Indonesia, however, you will still get the authentic wood fired pizza! Located near Trikora beach, until you will meet Pizzaria Casa, the small hut that sells Pizza in the middle of nowhere.
The owner is Armandoly who visited Indonesia with his wife for a honeymoon. But since they fell in love with Bintan beauty, both of them decided to spend their life in Bintan, Indonesia.
They live gracefully by making pizza, close to the incredible view of white sands and the beach, 8 healthy dogs and happy children and wife. Armando has lived for quite long time in the Island. He loves Bintan so much that he speaks Indonesia better than English.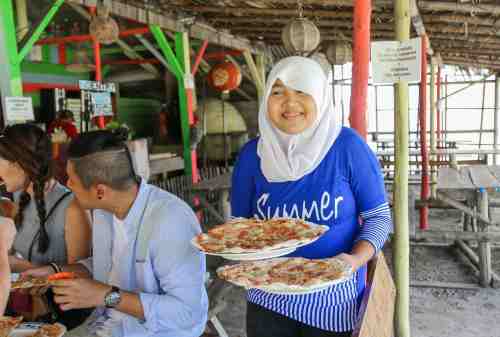 The pizza is burned in the wood fire and this makes it special. However, if this is the first time you visit Pizzaria, the parking cost may shock you. The visitors will be charge Rp10.000 for motorcycle and Rp20.000 for car but it is all worth it.
The pizza is very crunchy and not bready with various toppings, what a perfect combination to enjoy pizza with the beautiful view of white sand beach.
Harvesting and Testing Super Fresh Food
In Bintan, you can try everything, including testing the super fresh food or beyond that you pick directly from the ground.
The site is located in Bintan Resorts' Eco Farm which spread on the approximately 17 hectares. You can choose any fruits or vegetables of your choice or even rosella, an exotic bright pink flower that is usually for tea.
This is the perfect site to learn more about how the plantations are growing before they are served to our table.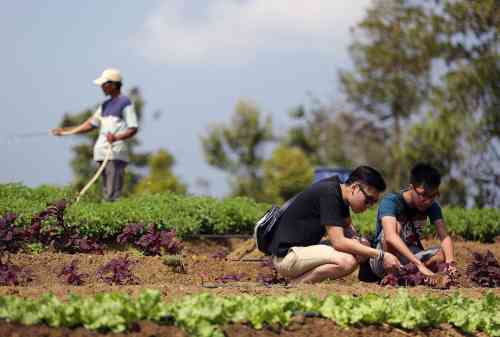 The visitors are also be treated with Indonesian special salad called Rojak, the mixed vegetable salad with salty and spicy sauce. The sauce itself is made from the raw sugar, shrimp paste and turmeric.
It is very refreshing and healthy to taste especially under the bright sun and temperature of Bintan.
Have you ever seen the cotton flower? You can find anything in Eco Farm, including this wild plant. This cotton balls can be picked directly and make you learn how cotton actually look like.
Bintan is way more than small Island with beautiful white beach. It is a hidden paradise of Indonesia which you can explore and worth to visit. If you are from Singapore, you can reach Bintan by using Ferry at any time for only 50-55 minutes.
Have you ever been in Bintan Island? Please, share your comments and your experiences, thank you.
References:
Admin. Bintan Island, Indonesia. Indonesia.travel – https://bit.ly/2KEC8Rv
Beatrice Lee. 17 May 2016. 25 Things To Do In Bintan Rather Than Lepaking At Resorts. Thesmartlocal.com – https://bit.ly/2IyadQF
Images Credit:
Bintan Island 01 Panglong Village – https://bit.ly/2WyOdyI
Bintan Island 02 Air Adventures – https://bit.ly/2IwGzuZ
Bintan Island 03 Dancing Fish – https://bit.ly/2X067dm
Bintan Island 04 Jetovator – https://bit.ly/2KLjAzf
Bintan Island 05 The Nirwana's Happy Valley – https://bit.ly/2R4LKpG
Bintan Island 06 The Plaza Lagoi Weekend Bazaar – https://bit.ly/2Wtm6fJ
Bintan Island 07 Wood Fired Pizza – https://bit.ly/2IAyYLM
Bintan Island 08 Bintan Resorts' Eco Farm – https://bit.ly/2KHfxno