If you're looking for some adventure of nature in Indonesia, you can visit Karimunjawa, a little paradise in northern Java. Here's how to explore there!
Unique Fact
Karimunjawa's striking view of beaches is as a paradise in Java where you could spend your holiday.
Indonesia is rich with archipelago from the west to the east region. Karimunjawa is just one of them that presents the tranquil ambience of natural living near the sea separated from the hectic city life.
The name Karimunjawa is from word 'karimun' a Javanese form of kremun, means 'vague', because the Island can't be seen clearly from Java Island.
If you love to spend a family trip in a white sand beach with many palm trees and a clear blue sea, take some pleasurable activities in the paradise of Java, Karimunjawa.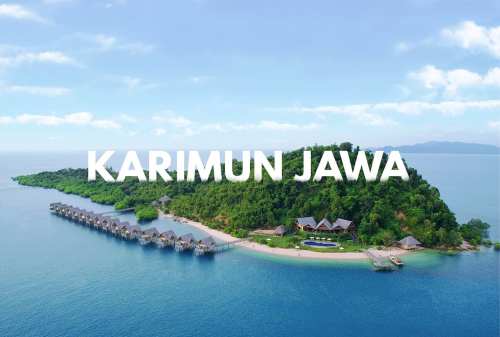 [Read Also: Amazing 8 Attractions To Visit In Wakatobi Island, Divers' Paradise]
Location
Located in the northwest of the northern coast of Jepara Regency in Central Java Province, Karimunjawa is a hype tourist destination in Pantura Java area.
Karimunjawa encompasses 27 islands where only 5 islands are inhabited namely Karimunjawa, Kemujan, Nyamuk, Parang, and Genting.
The residents of the Islands are mostly Javanese with few Bugis and Madurese families. They get their livelihood from fishing, cultivating seaweed, and tourism.
History
Karimunjawa island is the central of economic activities among the islands. Ministry of Forestry established this paradise of Java as Marine National Park in 1999.
Back in 1986, Karimunjawa was a Strict Natural Reserve and since then become a priority area for the conservation of marine biodiversity in Southeast Asia.
Karimunjawa Marine Park plays important role for the conservation and protection of marine biodiversity in Indonesia. It encompasses a total area 111,625 hectares.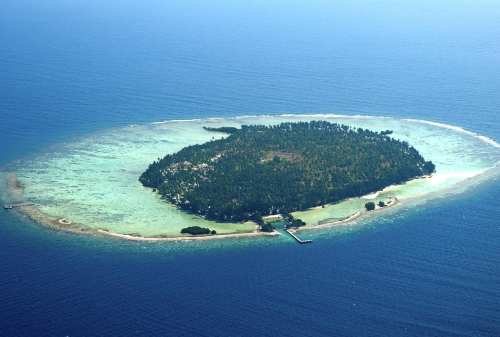 [Read Also: History of Mount Krakatau That Killed 36.000 People In 1883]
Moreover, there are 5 different ecosystems exist to please visitor while they take an adventure of nature. They are coral reefs, sea grass, seaweed, lush mangrove forest, and lowland tropical forest.
The large Island, beautiful environment and creatures, also fun activities can make your visit one of the best memory you can probably have, and this article will help you explore this beauty.
How to Explore Karimunjawa Island
The Island provides one of the best diving and snorkeling spots for divers, and water sport enthusiasts.
Comprise of 44 different species of mangroves, 11 species of sea grass, 9 species of seaweed, 444 species of fish, and 176 different species of coral, is likely impossible to be explored in a short trip.
However, the list of activities below will help you to take in some of the best parts of Karimunjawa. So, let's find out!
Feast on the Pristine Beaches of Karimunjawa
Karimunjawa provides the visitors an astounding view of beaches with its spotless white sand and crystal clear blue water to take in.
They are located in the east and west part of the Island, and some of them can be reached by boat.
A trip without going to one of these breathtaking coast is a mistake and will leave you in regret.
Menjangan Kecil
Located in the eastern Karimunjawa, Menjangan is a small secluded coast with picturesque beach. Those who look for some solitude can find this place most suitable gateway to disconnect with the noisy world.
Strolling along the seashore to revel the white sand at its finest, take a moment to gaze on the blue ocean and green hills can make you restful and calm.
Divers would love this spot as it provides them the panoramic view of underwater vista range from corals and sea species such as clown fishes.
Indulge yourself also on this Island' complete facilities such as a place for lunch, house tree, kayak renting, and lodging that are available for your convenience.
Bobi Beach
Settled in the southeastern Karimunjawa, this tourist attraction can be reached only 10 minutes from downtown.
Delight in the best sunrise from the coastline by laying down on its fine white sand that dotted along from one end to another. Grab a glass of lemonade with you to enjoy the scenery.
There is also a tree house available to revel the sight of the beach.
Cemara Kecil Island
The Island sits in the western part of Karimunjawa. Given the small size of the Island, you can stroll around the area to get to know your destination at best.
The name Cemara means 'pine tree' in English, named after the pine trees that welcome you when you arrive there.
Encompass pristine white sand and Tosca light blue water are some natural beauty to appreciate.
Most people come here for lunch or simply relish in the sunset. Keep the Island clean by throwing garbage on the trash can.
You can use a boat to reach this Island. However, to get to the seashore you need to walk around 200 meters after the ship' crew loose the anchor.
Sharks Breeding in Menjangan Besar Island
A bit of challenge for yourself is swimming with sharks in Menjangan Besar.
You must try to believe that they don't eat you. The shark breeding is one of the famous appeals in Karimunjawa that draw many visitors to experience it themselves.  
The sharks are the black tip reef sharks that prefer to live in a shallow water. You can easily identify them from the prominent black tips on their fins.
They are also known as friendly animals. Interested to swim with them?  Come to Menjangan Besar, and find out for yourselves!
Trekking Down the Mangrove Forest
Mangrove forest in Karimunjawa is an appeal for hikers and those with adventure spirit. It is a lush forest, a home for diverse flora and fauna.
There are 45 species of mangrove family in the forest. Trekking down on its trail for 2 km on a wooden bridge is a refreshing activity for body especially lungs.
In this green forest, you'll also be entertained by the cheerful sound of the chirping birds that relaxed your mind.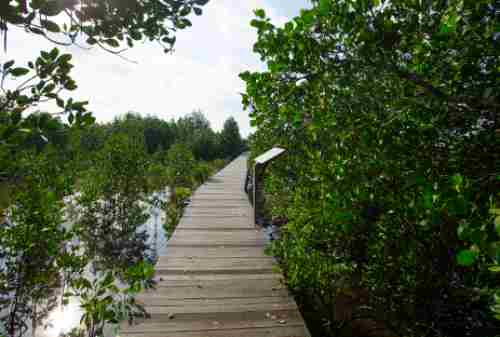 [Read Also: Bandung City: When Old Heritages Meet Beauty of the Present]
On your way down to the forest, you'll see a tower. Climb up the tower to see the remarkable landscape of the Island that blends perfectly with the ocean and lush mangrove forest.
It can be a vantage point to take picture with such view as your photo background.
In certain season a lot of mosquito will appear. Unless you want to get bitten, apply an anti-mosquito lotion on your body to avoid it.
The ticket for local tourist is Rp 10.000 and Rp 150.000 for foreign tourist that brings some complain for the difference of price.  
Hiking to Bukit Love
From the vantage point of Bukit Love or Love Hill, the incredible sketch of clear blue sea, fine white sand, and a lush green land appear as a stunning patchwork, a luxurious treat for your senses.
It won't take too long until you grab the camera and shot some great pictures of this amazing spot.  
From downtown of Karimunjawa you can take a walk for 10 minutes to get to Bukit Love. The best time to enjoy its awesome scenery is from 8 am to 10 am where the fine hills are sparkling by the bright sunlight.
The location is also perfect to spend the night by staring at the lovely stars with a cup of hot drink on your hand.
How to Get To Karimunjawa
To reach Karimunjawa you can take trip from Semarang or Jepara. They have different transportation mode to offer based on your needs.
Route 1 From Semarang
From Semarang 3 modes of transportation are available to reach Karimunjawa. If you go from Semarang you don't need to take transportation to Jepara.
You can go directly to airport Ahmad Yani or Tanjung Mas port, but the ticket from Semarang is rather expensive than from Jepara.
Here are the likely routes.
Wings Air Flight
Wings Air flights from airport Ahmad Yani only operates once a day around 11.00 am. You can check the schedule in Traveloka.
PELNI KM Kalimutu
If you enjoy a sea trip, a ship from PELNI operates once in 2 weeks around 11.00 pm. Book your ticket, prepare for boarding, and departure on 12.00 am from Tanjung Emas port.
You can get the ticket from Waru Karimunjawa.
The trip takes 6 hours which is long enough to revel the beautiful nature along the way. Bring some snacks and books to unwind during the trip.
Express Bahari
The ship operates every Friday on 8.30 am, and takes around 3 hours to Karimunjawa. On Sunday you can book a ticket on 11.00 am in Waru Karimunjawa to go back to Semarang.
Route 2 From Jepara
If you take a trip from Jepara to Karimunjawa, the only option is by boat.
The trip using boat from Jepara is rather short than from Semarang.
To get to Jepara you need to take a transportation at night from Semarang that takes 3 to 3,5 hours according to the traffic jam. Compare to Semarang the ticket from Jepara is cheaper.
Ferry Siginjai
The ferry departs every Monday, Wednesday, Friday, and Saturday on 6.30 am from Kartini port. The trip is 4 to 5 hours long.
You can book the ticket 2 hours before departure in Waru Karimunjawa, because the tickets run out quickly.
The schedule to return to Jepara is on Tuesday, Thursday, and Sunday on 6.30 am, and Friday on 12.30 pm.   
Express Bahari
It will take 2 hours using Express Bahari boat. You can check the schedule and ticket on Waru Karimunjawa.
Where to Stay In Karimunjawa
Now here are some options of affordable yet delightful places to stay during your visit in Karimunjawa.
The Happinezz Hills
Situated on the hill of Karimunjawa, The Happinezz Hills Hotel gives you the great view ocean which you can enjoy from your balcony or outdoor pool.
The hotel features 16 rooms with TV, air conditioning, also a swimming pool with a bar in the pool that overlook the ocean and mountain.
There is body massage for rejuvenating and an outdoor dining area for a romantic dinner. You also can arrange with the hotel for hiking and snorkeling activities.
Experience the restful stay with facilities that ensure your convenience at best in from hotel.
Breve Azurine Lagoon Boutique Resort
Breve Azurin Lagoos Boutique Resort is situated on the highland with its private beach. The stunning view of ocean from its resort is just amazing.
The building comprises wooden house with suite & seafront studio, charming bungalows, villas, and family house that overlook the incredible ocean view.
It is equipped with outdoor pool where you can enjoy the best sunrise or a sunset view from its vantage point.
This is an ideal place for honeymoon, family gatherings, or a getaway from the hustle and bustle of city life. You can have the best stay to experience tranquility and get re-energizing while staying here.
What's more fascinating is you can arrange for free with the hotel for kayaking and snorkeling gears. It also offers camping on several of the 24 islands of the archipelago even islands hopping for its guests.
Royal Ocean View Beach Resort
The hotel is set near Barakuda Beach and offers accommodation with a restaurant, free private parking, an outdoor swimming pool and a garden.
The property features rooms that overlook the garden and sea, suites, and family room.
You can take in the best beach-front view of the blue ocean from its rooftop outdoor pool. Experience the lavish leisure time on its private beach that's just within your reach.
Conclusion
Karimunjawa has plenty of natural attraction and is dominated by stunning seascapes.
For those who wish to spend the holiday on beach, the incredible scenery of its beaches in Karimunjawa will make your holiday even more fascinating.   
To prepare for the budget, download Finansialku app to calculate easily. It's now available for iOs and android.
Ready for your next trip to Karimunjawa? Let us know in the comment below. Also, tag your friends who love coming along with you to this paradise of Java.
References:
Puti Yasmin, March 9th, 2020. Cara ke Karimun Jawa dan Biaya Tiket Masuk Ala Backpacker. Detik.com – https://bit.ly/3h6Z7Sd
Muhammad Yanuar. August 29th, 2019. 10 Aktivitas Seru di Karimunjawa untuk Liburan Berkesan Kamu. Tripzilla.id – https://bit.ly/3ewBWPH
Admin. 12 Tempat Wisata Di Karimunjawa Yang Wajib Dikunjungi. Warukarimunjawa.com – https://bit.ly/32nI761
Pictures:
Karimun Jawa 01 – https://bit.ly/395603u
Karimun Jawa 02 – https://bit.ly/3912yqV
Karimun Jawa 03 – https://bit.ly/38ZGn4m
Karimun Jawa 04 – https://bit.ly/39e3KY9
Menjangan Kecil – https://bit.ly/2B3QyrW
Bobi Beach – https://bit.ly/392K74V
Cemara Kecil – https://bit.ly/2C9Paot
The Happinezz Hills – https://bit.ly/39e3ZT3
Breve Azurine Lagoon Boutique Resort – https://bit.ly/30g7PGZ
Royal Ocean View Beach Resort – https://bit.ly/3h3ysFU