Wakatobi Island is a hidden pearl that astounds divers all over the world with its great diving, and snorkeling spots.
Comprise the submarine species of 942 fishes, and 750 coral reefs, Wakatobi is the epitome of a secluded place, endowed with natural attractions particularly its wonderful seascapes.
The travelers, and backpackers will obtain a satisfying relaxation, and retreat by going to this island.
Location of Wakatobi Island
Wakatobi is a regency located in Sulawesi Tenggara Province, Indonesia. It comprises four main islands, Wangi-Wangi as its capital city, Kaledupa, Tomia, and Binongko.
Besides, there are other small islands namely, Hoga, Kapota, Anano, and Rundumana.  
History of Wakatobi Island
Wakatobi regency was known as Tukang Besi Islands before becoming an autonomous region. The name is an acronym of the four main islands, Wangi-Wangi, Kaledupa, Tomia, and Binongko.
Before Indonesia independence, Wakatobi was governed by the Sultanate of Buton, with monarchy system.
Since 1996, Wakatobi was established as Indonesia's National Park, and the world natural reserve for marine biosphere by UNESCO.
How to Explore Wakatobi Island
As one of the best diving sites in the world, Wakatobi has many mind-blowing destinations.
Here are the top 8 list of attractions worth a visit.   
#1 Roma's Reef
Divers around the world admit that Wakatobi marine life is the underwater heaven for diving, and snorkeling. Its marine ecosystem are very diverse.
The island secures its place as a home for the greatest number of reef, and fish species ever recorded. And it hits the record as the second largest barrier reef in the world, and encompasses a 1.4 million hectares, 900,000 of which is tropical coral reefs.
If diving, or snorkeling is your thing, you are among the lucky divers, and snorkelers who come to witness the magnificent marine life of Wakatobi. Almost all places in the island are spots for diving, and snorkeling. But the most well-known is Roma' reef in Tomia.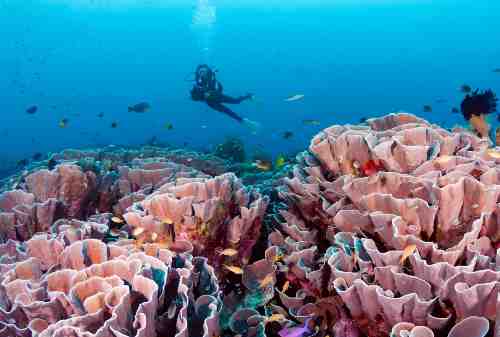 [Read More: The Magical Legacy Of Gods At Prambanan Temple]
It is the most busy reef group as many people come to dive in. The depth is 15 to 25 meters below the sea level.
The exceptional underwater vista of Roma' reef will leave you speechless. The colorful coral reefs, unique sea creatures, and crystal-clear water make their home here. So, get ready to be amazed by them.
This spot is quite safe for you who just learn to dive. Other diving spots worth exploring are Cornucopia, and Coral Garden in Tomia.
For those who can't dive, you can still swimming, or interact with the beautiful dolphins that sometimes appear at the surface. One of the great sites to spot them is in Mola Raya harbor.
To get there, rent a boat from Wanci city in Wangi-Wangi which takes around 20 minutes.
#2 Hoga Island
Need a solitary place for a small retreat?
Hoga Island offers you the serene peace to unwind. Blessed with a spotless white sand, and crystal clear water, Hoga presents the original picture of nature that makes you fall in love as soon as you see it.  
The location is secluded from other islands, and separated by a small bay. It is pollution-free, and restricted for technology as it has no internet access, and a limited phone reception.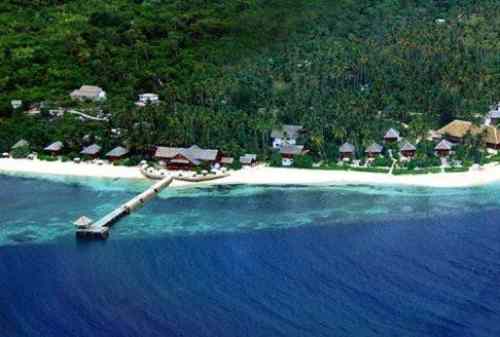 [Read More: 6 Unconventional Attractions in Tana Toraja Every Traveler Should Visit]
So be sure your phone, or other gadgets are fully charged as the electricity is limited for 6 hours only. It is available from 6.00 pm to 00.00 am WIT/Eastern Indonesia Time.
Book a lodging, and wake-up after 00.00 am to admire the marvelous rows of stars, and galaxies that appear elegantly since there is no light pollution. Lay down on its smooth sandy beach, and be astonished by the stunning artwork of nature.
For divers, there are 12 incredible dive spots with the world class coral reefs to be explored. Also, get a private diving tour by dive masters easily.
Hiking throughout its flourish forest, or simply snorkeling in its crystal-clear water are other refreshing options you can explore.  
#3 The Sea Gypsies, Bajo Tribe in Wakatobi Island
Another cultural treasure of Wakatobi can be found in its locals, Bajo tribe. They reside in Bajo Sampela village near the coastline of Kaledupa Island, and some in Wangi-Wangi. Bajo tribe is known as the sea gypsies. Historically, the tribe is the oldest sea traveler in Wakatobi.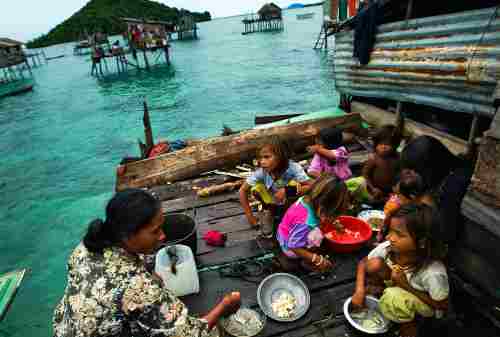 [Read More: 6 Fascinating Activities To Do During Your Tour In Banda Islands]
Bajo tribe believe that they are a direct descendant of the sea. They are nomadic, and were taught to hunt, and preserve the ocean since childhood.
They also are amazing divers with unbelievable skills such as walking on the ocean floor, and diving at depths of 25 to 50 meters without scuba gear. And they live in the traditional floating stilt houses.
Take a guided-tour journey to visit the village, and getting to know the unique way of life of the tribe. Challenge yourself by requesting for a course on how to dive without a scuba gear from Bajo people.
It will be an amazing experience, and unforgettable memory in Wakatobi to be told.
#4 Kahyangan Summit
Kahyangan Summit is a grassy hill that provides a remarkable sight of Wakatobi. It is placed in Tomia Island, and only 25 to 30 minutes away from Usuku in east Tomia. A public transport is easily accessible to reach this site.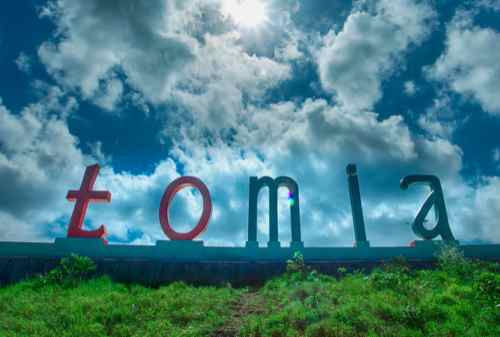 [Read More: 6 Best Activities In Tanjung Puting, The Largest Orangutan Habitat]
Trekking up to the top of the hill will burn some calories. And your exhaustion will be rewarded with the magical landscape of grassland, and the awe of surrounding islands.
Photographers love this place as it provides a vantage point to capture the beautiful appearance of sunset.
You can also set up a camp in this lofty hill to stay the night. The starry sky from the hill looked just so wonderful which you can appreciate with a glass of hot chocolate or wine, at night.
When you get up at dawn, breath the morning air, and catch the glorious sunrise coming out of the clear blue sky, a view you only can get from Kahyangan hill.
#5 Traditional Fare of Wakatobi Island
One thing you won't miss is the typical culinary of Wakatobi that you should mark on your itinerary. You can expect a fresh, tasty, and unique local dishes around your lodging area.
Here are some of them.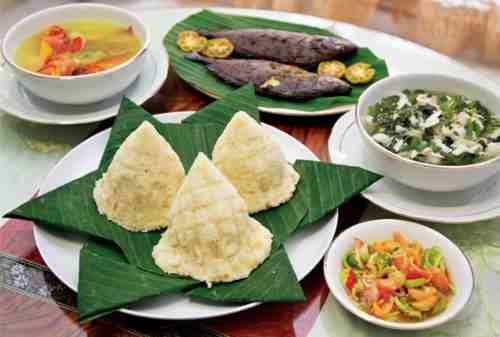 [Read More: Top 8 Activities You MUST Try In BALI Indonesia, The Island of Gods]
#Kusami
This is a dish serves as main food for the locals that can be found easily. It is made of grated cassava pulp shaped into a cone. It serves as substitution for rice, and can be enjoyed with fried onions, grilled fish, colo-colo chili, and Parende.
#Parende
Seafood fans will love Parende. It is a luscious fish soup made from a fresh sea fish, and cooked with sautéed onions, lemongrass, turmeric, and chili peppers. The cuisine is traditionally served during special occasions.
#Laluta
Laluta is a sticky rice that is processed traditionally by grilling. The onions, and coconut are mixed with the rice, and then cooked in a bamboo trunk that is grilled on the top of an open flame.
Hopefully these dishes make your stomach happy. :)
#6 Local Handicrafts of Wakatobi Island
A trip to local handicrafts is another activity to take on while in Wakatobi. The villagers are very creative. They create, and design the delicate handicrafts. They vary, and have a well-crafted design that is iconic to the region.
You can purchase these hand-made crafts as a gift to remind you of Wakatobi creative art.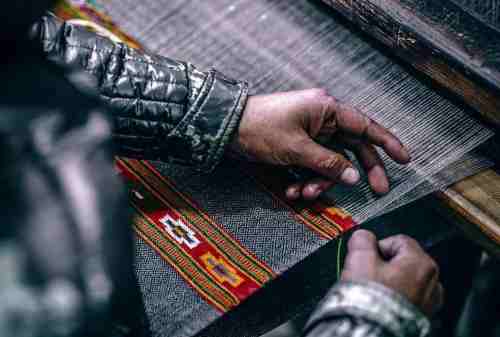 [Read More: 7 Best Hotels In Bali With A Stunning Beachfront View]
#The Homoru Sarong
It is an intricately hand-made sarong that take up to 3 months to finish. The fabric is carefully woven using a traditional wooden weaving tool.
It has a vibrant color, and is simple in design. The locals usually wear it during special occasions.
#Coconut Ornaments
Waitil villagers in the Tomia Island turn coconut shells into ornaments. They produce home decor, kitchen utensils to serving plates out of these shells.
This home industry are popular attraction for tourists, and become one of the villagers' income sources.
#Jewelry
Another creative handicrafts comes from Sampela villagers. The locals process the skin of turtles into jewelry by peeling their outer skins. The skins are smoked before being shaped into rings, and bracelets.
The locals believe that there is a mystical strength in the turtle skin, and it can protect you from a bad luck.
#7 Lariangi Dance
Join in, and experience the joy together with the locals in Lariangi dance. It can be a great moment for you to blend with the community.
Lariangi is usually performed during local special events by 12 girls, who symbolize 12 nations.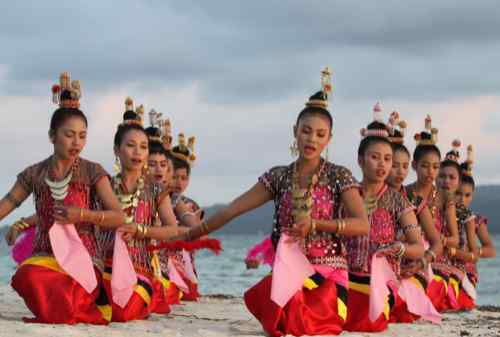 [Read More: Komodo Island, The Other Side Of Paradise In Flores]
It carries an advice, and stories sung in Kaledupa language. In 1634, this dance was made, and performed at royal palace to welcome the guests.
When you come to Wakatobi during the special celebrations, don't miss this rare opportunity to appreciate the beauty of the heritage, and reflect on the locals' wisdom from Lariangi dance.  
#8 Wakatobi National Park
Located in Wakatobi regency, the Wakatobi National Park is among the 50 national parks in Indonesia.
It has total area of 1.39 million hectares that contains an abundant biodiversity of marine life that it became the highest priority for marine conservation in Indonesia. The park features coral reefs, fishes, other animals, and Hoga Island.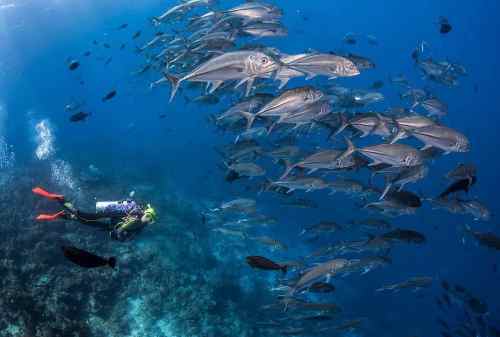 [Read More: Derawan Island, The Hidden Paradise In East Kalimantan]
You can take a guided-tour in Wakatobi National Parks to revel in the marvelous richness of its marine ecosystem.
How to Get to Wakatobi
The route flight is the easiest way to get to Wakatobi. From Kendari, take a daily flight to Wangi-Wangi, the capital city of Wakatobi.
You can use Garuda Indonesia, or Wings Air that cost Rp 420.000, and take only an hour flight.   
Daily boats are available also in Wanci, the main town of Wakatobi. They sail in the morning to other Wakatobi islands.
And between Bau-Bau in Buton Island, and Wangi-Wangi, Kaledupa or Tomia, there are some direct boats that depart four to five times per week.
Besides, Kelimutu from Pelni travels from Makassar to Bau-Bau then on to Ambon via Wanci once every four weeks.
Be sure to double check your schedule as it is subject to change because of the weather.
Where to Stay in Wakatobi
Here are some options of delightful places to stay during your visit in Wakatobi. Labor Stay, and Seagypsy Homestay have an affordable price that fits your budget.
#Labore Stay
Labore stay is a guest house with a strategic location, and is very friendly on budget. For backpackers, solo travelers, divers, adventurers, and couples who is on budget, this is just the place to stay.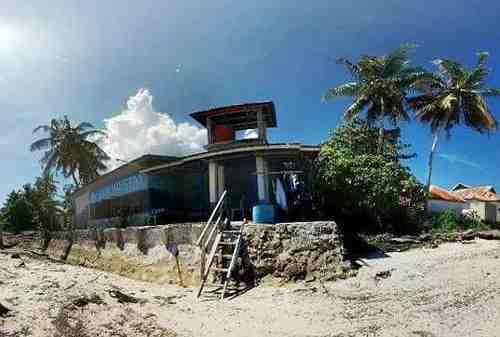 [Read More: When Heaven and Earth Coexist in Ubud]
Set in Tomia Island, it is near to Waha port, night market, and local shops. From this property you can reach easily to several of Tomia Island main attractions such as Hundue beach (2 km), Tomia hill (9 km), Patua fort (3 km), and Tew Wali water cave (6 km).
The amenities available here are rooms with AC, and kitchenette, smoking rooms, and a parking garage. It also offers free breakfast, and a laundry service.
Along with that, the owner with his family is very kind, and welcoming. You can also arrange for diving, transport, and food or anything you need.
#Wakatobi Dive Resort
Wakatobi Dive Resort is a secluded and, peaceful stay with a luxury touch, and amazing beachfront view.
Stands among the vibrant, and one of the best world diving sites, the resort features a fancy rooms style of wooden design with private balcony overlooking the beach, AC, and refrigerator.
Besides, there are semi outdoor spa, gorgeous spots for relaxation such as a jetty bar, outdoor pool with a stunning seafront view, a library, and a children playground.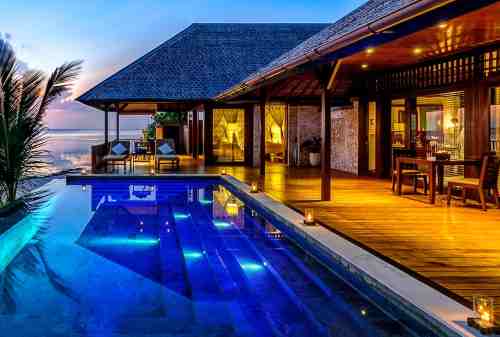 [Read More: Dieng, The Exotic Plateau In Indonesia To Spend Your Holiday]
The resort provides a free airport transportation since it is settled in a far off distance from town. With no other divers for at least 100 miles, this tranquil shelter is for those who love solitude, and privacy. 
#Seagypsy Homestay in Sampela
If you want to blend with the community, this sea gypsy home stay provides you the chance. The place is a traditional house of the locals.
So, you can expect a basic room, and equipment. The owner, Mr. Pondang, is very friendly, and welcoming. He, and his family live just across the house.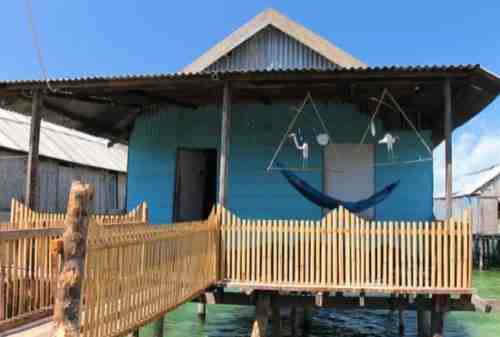 [Read More: 12 Adorable Places In Yogyakarta That Everyone Should Enjoy]
You will be served with delicious fresh meals three times a day. And it includes fresh fish. The owner speaks English, and can show you the way of life of Bajo tribe in Sampela village.
Bajo are freedivers, and spearfisherman. So, this is a good opportunity for divers who love to learn diving in unconventional way.  
Conclusion
Wakatobi is a hidden paradise not only for divers, but also for the travelers, and backpackers. Trip to Wakatobi is an amazing journey to take on that will keep you coming back for more wonderful experiences.   
Have you prepared for your trip budget? Download Finansialku application to calculate it easily. It's now available for iOs.
Hopefully this article inspires, and helps you to prepare a trip to Wakatobi along with your family, and friends. Tag those who also want to travel to this hidden paradise.
References:
Hanif K. Wardhani. May 27th, 2018. 12 Destinasi Wisata Wakatobi yang Luar Biasa Indahnya. Tripzilla.id – https://tinyurl.com/yd4p6qnv
Admin. September 12th, 2019. 10 Amazing Places You Need Visit in Wakatobi. Indonesia.travel – https://tinyurl.com/yadhhco3
Images Credit:
Wakatobi Island – https://bit.ly/2XIBg4w
Roma's Reef – https://bit.ly/3f6Dz7m
Hoga Island – https://bit.ly/2XJg2Du
The Sea Gypsies, Bajo Tribe – https://bit.ly/2YfV527
Kahyangan Summit – https://bit.ly/2XLXcM2
Kasuami – https://bit.ly/3cRYOs8
Homoru Sarong – https://bit.ly/2ANSKU2
Lariangi Dance – https://bit.ly/37ibqY7
Wakatobi National Park – https://bit.ly/3f6hRAs
Labore Stay – https://bit.ly/2UporKi
Wakatobi Dive Resort – https://bit.ly/3f65Vi6
Seagypsy Homestay in Sampela – https://bit.ly/30mfxkr