Have you heard about Derawan Island? This beautiful tropical island will take you far beyond just an Adventure.
Derawan Archipelago
Looking for a new experience in Indonesia' archipelago? Going to tropical islands of Derawan archipelago, the home of 31 islands, would take you far beyond just an adventure. 
You might almost feel that you are in a paradise once you dig in on its picturesque landscape and underwater vista such as the peaceful paradise of the Maratua atoll, and the graceful Sangalaki and Kakaban islands. 
Location
Derawan lies in East Kalimantan, a province that'll be the new capital of Indonesia to replace Jakarta, in Berau regency.
As an archipelago, it boasts the terrific islands with one of the most exquisite spots for diving and snorkeling in Indonesia. Some of its reefs and islets are located in the Sulawesi Sea, on the coastal shelf of East Kalimantan.
This hidden paradise is also the home for some rare and endangered turtles. No wonder Derawan became a top tourist destination in Indonesia. 
How to Explore Derawan
Now let's break down into several activities that allow you to explore in some of its exotic places. 
#1 Staying at Floating Lodging
Derawan is well-known for its floating-lodgings or cottages that are set above water on the seaside of crystal-clear bluewater.
Spending the night there with your loved ones, will be a romantic experience to expect. Its seascape in day and night is a bonus that you can appreciate from the cozy shelter.
Another activity to revel from here is fishing at night while accompanied with a fine skyknight-scape. 
#2 Swimming with Jellyfish
Have you ever swam with Jellyfish? While staying at lodgings is comforting, you should never miss on making friends with thousands Jellyfish in Kakaban island.
These hosts of the lake probably make you worry that you'd get a sting. But take it easy, they are the stingless jellyfish. Swimming together with these unique creatures will be an exciting experience to have.  
#3 Culinary of Derawan
Get to know the distinct taste of seafood from Derawan islands you can't find anywhere else.
Tehe-tehe, made out of sea urchin shells that are cooked with the processed sticky rice using coconut milk and pandanus, is a traditional seafood you must try. There is also Kima-kima, dried shells that are marinated with salt.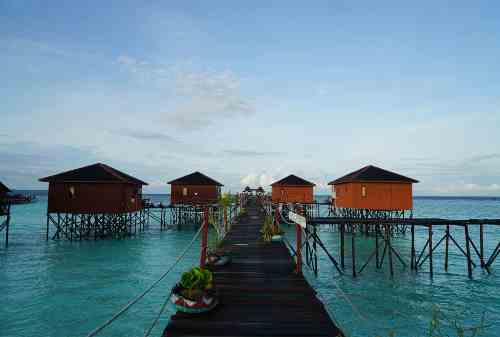 [Read: When Heaven and Earth Coexist in Ubud]
And the typical fruit, durian-shaped-like, Elai, with a typical taste you shouldn't miss out. Having these dishes after you had a little stroll down the white sandy shoreline, will be satisfying. 
#4 Snorkelling Inside Underwater Cave
Derawan is renowned for its marvelous diving vista that is hunted by many world divers. One of the spots is the Blue Light Cave, a stunning underwater cave.
Besides, there is Shark Point popular for its whale shark, Coral Garden that offers you a fine reef-scape, Tuturuga Point, and Snapper Point. These underwater vistas are truly worth-diving in. 
#5 Visit Turtle in Sangalaki Island
Not only one of the best diving and snorkeling spots in the world, Sangalaki island is endowed with clean seawater, soft sands, warm sun, and coconut trees around the area.
All the complete package to describe a typical tropical beach.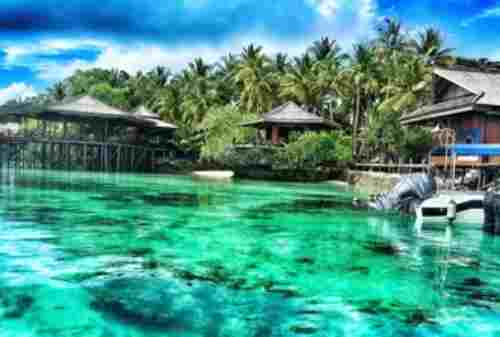 [Read: Dieng, The Exotic Plateau In Indonesia To Spend Your Holiday]
On top of that, the island stores beautiful flora and fauna, among them is the famous turtle conservation. If you are lucky enough, you could watch the release of small turtles that just hatched into the ocean.
#6 Enjoy Maratua Island
Located in the north coast of East Kalimantan, Maratua Island in Derawan archipelago, has its own magic that captures the visitors attention. 
Chinese tourists who want to go here wouldn't worry about transportation because of the operation of regular charter flights from China to Tarakan in North Kalimantan. From there tourists can take a speedboat to Maratua.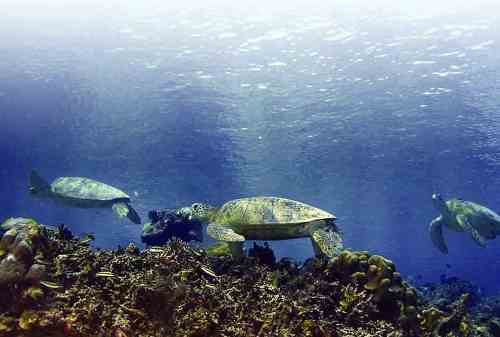 [Read: 12 Adorable Places In Yogyakarta That Everyone Should Enjoy]
What makes this island so unique is not only its large tropical island or U-shaped that blows your mind, but also its third highest level of marine biodiversity in the world after Raja Ampat and the Solomon Islands that it is hard not to jump right into its underwater vista once you are there.
Take snorkelling or diving inside to see closer its stunning coral reefs, and wonderful marine life. After that delight yourself by sunbathing while laying on its fine white sands. 
#7 Swim at Labuan Cermin (Mirror) Lake
Labuan Cermin presents you the crystal-clear water like a mirror that is located in Derawan. A little bit of adventure by passing through the thick mangrove forest with a boat will finally get you to this lake.
The refreshing atmosphere and typical sound of nature that resemble the lake, won't fail to boost your mood and energy while you swim through the lake.
Bring a guide with you to help journeying the lake. 
How to Get to Derawan Archipelago
Now, here are several likely routes to get to Derawan.
#Route 1
If you are from China, the good news is there are regular charter flights from China to Tarakan in North Kalimantan. From there you can take a speedboat to Maratua. 
#Route 2
If you are from Singapore take SilkAir flight from Singapore to Balikpapan in East Kalimantan. If you are from Jakarta, Surabaya or Denpasar, flight using Garuda will take you to Balikpapan or Tarakan.
Take a flight from Balikpapan to Tanjung Redeb in Berau. And from there, use boats to get to the islands.
Where to Stay
Now here are some options of affordable yet delightful places to stay during your visit in Derawan. 
#Derawan Dive Lodge
Built upon the white sandy beach, this small yet tranquil lodge located just near the coastline of East Kalimantan.
If you seek a private stay to soak in a solitude atmosphere while relishing in the fine beauty of its seascape that is close to your room, Derawan Dive lodge offers you just that.
The lodge is equipped with 10 rooms. Each room has air-conditioning, hot/cold shower, safety box, day bed. 2 boats are provided also to serve the guest who'd like to go diving accompanied by professional divers. 
#Fisheries Eco Villa 
These lodges are set on the calm shore in Derawan island. The 7 buildings are made out of wooden docks, with front-sea view from the balcony. This simple and comfortable private stay is fit for those who want to enjoy the sea view from a room.
It provides amenities such as double, twin, and ocean view double beds, air conditioning, shower, towels, and hammock. It also offers special packages for diving, and other interesting packages to make your holiday more exciting. 
#Green Nirvana Maratua Resort
Known for its friendly and hospitable service, Green Nirvana Maratua resort offers the full comfort, packages of thrilling activities to explore, and the tropical view of East Kalimantan. It provides room for big or large groups, along with villa, guest room, and bungalow.
This place is perfect for both couples and big family or groups. Staying here won't disappoint you as you'll be served with its friendly staff. 
Conclusion
Come to Derawan island will make you forget all your worries and burdens once you set yourself for thrilling activities in one of its 31 islands.
Best diving spot, tropical view, and panoramic view of its beaches, will make your stay satisfying. 
To prepare for the budget, download Finansialku application to calculate easily. It's now available in both Google Play Store and Apple App Store.
So, are you ready to explore Derawan?
Hopefully, this article provides the information you need about Derawan, and please tag other friends who want to join you to go there. 
References:
Admin. Mengintip Surga Bahari Kalimantan Di Derawan. Pesona.travel – https://bit.ly/2K8p7hM
Admin. June 24th, 2019. Wisata Pulau Derawan, Surga Tersembunyi Di Kalimantan Timur. Tokopedia.com – https://bit.ly/2K39tUP
Chyntia Novianti. September 9th, 2019. Pulau Derawan, Surga Tersembunyi Di Ujung Kalimantan Timur. 99.co – https://bit.ly/3abSudA
Admin. Derawan Islands. Indonesia.travel – https://bit.ly/34EmQ7l
Images Credits:
Image 1 – https://bit.ly/2ye8RJe
Image 2- https://bit.ly/3a9ZZS7
Image 3 – https://bit.ly/2VcjyoS
Image 4 – https://bit.ly/2V7bDsO