Have you heard about Dieng Plateau?
Its a place where picturesque landscape, historical sites, and culture of the locals blends. Read the article below.
Introduction
Do you love hiking and camping in highland with a remarkable view as well as exploring the picturesque landscape, historical sites, and culture of the locals? Dieng plateau offers you just that.
Historically, the place was a strategic location General Sudirman chose for a guerrilla campaign during the Indonesian War of Independence. 
Dieng is derived from the word Di Hyang which means "Abode of the Gods" or the home of gods. It has been the famous plateau on Java island that attracts many tourists. Coming to Dieng you will experience local tradition and exciting activities near the plateau that are refreshing for mind and body. 
Location
Located in Banjarnegara, Central Java, among the several mountains, Dieng plateau sits at 2,000 meters (6,600 ft) above sea level and is far away from locals' residence. 
As you arrived, you'd be welcomed by the mystic appearance of 8 ancient Hindu temples that marked the existence of Kalingga Kingdom, the earliest Hindu-Buddhist kingdom in Central Java, existed from 6th to 7th century. 
History 
Dieng is a highland generated from volcanic activities. That is why when you get there, you'd find several craters which some of them formed into lakes.
It is a part of complex volcanoes that has 20 craters. But some are forbidden for visitors because they are dangerous for the toxic gas. So be sure to double-check before going further to the craters. 
How to explore Dieng
Now let's explore what you can do during your visit to Dieng plateau. 
#1 Visit temples 
Also renowned for the place of many temples, Dieng offers you an ancient yet historical view of temples built by the oldest stones in Java.
There is a paved path all the way straight to the blocks of temples. The garden around the temple can be a playground for kids. Behind the temples, sits a range of high mountains that you can revel in.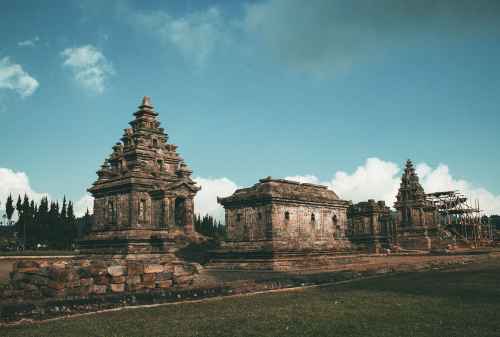 [Read: 5 Important Reasons Why You Should Visit Borobudur Temple]
Arjuna is one of the largest temple blocks in Dieng. If you come in early August, you'll learn more about the local tradition in Dieng Culture Festival that takes place in the temple. 
#2 Climb up Mount Prau
Placed 2.565 meters above sea level, Prau mount gets the best track for both seasoned and new hikers, since it's not too difficult. Along the way up to the mountain, you'll meet many hikers. And right on both sides of the mountain, lies rice farms and also potatoes plantation.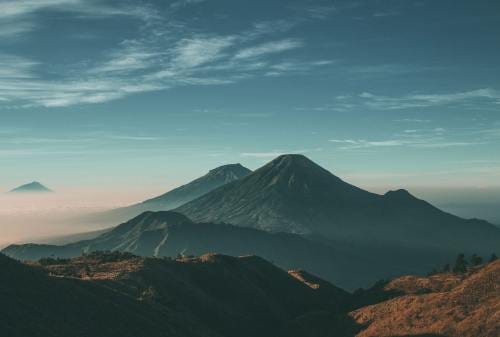 [Read: Kawah Ijen: Challenging Yet Exciting Hike To Ijen Blue Fire]
Hikers also go camping near the top of the mountain. So, don't be surprised as there are many camps set around there. As you arrive, burgers and pizza are served to recharge your energy. 
In the night, enjoy the hotpot dish from Japan, Shabu-shabu, to warm your body. Laying down and staring upon the stunning appearance of stars in the night sky is truly satisfying things to do.
After staying the night in the camp, don't miss relishing the terrific view of sunrise at daybreak while treating your lungs with its fresh clean air. 
#3 Going to Ratapan Angin stone
The place offers you a charming landscape. The setting is dominated by beautiful cliff stones, green ponds, and rice fields. Ratapan Angin is located in Dieng Plateau theater. To enter the site, you'll be charged Rp 10.000 for each person.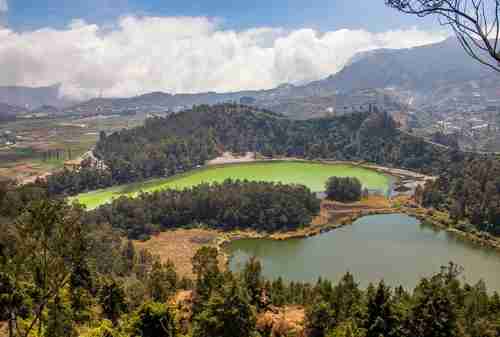 [Read: 12 Thrilling Activities You Should Try in Lake Toba Indonesia]
The vantage point is provided so you can take a selfie. From this angle, you'll get the scenic panorama of ponds, farmlands, and local's houses that scatter around the bottom of the mountain. 
#4 Enjoying snow in Dieng
No need to go far to Europe to see snow. Why, because In Dieng, you can find snow particles (ice dew) falling in the crack of dawn. The locals name them Bun Upas.
This rare natural phenomenon for tropical regions occurs when the dry season comes.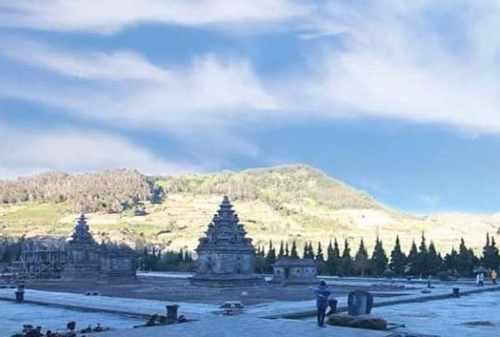 [Read: 16 Top Attractions You Must Visit In Flores Indonesia]
The best spot to witness them is in Arjuna temple as this area is often covered by the snow ices. As you go, put on a thick jacket to protect you from the cold weather (it gets to minus 0 degree). The best time to spot this event is in August and September when the dry season begins. 
Not only that, but Dieng is also called Negeri Di Atas Awan (island beyond the clouds) as people can look at the sea of clouds like rolling waves when they reach the tip of Prau Mountain and Sikunir hill. 
#5 Visit craters in Dieng
In Dieng, people can find around 20 craters from volcanic activity. Some craters contain poison gases such as Sinila dan Timbang craters which are located far from the area of tourist attractions in Dieng.
So, make sure you double-check for safe craters before visiting. Sikidang, Candradimuka (that related to Mahabharata story), and Sileri are the most often visited craters in Dieng.
Prepare for a mask as the sulfur smell is very strong. 
#6 Watch documentary at theater in Dieng
A mini-theater is built near other objects of attraction in Dieng, where visitors can enjoy a short movie about Dieng.
As you enter the site, many beautiful trumpet flowers are hanging on both sides of the road ready to welcome you. The film depicts the geographic story of Dieng plateau, the history, and past and present natural events, as well as the richness of nature in Dieng. 
#7 Watching Ruwatan Rambut Gimbal
Get to know the unique tradition of cutting dreadlock hair of Anak Rambut Gimbal (child with dreadlock hair) of Dieng by attending Ruwatan Rambut Gimbal at Dieng Culture Festival.
It is a sacred occasion to free the child from danger because of having dreadlocks (it is believed by locals to be dangerous).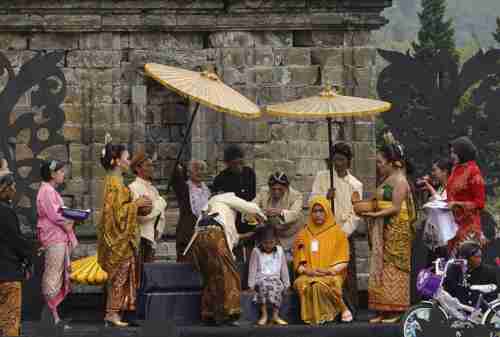 [Read: 12 Adorable Places In Yogyakarta That Everyone Should Enjoy]
To watch the event, you can also go to Arjuna temple, or Telaga Warna and Telaga Cebong. 
#8 Hiking to waterfall Sikarim
Do you love adventure activities? Then you should try journeying down to Sirakim, the coldest waterfall in central Java.
You need to do trekking to get there. It is rather difficult because the road is slippery and stony. And so fit for those who love challenges.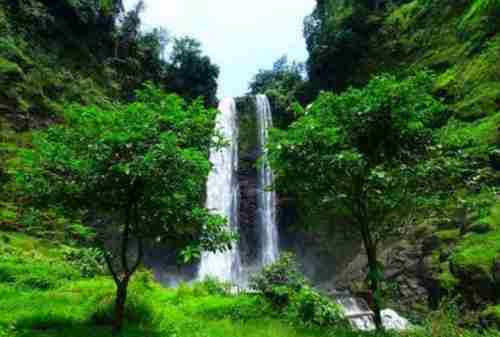 [Read: Quick Ways to Get Money Online For Those Who Are Busy]
As you hike up, let yourself soak in the fresh air and greeny view of the landscape. Be sure you get enough rest the day before trekking.  
How to get to Dieng plateau
Here are several likely routes to get to Dieng plateau: 
#Route 1
Dieng can only be reached via land route because it is set in Wonosobo. Here is the route from Yogyakarta to Wonosobo that takes 5 hours: 
Flight to Yogyakarta – take a bus from Jombor terminal to Magelang – take a bus from Magelang to Wonosobo. 
#Route 2
Another route is from Purwokerto by bus. You can take a train and bus from Jakarta to Purwokerto and from there, take a bus that directs to Wonosobo.
You also can rent a car for tourists from Yogyakarta. 
Where to Stay Near Dieng
Now here are some options of affordable yet delightful places to stay during your visit. 
#Kresna Hotel 
Looking for a solitude place to stay before your trip, Kresna hotel provides you just that. It is located far from the crowded city.
The hotel is a historical building that adds the ancient and serene sense for the guests. The amenities such as free parking, pool, 24-hour front desk, free WiFi, and resto, will ensure that you rest well during the stay. 
#CRA Hotel and Resto
Affordable yet comfortable stay for travelers like you is CRA hotel and resto. The scenery of Wonosobo can be enjoyed from here.
It offers facilities such as a balcony with a direct view of Dieng landscape, free parking, restaurant, and 24-hour front desk. The hotel is also located strategically to the culinary spot in the city. 
#Hotel Dafam 
Located in Wonosobo urban area and near to Dieng plateau, hotel Dafam provides guests with a panoramic view of the city, Dieng Mountain, and Sindoro-Sumbing.
It has 62 rooms, that are equipped with LED TVs, free WIFI, highly standard bathroom, amenities, and the restaurant that serves Indonesian and Western food. These will make your stay cozy and comfortable before the trip. 
Conclusion
Dieng plateau is not only rich in its natural beauty and wonders but also covered with the unique culture of the locals. Making a trip around its object attractions will be another adventure you surely won't miss out. 
Download Finansialku application to easily prepare for your holiday budget. You can download Finansialku application in Google Play Store or Apple App Store.
Hopefully, you find this article useful and please tag other friends who love to explore Dieng soon. 
References:
Asriyanti. August 20, 2019. Dieng Plateau Dan Destinasi Wisatanya Yang Ciamik. Goodnewsfromindonesia.id – https://bit.ly/2UD9oxg  
Admin. Dieng Plateau. Diengplateu.com – https://bit.ly/2UAbrSv
Admin. Dieng Plateau. Tourdieng.id – https://bit.ly/2R285p6  
Credit Images:
Dieng Temple – https://bit.ly/2w6LXTv
Mount Prau – https://bit.ly/3dJdRWy
Ratapan Angin – https://bit.ly/2JzrGZI
Snow in Dieng – https://bit.ly/2UBhqGM
Ruwatan – https://bit.ly/2Uz9MMY
Sikarim – https://bit.ly/3dMIt9I