If Egypt is known for the pyramids, Indonesia is known for its colossal Buddhist temple, the largest one in the world, Borobudur Temple.
Check this out for more information…
BOROBUDUR Temple in Indonesia
Borobudur is located in Magelang, Central Java. It is 40 kilometers northwest of Yogyakarta and 86 kilometers west of Surakarta.
The size of the temple is 123×123 meters, more than triple the size of Gedung Sate. So it's very huge.
Today this magnificent building remains the largest and most complete Buddhist reliefs in the world.
Many mountains stand elegantly, circling the temple, including the famous volcanoes of Merapi and Merbabu, which highlighted the majestic atmosphere that covers the area. 
#1 Uniqueness of Borobudur Temple
If you haven't decided yet where your next trip will be, make sure Borobudur is on your list.
Listed as one of the world's seven wonders, Borobudur indeed has a stunning view that leaves you amazed at how ancient humans can build such a delicate architecture in a traditional way.
It was established during the Sailendra dynasty ruling in the 9th century, before you and I was born I am sure. The temple demonstrates a blended culture of Javanese and Buddhists, presented two different beliefs which are the worshiping of ancestors and Nirvana.
If you enjoy the heritage of the ancient kingdom, you wouldn't want to miss this one. You will find traces of religious influence mixed with the greatness of the Buddha kingdom at that time. 
From its building, history, to its location, Borobudur offers you with experience of a distinct wonder and mystic altogether. 
#2 Buildings
Like any other religious buildings, the shape of Borobudur represents a symbolic meaning of Buddha's view on Mandala, the universe. As you enter through its park you'll gaze right away on a magnificent temple built in square.  
From the top view, you can see that it is an immense square temple surrounded by many green trees which create a fresh impression of this ancient temple that already existed hundreds of years ago. 
The temple itself has four entry points, with a round center point at its top. From the external to the internal area, the temple depicts the level of human consciousness, consisting of 3 main levels of the building.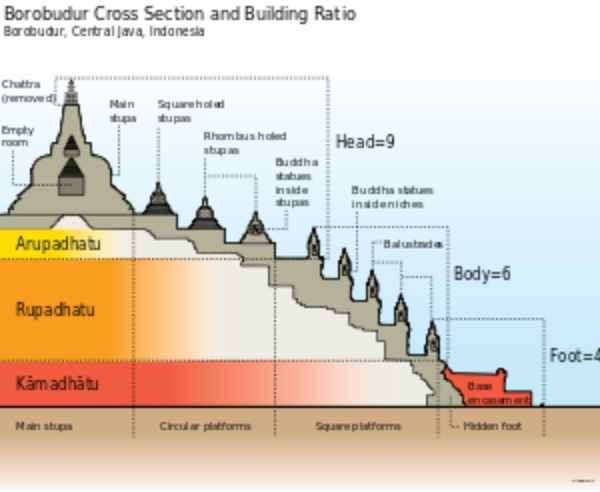 [Read: All Information You Need About Indonesia Visa Policy and Requirements]
The temple itself takes the form of the stupa, a place where the monks meditate. If we look closer to the temple, the overall building almost looks like a pyramid shape.
That's why, it'd be an interesting pilgrimage trip for visitors who wish to search for a deeper meaning of human existence, or tracing how ancient culture from a distant place could meet and influence each other. 
Now let's take a look into the 3 core levels of the building. 
#Kamadhatu 
Kamadhatu represents the world of desires. This is the outer part of the temple and serves as its base. People who spend their entire life to pursue worldly desires, according to Buddha teaching, are at this lowest level. 
When you walk down this area, you'd find out 160 reliefs that picturing the negative effect of human desire such as robbing, killing, rape, torture, and defamation.
#Rupadhatu
At the second level of this four square temple, you'd meet small square places that are fixedly attached back into the wall of the temple, namely niches, where the statues of Buddha are. There are 328 Buddha statues in the area. 
Rupadhatu was made out of 5 squares of a raised level surface that presents the body of the temple. 
#Arupadhatu 
Continue walking then you'll be in the circular center point of the temple, namely Arupadhatu. Pass by the three circular terraces, you'd end up in the stupa that represents the highest form of existence, the formless world.
You'll also find 72 stupas. Among them, there is a large topmost central stupa. 
#3 Design and Geographic Location
The temple was wonderfully designed with robust materials. Traditionally built out of stone, without mortar or cement, you'd notice that it required a high skill of stoneworks to complete the construction. 
There are 2,672 relief panels in the temple and consisted of 504 Buddha statues.
All the statues are in a meditative position with 6 different hand positions according to Buddha's face direction. Not only that, there were sculptures that picture artistically the life of Buddha in the temple.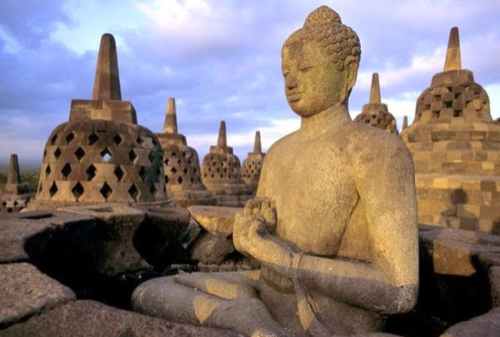 [Read: 6 Most Luxurious Apartments With Deluxe Amenities In Jakarta 2019]
So, can you imagine how long it takes to complete the temple and how many people are involved without any modern technology? 
Another thing that makes Borobudur an astonishing destination to visit is its corridor where the two temples namely Pawon and Mendut placed accurately in line with Borobudur. 
#4 Experience in Borobudur Temple
Borobudur keeps unique experiences from religious, historical to natural view for its visitors. You'd get a complete package of learning, relaxing, and traveling by visiting this giant temple.
Maybe you ask if there is any way to explore Borobudur that is fascinating yet meaningful. Yes indeed, if you walk on foot and learn a bit of the history of the temple before your exploration day.
Now here are some experiences you might get in Borobudur. 
#Religious and Cultural Experience 
If you want to see how people worship on Vesak Day, with a different view you should come to Borobudur. The festival is held each year in April or May. You can plan your trip this coming month.
Notice that there'd be a beautiful full moon appearing during that time. Quite a treat, isn't it? This is one thing that you can only enjoy in Borobudur. 
Now, before we continue, have you prepared the money for your trip to Borobudur?
If you haven't, you download from Google Play Store Finansialku application to help calculate the budget easily. Now the application is already available for i-phone users in the Apple App Store.
#Geographic and Natural View Experience 
As you journey toward the top of the temple, you'd meet many curved stones artistically designed along the way that gives you delightful experience of the temple.
Along with that, there is much philosophical significance waiting to be revealed from the stories of the carvings stones. 
You can use a tour guide service to help you along the way, especially if you come alone or are doing research. As you arrived, there is a green park where some vendors sell souvenirs and kids playing around on its sides.
If you bring children, the spot is fit for the playground and resting before exploring.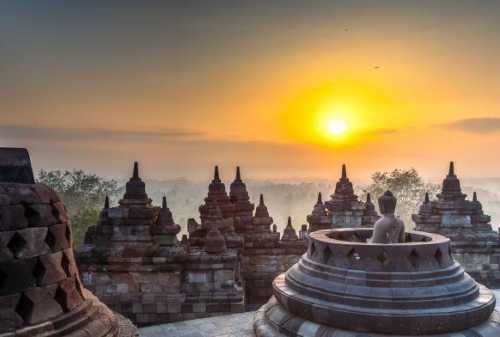 [Read: 15 Best Things to Do to Discover Bintan Island's Hidden Beauty]
Do you love seeing the sunrise from the top view? Then the perfect time to come is before 5.00 am. It is pretty early though. But you wouldn't miss the exotic view as the sun bursts its light into the stones of the temple.  
You can buy the ticket at the entrance. And as soon as you get it, the staff will give you a sticker. When you get into the yard in front of the temple, there will be a security guard who will check your bag and ticket. 
#Ticket
The good news for students is they get a cheaper charge for entry tickets than the regular price. So, if you are a student make sure to bring the card. 
For international tourists, the price rose from Rp475.000 to Rp500.000 or US$36.49.
But don't worry, with many travel services today, you may pay less than that and get additional services such as tour guides and meals.
Especially if you come to the celebration of Vesak Day, some agencies offer a discounted price. This option will save your budget particularly if you come with family.  
If you prefer to have private moments with your spouse, you can look for travel that offers packages for couples too. 
#How to get to Borobudur?
Borobudur is located in Magelang. From Magelang you can reach the temple by bus (17km). Other cities near Borobudur are Yogyakarta and Semarang that have international flights from Kuala Lumpur and Singapore.
So, if you come from Yogyakarta it's closer to Borobudur (40km) than from Semarang (99km).
You can take either private or public transport to Borobudur from these routes below: 
Route from Yogyakarta by bus: Get Trans Jogja Bus (bus line 2A & 2B) from downtown – go to Jombor bus station – get a bus to Borobudur. 

Route from Yogyakarta by private vehicle: Yogyakarta – Jl. Magelang – Sleman – Tempel – Salam – Muntilan – Palbapang – Mendut – Borobudur Parking lot. 

Route from Semarang by bus: Take an intercity bus to Magelang – stop by Magelang bus station, or the Palbapang intersection – take a local bus to Borobudur bus station. 
#5 Place to Stay
For your relaxation and comfortable stay, here are some nearby hotels to Borobudur to look for. 
#Manohara Hotel Borobudur
It's location is the closest to Borobudur and it is nuanced in Javanese culture. Enjoying the panorama of Menoreh Hills, Kedu Plain, and 4 Volcanoes from this hotel is a bonus for your trip.
Some services you can get from here are trips to ceremonies, temples and antique shops.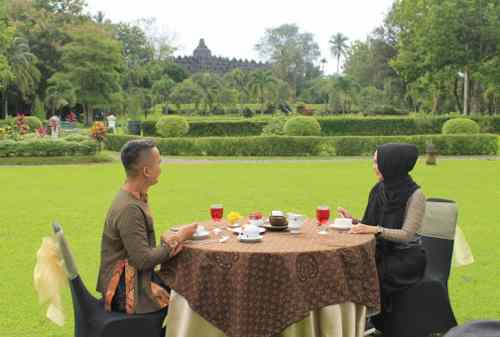 [Read: Batam Island: 7 Batam Resort and Hotels Will Drive You For Relaxing]
#Premier Inn Yogyakarta Adisucipto Hotel
Strategically located near Adisucipto international airport, you can go here directly and enjoy other easy access to major attractions, shopping malls, and historical tourist destinations during your stay.
It serves you with 24 hours free Wi-Fi, an en-suite bathroom, a flat-screen TV, tea and coffee making facilities and a work desk. 
#Platinum Adisucipto Hotel & Conference
It is located across Adisucipto airport and designed in urban business and leisure style. Get yourself some cozy treats with its on-site bar, spa, and fitness center. It also provides free private parking on site.
Besides, you can view the real-time flight schedule screen live from Adisucipto Airport in the lobby. 
#Core Hotel Yogyakarta
Placed conveniently in Yogyakarta Adisucipto Airport and Famous Malioboro City, the hotel will get you quickly to the culinary, shopping, and culturally diverse sites in Yogyakarta downtown.
For travelers, the hotel generously provides a free pick-up service from Adisucipto Airport and a shuttle service to the surrounding area. 
#Joglo Ayem Tentrem
You'll experience a typical Javanese living style inside this Joglo shaped-hotel. The serene and tranquil atmosphere helps you to relax after having a long trip.
The hotel offers interesting services from pick-up service from the airport, booking of the tickets of Sendratari Ramayana, bicycle rental, barbecue to karaoke set rental.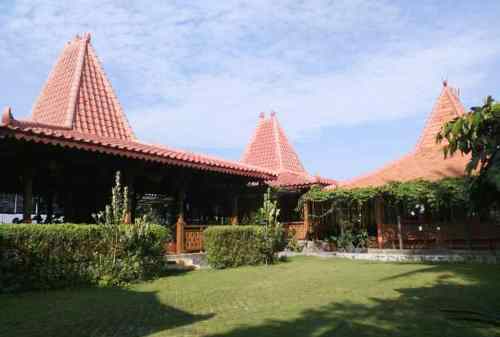 [Read: Best 10 Tips to Save Money on Your Holiday!]
Conclusion
Visiting Borobudur Temple is more than just a vacation. It is historical and can be an enlightening trip to the travelers and those who wish to learn about different cultures and views of the world.
By planning ahead, you can guarantee yourself a more satisfying exploration of this world's wonderful heritage.
If you find this article useful, please share it with those who'd be happy and are fascinated to visit Borobudur. 
Please share this article to your family or your best friend. Hope it will give them new insight for travelling.
References:
Admin. October 28th, 2019. Borobudur Temple, Indonesia. Indonesia.travel – https://tinyurl.com/vaqhqu2
Admin. Borobudur. Borobudurpark.com – https://tinyurl.com/uvrop4y
Admin. January 7th, 2020. Catat, Harga Tiket Sunrise Borobudur Tahun 2020 Naik. Kompas.com – https://tinyurl.com/u8qa6cz
Images Credit:
Borobudur Temple – https://bit.ly/391zv5F, https://bit.ly/2vgZNCh, https://bit.ly/3c8X1j5, https://bit.ly/2T0b6YF
Manohara Hotel Borobudur – https://bit.ly/2HWMVE7
Joglo Ayem Tentrem – https://bit.ly/2TgzmV9