Not only blue color gases, other wonders a volcano can create is a super huge lake where you can swim in such as Lake Toba. 
Being the deepest and largest volcanic lake in the world, Lake Toba is located in North Sumatra, Indonesia. The cool weather and fresh air of its area are among many attractions one can enjoy in Lake Toba.
It is a place where you discover the beauty of nature and unique culture of the people.
History of Lake Toba
Lake Toba was formed by a massive volcano eruption from around sixty to seventy thousand years ago.
The great eruption was an account for many deaths of people living at that time, including those in central east Africa and India. It also led to a dramatic decline in temperature that caused a global winter. 
Location
Lake Toba is right in the middle of the northern part of Sumatra Island. This great lake is 100 km long, 30 km wide, and up to 505 meters deep. With that size, you can spend time with various interesting activities such as swimming, kayaking, and enjoying the lake from a boat.  
Given its height surface, 900 m above sea level, you can use the cool clean air it has as a treat for lungs after breathing city polluted air. 
Beautiful of Lake Toba
For those who love nature and are adventure seekers, this is just a great place to be. It is just 4 hours from Medan, the capital city of North Sumatra province. 
Most people who settle in the countryside near the lake are Batak ethnic. They still live in traditional houses with unique architecture and are known for their roofs (curve upwards at each end, such as in the boat's hull) and the colorful decor. 
The lake itself consists of various types of phytoplankton which you can enjoy. The green mountains are set up around the lake. They have tropical rain forest including the beautiful pine forest trees on its sides.
You can immerse yourself in the view by sitting in a cafe on the side of the lake while enjoying meals with friends or family.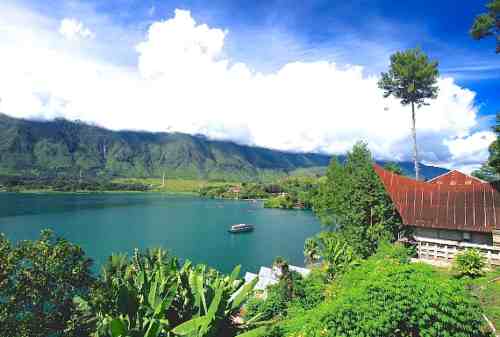 [Read: All Information You Need About Indonesia Visa Policy and Requirements]
Right in the middle of the lake, there sits Samosir island, an exotic place created from the volcano activity.
It has been famous for a tourist destination. In the southeast part of this lake, there is a flowing river, called Asahan, the primary outflows of the lake, which has been used as a source of power by the local residents. 
Now, before we continue, have you prepared the money for your trip to Toba?
If you haven't, you download from Google Play Store Finansialku application to help calculate the budget easily. Now the application is already available for i-phone users in the Apple App Store.
How To Explore Danau Toba
There are a lot of exciting activities you can explore around Lake Toba. So be sure you have planned enough time to do them. 
Here are some of them: 
#1 Relaxing Near the Lake
You can appreciate the lovely and tranquil looking of this magnificent lake by walking through it or simply laying on a picnic mat near the lakeside. 
If you stay in a resort, sitting on the terrace with favorite music playing in your ear while staring at the lake, you can revel in the view chill and relax. 
Otherwise, you can look for several fascinating water activities such as swimming, jet skiing, or kayaking.
#2 Riding Motorbike for Sightseeing
Providing its many appealing features, especially in the northeastern side facing Parapat, unless you can't ride, renting a motorbike is another option you should try. 
The price is quite affordable which is Rp40.000 or US$2,92, which covers gasoline as well. It'll be a satisfying experience for you since you can attend the area by bike and it's so wide that you can explore it the whole day. 
If you love cycling on unsmooth roads and steep hills, you can go for it. Because it will be tiring, be sure you got all the supplies and equipment covered. 
#3 Go to Batak Village
Local residents of the Lake Toba area are mostly Batak tribes whom most of them are Christian. They share common similarities for the traditional houses which are renowned for the design of their roofs. They also live on the Samosir island, in the middle of the lake. 
Along with that, there is Tor-Tor, a famous dance of Batak. It is usually performed to celebrate harvesting and in wedding ceremonies.
These are just some of the many unique cultures you will learn as you explore the lake.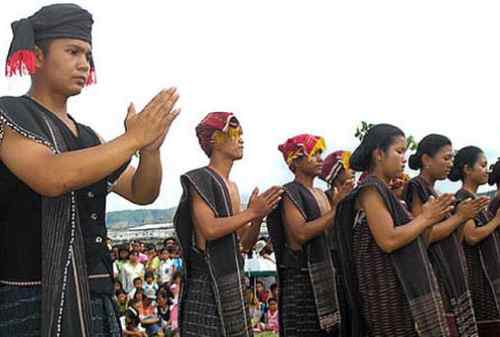 [Read: 6 Most Luxurious Apartments With Deluxe Amenities In Jakarta 2019]
#4 Get the Kick Out of Batak Culinary 
Your trip to Lake Toba wouldn't be complete without having Batak food.
Batak people are also famous for their tasty foods. Among them is grilled pork. For fish lovers, you wouldn't want to miss this popular yet delicious dish, Arsik. It is a goldfish with sweet, spicy, acidic and also a bit savory flavor. 
Do you like cheese? Then you should try Dali Ni Horbo, a white cheese made out of buffalo milk. What's unique about the dish is to get rid of its odor, people use pineapple and papaya leaf juice.
The dish is commonly served as the main course in the annual festival for Batak natives. 
#5 Enjoying Coffee on A Cliff
Many places to serve you with food and drink are also available on the cliff. They are run by some locals around the lake. The view from the cliff is just remarkable for you to enjoy. 
Various eateries can also be found over the side of the lake. They offer dishes from Batak to Sundanese food. 
#6 Climbing Sibayak Mountain
Mount Sibayak is a dormant volcano near Berastagi that is 2 hours north of Lake Toba. Doing camping at the bottom of the mountain and hiking up to its top are energizing activities to do with other people.
The striking sunrise view from the peak is the reward as you arrive in daybreak.
After your body releases much energy from hiking, you can relax in a hot spring near the mountain.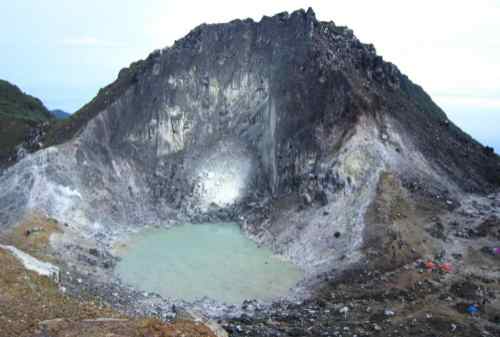 [Read: 5 Important Reasons Why You Should Visit Borobudur Temple]
#7 Sipiso-Piso, the Tallest Waterfall in Indonesia
Rest on the north tip of Lake Toba, Sipiso-Piso is the tallest waterfall in Indonesia with 120 m long. Let the refreshing water fall on your body while you go down to its bottom.
The viewpoint at the peak of the waterfall, let you notice the grand look of the entire Lake Toba, which is simply amazing. 
You might want to record this panoramic memory with a camera or drone. 
#8 Mount Pusuk Buhit, the Sacred Symbol
This is a place where Batak tribe is originally from. It takes 5 hours to climb the mountain. From its highest point 2000 m above sea level of its top, you can stare at the magnificent view of the lake and villages around it. 
A tour guide service can help you discover more about Batak tradition and the history of the active volcano. 
#9 Go Sailing with A Boat
This is one of highly recommended activities to take during your stay in Lake Toba. Immerse yourself in its stunning view by sailing with a historical ship of a Samosir king, designed with Batak carvings. 
#10 Sapo Juma Tongging Garden, A Garden Full of Rose
It is located in Tongging village. A perfect place to enjoy time with your loved ones. The garden is filled with red roses and other plants.
It is a serene place also for relaxing as you also can look at Lake Toba from this village. 
#11 Tuk-Tuk Siadong Village
Tuk-Tuk village is set at the first stopping point of ferry from Parapat. If you want to get to Samosir island, you'll stop first at this village.
It offers you many pleasant places for accommodation and eateries. While you take a rest in Batak bungalow style, you can also meet friendly locals around there from whom you can learn about Batak custom and Lake Toba.
#12 Sigale-Gale, the Wooden Puppet
The wooden puppet, Sigale-gale is a famous tourist attraction from Samosir. It is believed that the puppet can dance and wail by itself without music.
The puppet is actually a statue that is as tall as humans. This well-known feature is performed during a funeral dance. You can move the puppet by using strings.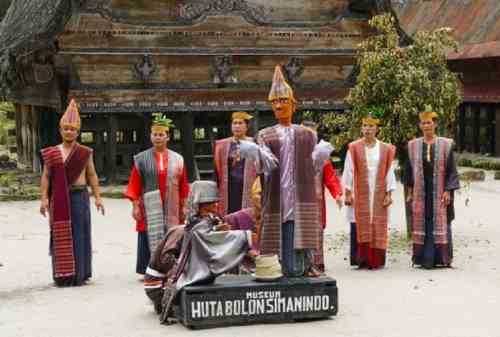 [Read: 12 Helpful Shopping Tips On The Holiday Season]
How to Get There
Here are several likely routes to get to Lake Toba: 
#Route 1 
Take a flight to Kuala Namu airport in Medan – from Medan take a car or taxi to Lake Toba. Kuala Namu is an international airport where there are flights to Singapore, Thailand, and Malaysia. It also has flights from all major cities in Indonesia. 
To make your trip to Lake Toba more adventurous, you can go with a bus which will take more time, around 6 hours. The bus routes are Medan-Parapat and Medan-Berastagi.
#Route 2 
You can use the train from Pematangsiantar because it's the closest station to Parapat. Then from Parapat, use ferry to Samosir Island. The first stopping point is Tuk-Tuk village and then Tomok village.
From there you can rent hotels or any accommodation before going further to Lake Toba.  
Where To Stay
Now here are some options of affordable yet delightful places to stay during your visit. 
#Tiara Bunga Hotel & Villa
This hotel is just perfect for those who love a serene and peaceful place to rest. It is located at the lakeside, with green hills as its background, making the view as breathtaking and romantic.
It's for those who seek privacy and solitude. The hotel offers a huge pool faced right in front of the lake, room with balcony, and fishing spot.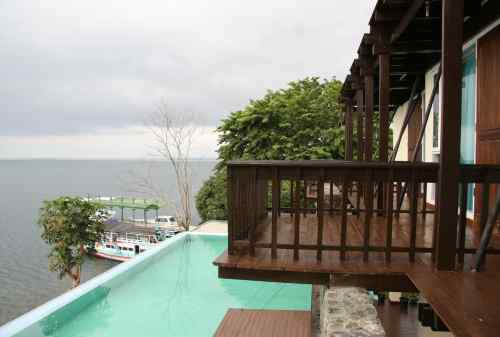 [Read: Indonesia, The World's Largest Archipelago Country]
#Taman Simalem Resort
This is a panoramic hotel because it offers you many remarkable views. Its vast building is equipped with gardens and a sunrise viewpoint. You can expect 5-star service from the staff with lodge rooms.
Other services to enjoy One Tree Hill with a vantage point, jungle trek, and waterfall.
#Samosir Cottages
The cottages are built with Batak and modern design with local hospitality.
It offers 6 different rooms, outdoor activities for kids, pool, and banana boat. The view and service of an almost 4-star hotel will make you satisfied during your stay.
#Inna Parapat Hotel and Resort
This hotel is placed in front of charming white sandy shores of Lake Toba and designed in the modern view.
From its infinity pool, you can relish in the magnificent view of Lake Toba. It is a European-inspired style hotel in Parapat with direct access to the lake.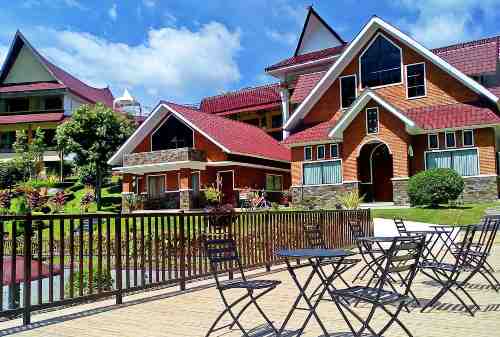 [Read: Gili Island, An Exotic Paradise in Eastern Indonesia]
Conclusion
Lake Toba is not only famous for its size and beautiful nature sight to enjoy, but it also stores a lot of enlivened and adventurous activity to make your day.
You won't regret spending your entire holiday in this lake. To prepare for the budget, download Finansialku application to calculate easily on Google Play Store.
It's now available also for iOs. Download it here! 
Hopefully, with the information provided in this article, you could plan interesting activities during your stay. Share this also with those who want to enjoy the lake. 
References:
Admin. Lake Toba. Indonesia.travel – https://tinyurl.com/tkebgso
John Fan. June 18th, 2019. 12 Things to Do at Lake Toba and Its Surroundings (Updated 2019). Tripzilla.com – https://tinyurl.com/roqvx8q
Admin. November 1st, 2019. 7 Local Foods around Lake Toba You Shouldn't Miss. Indonesia.travel – https://tinyurl.com/s2d2q8v
Stephanie. 10 Crazy and Adventurous Things to Do at Lake Toba. Discoveryourindonesia.com – https://tinyurl.com/wch5nqr 
Beverly Lennon. 12 Affordable Lake Toba Hotels Where You Can Enjoy Scenic Lake Views. Indonesia.tripcanvas.com – https://tinyurl.com/t2dp7jf
Credit Images:
Geopark Kaldera Toba – https://bit.ly/2uKzjsI
Tor tor Dance – https://bit.ly/3ceBfdX
Sibayak Mountain – https://bit.ly/2Pu0Ohh
Sigale-gale – https://bit.ly/39go2PW
Tiara Bunga Hotel & Villa – https://bit.ly/2Ta5ATg
Inna Parapat Hotel and Resort – https://bit.ly/3afCEPr