Yacht party, sea turtles, water sports, all in Gili Islands?! Here are more things you need to know about this exotic recreational spot in eastern Indonesia.
Let's find out about this place with Finansialku!
Gili Islands
Gili islands? Have you ever heard about this name? Basically, it is one of region in Indonesia. More precisely Gili islands are small islands near to Lombok, Western Nusa Tenggara.
Since Gili means small islands, it is very common for small islands to be called by Gili before it name. Gili islands itself are popular destination for tourists especially for those who love being in the water.
Even though they are small islands, tourists still can enjoy the environment since the places are calm and peaceful. There are three main islands, Gili Trawangan, Gili Meno, and Gili Air.
They present something exotic, peaceful, and relaxing. These places are fit for those people whom are stressed over their routines and need a quiet time for themselves or spending time with less number of people.
Gili Trawangan
Gili Trawangan is the biggest island among others, making this place the most popular and the first hop for tourists to start their vacation in Gili islands.
Since it surrounded by water, the weather here is hotter than usual and could make people dehydrated.
So, if you want to go here, I recommend to bring your own water bottle to make your body keep hydrated.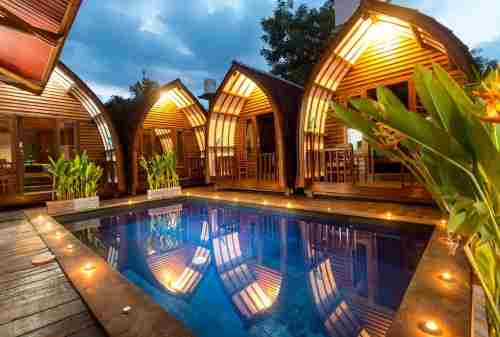 [Read Also: Indonesia, The World's Largest Archipelago Country]
Well, despite of the hot weather, you can still have some fun with the sea breeze and cold sea water in this island.
Here are some facts you should know about Gili Trawangan:
Since its located in eastern of Indonesia, we can get sunshine in better way.

For those who love to see sunrise and sunset, Gili Trawangan is the right place to come. You can say hello and bid farewell with the sun there.

Gili Trawangan is vehicle free, you can walk, ride a horse, or bicycling to explore the island.

You can see the magical Blue Coral, the most attractive thing tourists looking for beside resting in the island. It is common to rent a boat to see this phenomenon.

Party! This island is known for it's non-stop party, making this place called 'Party Island' as well.
Nature is not the only thing Gili Trawangan can offer to you. It also offers you many unique accommodations as well as attractions.
You can find a lot of good cafes and restaurants, bars and clubs, never ending party places, either in land or on the water, yes on the water! You can find several party boats that ready to sail the amazing party.
Gili Meno
If you are an adventurous castaway type, you probably love Gili Meno better. With only 2 km long and a kilometer wide, makes this island the smallest among three main islands in Gili.
Located near to Western Nusa Tenggara, Gili Meno is known for it's peaceful and calm atmosphere as the island is under developed comparing the other two.
This makes Gili Meno also known as romantic island as well. Thus, make this Gili more favorite destination for those who wants to have honeymoon, dating and such.
[Read Also: All Information You Need About Indonesia Visa Policy and Requirements]
You can also find a turtle sanctuary that plays an important role in protecting and hatching baby turtles to be released in Gili water. Donations are welcomed here.
Gili Meno also offers rooms, cottages and other accommodations. So, people usually don't have to book accommodations in Gili Trawangan if they visit this island.
Gili Air
While Trawangan famous for it party and Meno famous for it romantic atmosphere, Gili Air is the island of perfect water-activities. Scuba diving and snorkeling are the main reasons for tourists to visit this island.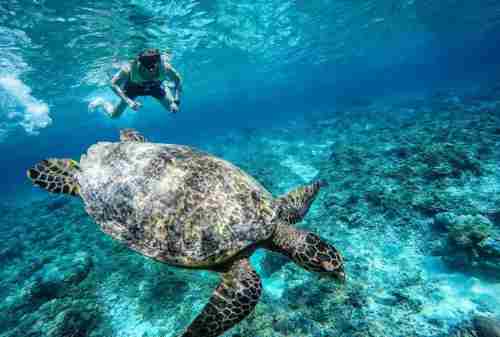 [Read Also: 12 Helpful Shopping Tips On The Holiday Season]
Gili Air located close to the mainland of Lombok and the market is geared towards the budget traveler and tropical island explorer, making this island a perfect place for tourist who wants to get close to local communities.
You can also watch sea turtles under water without disturbing them and swim above colorful seabed of soft and hard corals.
How to Get There
It is not difficult to get here, because you reach this place from some big and famous places, such as Bali.
If you start from Bali, you can use fast boat from Sanur Beach or Serangan Harbor. It only takes less than an hour to get here and cost US$105 per person.
If this too much for your budget, you can go here through Lombok. You can get to Lombok first to catch a ferry to Gili Islands. This ferry only costs US$5 per person.
Please remind that there will be no vehicles available when you reach Gili Island, therefore I recommend you to arrange your belonging well so it wouldn't be a hassle.
Things to Bring
Since the main attractions affiliated with water, you can bring proper things suit for the circumstances.
As recommendations, you can bring your swimsuit, sun screen, sun block, sun glasses will be very useful rather than boots, hammer and things for trekkers.
Don't forget to bring your camera and cover it with water proof case to protect it from the water.
One more thing, before you decide to have a vacation in Gili islands, just make sure you come at the right time. Don't let weather bother you.
That is what you need to know about Gili Islands, an exotic vacation spot in eastern Indonesia. How do you think?
You can share your thoughts on comment section down below. Share this info to your friends and let's travel!
References:
Eddy Fitriady. 21 Mei 2018. Bak 'Surga Dunia' di Gili Trawangan, Ini 10 Fakta Unik Pulau nan Eksotis yang Digemari Bule. Aceh.tribunnews.com – http://bit.ly/35OQtC4
Admin. Gili Island Sunset Snorkeling Trip – Gili Meno or Gili Air. Lonelyplanet.com – http://bit.ly/35VHTBw
Edira Putri. 12 September 2018. The Ultimate Travel Guide to Indonesia's Gili Islands. Theculturetrip.com – http://bit.ly/2DNuZdb
Jon Algie. 17 Desember 2018. The Gili Islands, Indonesia: Which Is The Best Gili Island For You?. Jonistravelling.com – http://bit.ly/2Ybv8Af
Pictures:
Gili Islands 01 – http://bit.ly/2DDorgS
Gili Islands 02 – http://bit.ly/2OIvFqx
Gili Islands 03 – http://bit.ly/2ODFbLi
Gili Islands 04 – http://bit.ly/2DyYUFG