Ijen Blue Fire coming out in Kawah Ijen? Wow!
Most crater by all accounts produces fire with red color. But what if it is a flaming blue fire that's coming out, would you believe it? 
Well, this surreal activity of a volcano can be seen in Banyuwangi. Its beauty has been a mix of fact and fantasy to the visitors. Who knows nature stores mysteries that can blow our mind away, including Ijen crater.  
The journey to Ijen crater is a challenging one and will provide you with absolutely fascinating experiences. 
So let's find out. 
Location of Kawah Ijen
Located in East Java, on the border between Banyuwangi and Bondowoso, Kawah Ijen or Ijen crater is renowned as the world's largest blue flames in the world. The last time it erupted was in 1999 and it is still recorded as an active volcano.
Ijen is in the west part of Merapi mountain and includes a volcano with many layers (stratovolcano).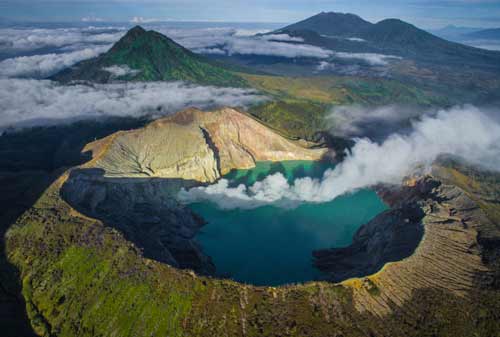 [Read: Indonesia, The World's Largest Archipelago Country]
The lake is very green because of the acid. It is regarded as the most acidic liquid lake in the world, with a pH that is almost 0.
But it is the blue flames of the crater that has been a point of attraction that draws many tourists. 
Now let's take a look into the volcano. 
Ijen Volcano  
Mount Ijen is a stratovolcano with the highest point 9,085 feet, with a very steep ground. It is part of a volcano complex with Merapi as the highest point. Therefore, when you are at the top of Ijen mount, you can see the peaks of Merapi as well as Bromo mountain. 
Though considered as an active volcano with magma eruption in 1871 that damaged many villages, it showed no more eruption for a short period.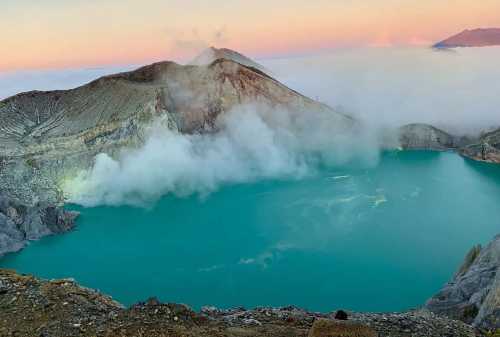 [Read: All Information You Need About Indonesia Visa Policy and Requirements]
Ijen Crater/Plateau And The Acid Lake
At the top of the mountain, you would find a crater 1 km wide. There resides a green lake which is the most acidic in the world.
The water in the edges has a pH of 0.5 and 0.13 in the middle of the lake. 
Ijen Blue Fire
Some people recognized the blue fire that comes out of the crack in the crater as blue lava. It is not lava actually, but the sulfur gases that emerge because of high pressure and temperature inside the volcano, which can rise to 1,112°F (600°C). 
When the gases react with the air, it turns out into blue flames which many recognize as blue fire.
The flames can reach up to 16 feet (5 meters) high.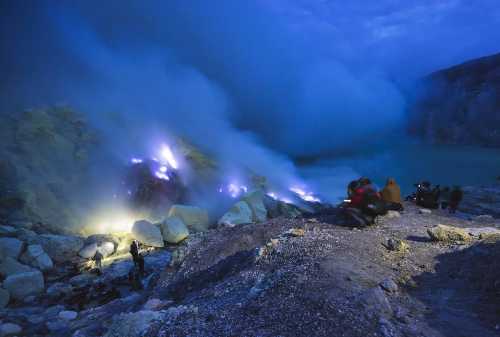 [Read: 5 Important Reasons Why You Should Visit Borobudur Temple]
You can find a similar fire in Ethiopia where the sulfur dust ignites from the soil of Dallol volcano. Despite this fact, the fire in Ijen volcano is considered the largest blue flames area in the world. 
After its publication by several media including National Geographic that released a report on the volcano activity, more visitors keep coming to see this rare phenomenon. 
Sulfur Miners
Sulfur gases that go out of the pipe in the volcano become molten or liquid and are red. When the gases have cooled they condense and become hard solid yellow sulfur stones in the ground. 
The stones are mined by the traditional miners. And the miners have drawn the attention of the visitors because of their activities. 
They start working in the morning until noon. Some of them work at night. They go down at the bottom of the crater with faces masked by wet clothes that are not very safe. 
They carry the heavy load of stones weighing 40 up to 50 kilograms. Using a traditional basket, they climb up from the bottom to the rim of the crater.
This is already a very dangerous activity. Not only that it is very steep from the bottom to the top (the degree is 45 to 60), but they also have to bring those stones by walking 3 km down the mountain.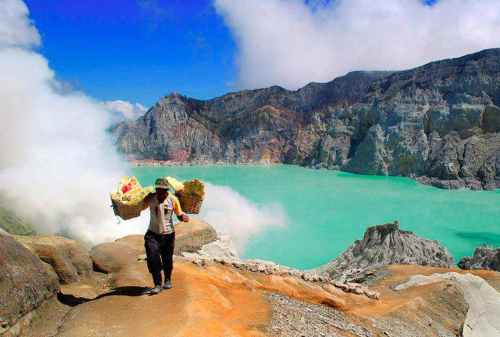 [Read: Gili Island, An Exotic Paradise in Eastern Indonesia]
Regardless of the high risk of dangerous working conditions, they get paid very low. The stones are sold to the refinery companies. It was said that each kilo was priced at only Rp800.
Sulfur is the material used in cosmetic products to treat acne, other skin problems, and dandruff. It is an essential and third most abundant mineral in our body.
Therefore, you can stop supporting the industry by choosing to consume sulfur from onions, garlic, vegetables such as broccoli, cauliflower, and cabbage, beans especially steamed soybeans which high in sulfur, and also fruits such as found in watermelon, avocado, kiwi, bananas, pineapple, and strawberries. 
How To Explore Kawah Ijen
Before starting the hiking, be sure your body is in good health and you wear the right shoes for climbing to avoid accidents on the road since it is steep and has loose rocks.
The track to Ijen crater is challenging especially for those who aren't used to climbing. From the bottom of the mountain, you'll hike up to the crater for around 4 miles which takes around 1,5 hours.
Though it is short, the track is tough especially down the base of the crater which has a long descent and ascent. It takes you around 2,5 hours to arrive at the base.
And as you walk down, the wind becomes stronger and blows the sulfur gases away.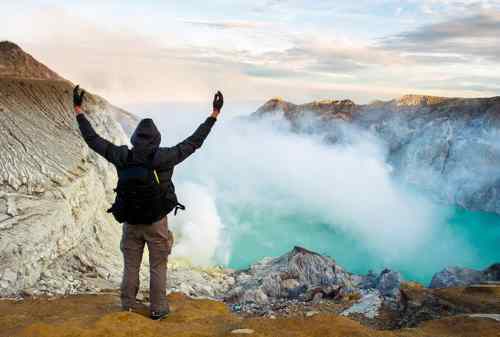 [Read: 12 Thrilling Activities You Should Try in Lake Toba]
Because the sulfur gases down the crater are toxic for lungs, you should bring a high-quality mask (even some of the gases can still get inside the mask) otherwise you wouldn't be able to enjoy the rare flames as your eyes also got irritated. 
The best time to see these stunning flames is at night. And summer is indeed the best time to visit the crater since the roads also are less slippery.
With the track and condition of the volcano, be sure you prepare well and get the best tour guide to lead you down the safest path. 
As you are down the crater, you would meet some miners without a gas mask working. They are hired by a Chinese company that owns the mine. Other sources mentioned that the wage for their effort is less than US$7 or around Rp95.000.
After enjoying the beauty of this blue flames, you'll get another treat of a breathtaking sunrise from the top of the volcano as you get your way back. The view is, even more, impressive with the presence of Merapi and Bromo Mountain.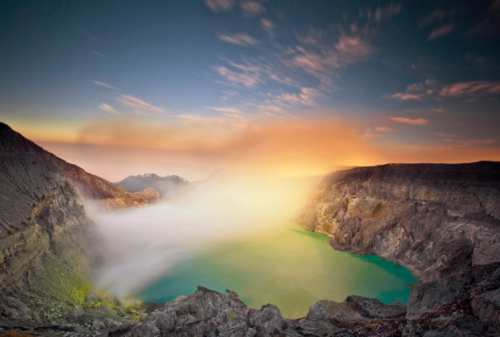 [Read: 6 Most Luxurious Apartments With Deluxe Amenities In Jakarta 2019]
Preparing for a budget is as important as for hiking.
So, have you planned the budget for the trip this holiday season? You can easily use Finansialku application to make the calculation. Please download the application on Google Play Store or Apple App Store.
How To Get To Kawah Ijen
Now, here are several route options you can take for international tourists.
#Route 1
Take your flight to Denpasar airport in Bali – take a ferry to Banyuwangi, East Java.
You can try  24 hours tour service from Bali to Ijen crater with photography and breakfast service with the local family after the hike. The tour starts at 5 pm and climbing at 11 pm. 
But if you only have a few days to stay and want to maximize it that tour service is for you. It offers a three days journey to three different places.
On the first day, you'll have a trip to Bali, the second day is traveling to Mount Bromo and the last day is going right away to Ijen volcano. 
#Route 2
Take a flight to Surabaya, East Java – use a train that takes 6 hours to Banyuwangi. If you are already in Banyuwangi, you can use tour guide service to help you on the trip, which starts at midnight. 
It is good to have several hours of resting before you go hiking, especially if you have a long journey before arriving in Banyuwangi. Therefore be sure to come as early as possible. 
Where To Stay 
And here are some options for your comfortable stay in Banyuwangi.
#Paddy Hills Homestay
This highly-rated hotel is placed in the middle of a rice field that gives a fresh and natural view. It is 22 miles to the trailhead of Ijen volcano.
It offers a family stay bedroom, a shared lounge, a garden, as well as a shared kitchen.
#Didu's Homestay Bed and Breakfast
This resort village is famous for its service and property quality.
It offers a continental or à la carte breakfast with free WiFi, air conditioning and access to a garden with a playground. It is located 35 km from the trail to Ijen mountain. 
#Margo Utomo Eco Resort 
This traditional designed-hotel existed since 1970's and committed to eco and agro-tourism. The location is 80 km from Ijen crater which is farther.
It is equipped with garden views, furnished-rooms with a king-size bed, a fan and seating area. It offers service to dairy farms and a plantation. 
Conclusion
After reading the information, what do you think about Kawah Ijen?
If you love hiking or simply curious about its famous blue flames, you can arrange your next trip to this crater. With new experiences it offers and beautiful natural views during your stay, Kawah Ijen is worth a try.
Don't forget to plan your budget trip using Finansialku application. The version for iOs is now available.  
If you find this article useful, please share this with those who also want to see these stunning blue flames. 
GRATISSS Download!!! Ebook Panduan Sukses Atur Gaji Ala Karyawan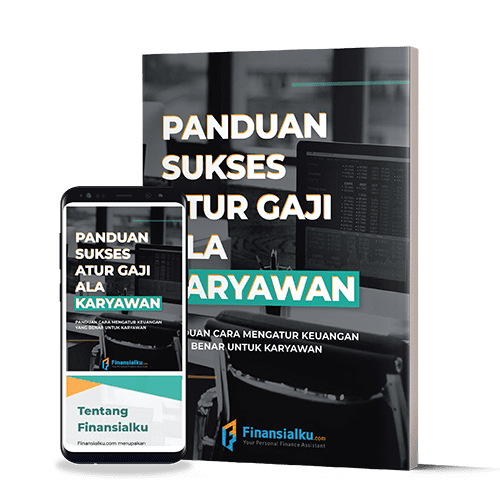 References:
Robert Schrader. November 1st, 2019. Indonesia Blue Fire Volcano, Kawah Ijen. Tripsaavy.com – https://tinyurl.com/w34uuqh 
Oksana & Max St. John. September 3rd, 2019. A Hike to the Heart of Ijen Crater: Chasing the Blue Flame. Drinkteatravel.com – https://tinyurl.com/vhmkhap
Lilis Setyaningsih. December 25th, 2018. Hanya Ada Dua di Dunia, Ini Cara Berburu Blue Fire di Kawah Ijen. Tribunnews.com – https://tinyurl.com/rll8gop 
Brian Clark Howard. January 30th, 2014. Stunning Electric Blue Flames Erupt From Volcano. Nationalgeographic.com – https://tinyurl.com/vdw75mx
Credit Images:
Kawah Ijen – https://bit.ly/3887AQl
Ijen Volcano – https://bit.ly/39dhwcC
Ijen Blue Fire – https://bit.ly/38dyiae
Sulfur Miners in Kawah Ijen – https://bit.ly/2PCMUcB
Hiking to Kawah Ijen – https://bit.ly/2TapcXi
Sunrise in Kawah Ijen – https://bit.ly/2uGnpQo