Looking for hotels in Bali for your next vacation? Here's 7 hotels in Bali with a stunning beachfront view.
Bali
Looking for a beachfront view where you can enjoy the sunrise while having breakfast in the morning, or take a short strolling along the white sandy beach in the afternoon?
Here are the 8 beachfront view hotels in Bali for your delightful and comfortable stay.
#1 Villa Infinite Horizon
This villa stands on the greenish hillside of a mountain that is surrounded by the ocean. You'll experience the traditional view of this villa since it is located among the Balinese rural life, villages, temples and rice paddies.
You can swim in its glorious outdoor infinity swimming pool while staring at the picturesque ocean view in front of you.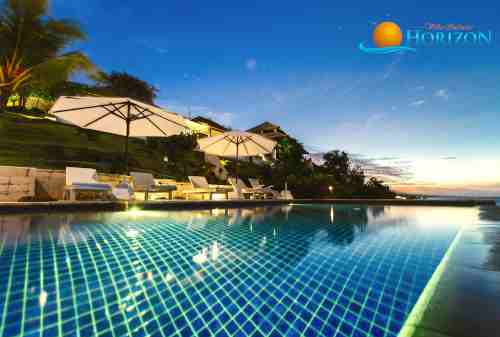 [Read: Derawan Island, The Hidden Paradise In East Kalimantan]
In the morning, revel in the light of the sun that shines on the ocean surface while enjoying your morning tea or coffee at your private terrace. Or you can spend the noonday by sunbathing in the seating area.
Its garden can be a nice spot for playing with your kids. This suite baths you with the luxury without costing much from your budget.
It is located near on-site watersports and snorkel in Tulamben (10 minutes' drive away) where you can see the rich colorful marine life and a sunken Japanese Shipwreck.
Rate: from US$ 96 / night or Rp 1.516.992
Address: Bunutan, Abang, Karangasem Regency, Bali 80852
Contact: (+62) 363 430 1029
Website: villainfinitehorizon.com
#2 Wyndham Tamansari Jivva Resort
This tranquil and extravagant resort sits right near the East Bali shoreline of pristine black sands. It boasts its beachfront view and the serene atmosphere of Balinese vistas.
Designed with a modern luxury pool, the resort provides you also with impressive decor of lobby, delicious dining, and a cozy spa room built in a traditional Balinese house where you can revel in the lotus and garden view while the staff massaging your body.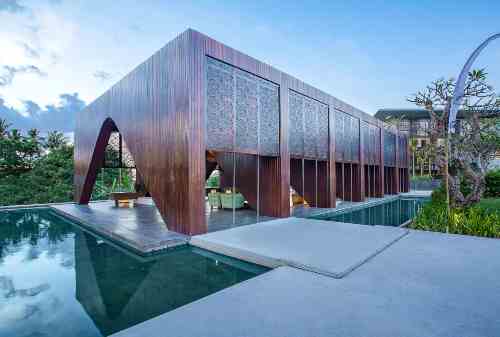 [Read: When Heaven and Earth Coexist in Ubud]
Among its fancy facilities, the jacuzzi in front of your balcony that directly leads you to Indian ocean view is no wonder a lavish treat for your holiday.
Take a moment to relax by sitting down on its rainbow-hued beanbag chair on the lawn with a cold drink and relish the epic Bali sunset.
Rate: from US$ 51 / night or Rp 805.902
Address: Pantai Lepang, Jl. Subak Lepang No. 16, Klungkung, Bali 80752
Contact: (+62) 366 5437988
Website: wyndhamhotels.com
#3 Rumah Luwih
Rumah Luwih is an exceptionally luxurious mansion settled on the coastline. Its grand building was built in colonial architecture dominated by white color.
Its spacious room has an elegant private balcony facing the Indian ocean view. With opulent furniture and decorations, you can sense a luxurious living resembling a serene touch from each side of the building.
Let not the glamorous comfort of your room prevent you from enjoying the resort's magnificent swimming pool overlooking the beachfront view.
It also features several ponds in the garden that are perfect for hosting parties, wedding ceremonies, or other celebrations.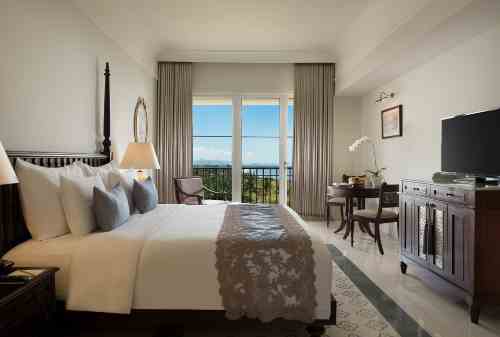 [Read: Dieng, The Exotic Plateau In Indonesia To Spend Your Holiday]
As you enter its dining room, you'll be entertained with charming interiors made out of fine wooden carvings, and chandeliers. Its setting is spacious and glamorous oriented to evoke the guests with a splendid atmosphere during their meal.
Rate: from US$ 80/ night or Rp 1.264.160
Address: Jalan Prof. Ida Bagus Mantra, Km 19.9, Gianyar, Bali
Contact: (+62) 361 2005899
Website: rumahluwih.com
#4 Bed & Breakfast & Bistro Aquaterrace
Nestled in the hillside close to the ocean and painted with white and blue colors, this villa covers you the amazing vantage point of blue sea water.
Looking for the best spot to snorkeling? From this villa, you can witness the amazing coral reefs in just 15 minutes away.
Besides being famous for its snorkeling vista, it offers you 180 degrees of ocean view from your room. Feel the utmost comfort of its furniture and facilities in your room, with a seaview from your bathtub.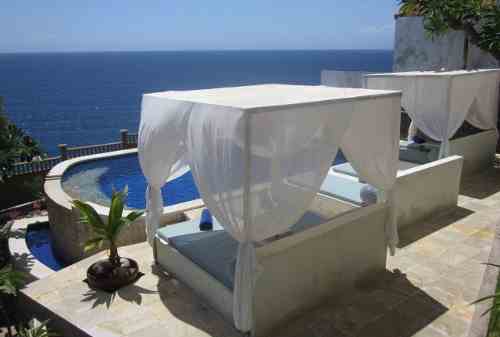 [Read: 12 Adorable Places In Yogyakarta That Everyone Should Enjoy]
Sunbathing in the sunbed beside the oceanfront view pool while enjoying the terrific seascape of Bali accompanied with a cold lemonade is a sheer joy you can expect from here. Also get your body relaxed by massaging in its semi-indoor spa. 
Rate: from USD$ 80/ night or Rp 1.264.160
Address: Selang, Bunutan, Amed, Karangasem, 80852 Amed, Indonesia
Contact: +62 813 37911096
Website: aquaterrace-amed.com
#5 Citadines Kuta Beach Bali
Citadines placed in the heart of Bali's most vibrant place, Kuta beach, is a great place to delight in the exotic view of Bali. With a modern design of exclusive interiors and facilities, there's no doubt you'll experience the extravagant stay near the beach.
For a longer stay, you can prepare your own meal with a kitchen set in your room if you are tired enough of walking outside.
But if you want to try a variety of food, don't worry because a lot of food stalls and cafes are scattered around Kuta area, ready to serve your hungry belly.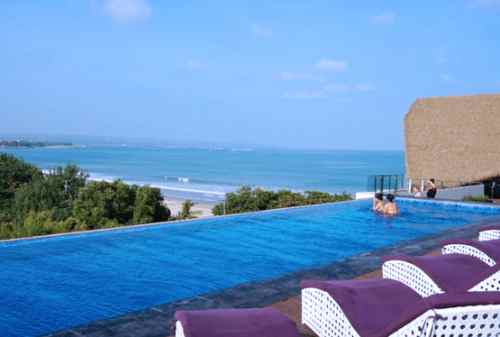 [Read: Komodo Island, The Other Side Of Paradise In Flores]
It also features an elegant lounge bar where you can soak in the Bali sunset by having a glass of cold beer while laying down on a sunbed that faces the beautiful Kuta beach.
Try also its fancy rooftop infinity pool with a picturesque beachfront view. If you want tanning, the spa is also available at an affordable price.
Rate: from US$ 64/ night or Rp 1.011.328
Address: Jl. Pantai Kuta, Kuta, Badung, Bali 80361
Contact: 0361-849 6500
Website: Citadines.com
#6 Kutabex Hotel
This affordable beachfront view is for those who want to enjoy a near-beach view with a friendly budget.
Its strategic location in Kuta beach gives you the easy access to most popular places in Bali such as the superb Legian and Geger beaches.
Need a dose of good food and shopping? This stay gets you covered. Street food and shopping centers are available just around the corner.
Poppies, a small street in Kuta that is renowned for its tasty dishes and shopping spots, can be easily accessed from here.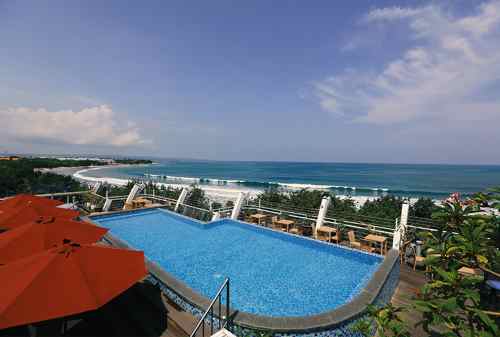 [Read: 16 Top Attractions You Must Visit In Flores Indonesia]
The Seven rooftop bar, a delicate venue to spend your night with your loved ones is just right in front of the rooftop swimming pool.
Order your cocktail from the bartender and enjoy it while admiring the gorgeous view of Kuta beach that is right in front of you with your spouse.
After a long trip from its nightlife venues, refresh your body with massages handled by professional staff in its convenient spa.
Rate: from US$ 49/ night or Rp 774.298
Address: Jalan Pantai Kuta, Banjar Pande Mas, Kuta, Bali 80361
Contact: 0361-300 7077
Website: Kutabexhotel.com
#7 Kuta Beach Heritage Hotel
The ornate architecture of this boutique hotel not only will boost your mood but also comes along with thrilling venues you can explore right away.
It is close to the shopping districts where you won't miss the typical crafts, and souvenirs of Bali.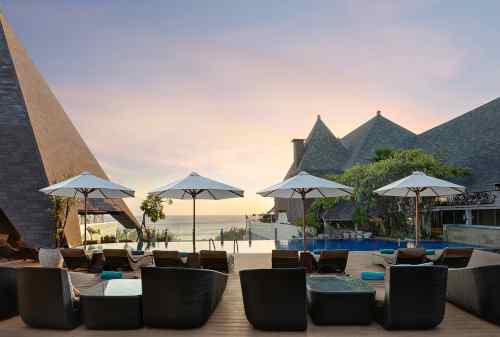 [Read: Kawah Ijen: Challenging Yet Exciting Hike To Ijen Blue Fire]
Get to know Bali life at night by visiting some of its best clubbing that are only a short walk away. One you should try is the Pyramid Club that has neon stilt walkers, live rock bands and dancers.
This accommodation can be a calm and cozy place also to enjoy your drink at the rooftop pool or bar while gazing at the ocean that is covered by the night sky of Kuta.
This hotel also provides facilities that fit for disabled people.
Rate: from US$ 75/ night or Rp 1.185.150
Address: Jl. Pantai Kuta, Br. Pande Mas, Kuta, Tuban
Contact: (+62) 361 3007080
Website: all.accor.com/hotel/8151/index.en.shtml
How to Get to Bali
Here are several likely routes to get you to Bali.
# Route 1 by Flight
Flights of major international cities regularly fly in and out of Denpasar, capital city of Bali. The airport, Ngurah Rai, is only 13 kilometers from Denpasar.
If you are in one of major cities in Indonesia, you can easily find a regular domestic flight to Denpasar. The best option for transport is a taxi since the bus does not always come to the airport. 
# Route 2 by Road
It takes 23 hours longer if you want to make your way through the road from Jakarta, the capital of Indonesia using the bus. This option is best for those who love some adventures by travelling through several places in Indonesia.
# Route 3 by Ship
If you love travelling by the sea, take a flight to Singapore, Sumatra or Java and book your ship ticket to Bali. Bali port is regularly visited by most cruise liners traversing through South East Asia.
Conclusion
Beachfront hotels and villas in Bali, offer you more than just a captivating view of the ocean and beach in Bali but also comfort you with luxury convenience. All the features they provide are sure to make your holiday delightful.
To prepare for the budget, download Finansialku application to calculate easily. It's now available both in Google Play Store for Android and Apple App Store for iOs.
Hopefully the information in this article will help you to decide the best place to stay in Bali. Tag this article to other people who want to experience staying in one of Bali's best hotels.
References:
Jia En Toh. 14 impressive beachfront hotels and villas in Bali under $80. Indonesia.tripcanvas.co – https://bit.ly/2Sb0GVa
Setaysha. 11 exceptional beachfront stays in Bali that are different from what you think. Indonesia.tripcanvas.co – https://bit.ly/3f2cSl8
Images Source:
Villa Infinite Horizon – https://bit.ly/2Ye50XI
Wyndham Resort – https://bit.ly/2KLrQh7
Rumah luwih – https://bit.ly/2VJ8FLh
Aquaterrace – https://bit.ly/2zDp6QS
Citadines – https://bit.ly/2SfP8jq
Kutabex – https://bit.ly/2KHBIZC
Kuta Beach Heritage – https://bit.ly/2YdOC9m