You should have a taste of heaven-like Komodo island.
Not only the terrestrial flora and fauna including the largest lizard on earth, make their home, but also where the lavish view of land and sea is perfectly made up. What is more mind-blowing than to be on the other side of paradise rather than this?
Location
Komodo island stands between the bigger neighboring islands, Sumbawa to the west, and Flores to the east.
It is located in East Nusa Tenggara province, and is part of the Lesser Sunda chain of islands. It is famous as the home for the largest lizards on the planet, Komodo dragon.
History
The expedition to Komodo island was initiated by several people from Dutch, including Dutch colonial administration.
A research paper was published in 1912, after the killing two giants Komodos 3.1 metres and 3.35 metres in length. In 1915, the Dutch government issued a regulation on the protection of the lizards on Komodo island.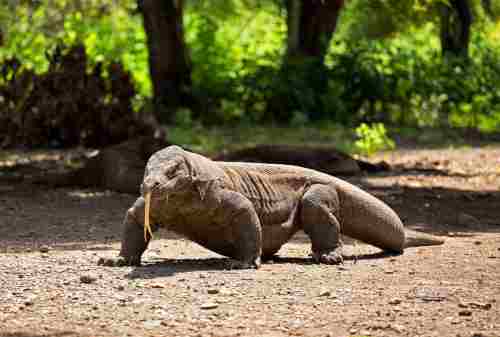 [Read: Derawan Island, The Hidden Paradise In East Kalimantan]
In 2019, Komodo island was closed for tourists for a certain time because the case of animal-smuggling. Its purpose was to do conservation for the lizards that took Rp 100 billion (around US$ 7.2 million).
Besides the fauna, people in this island are those who were exiled from Bugis. They are mainly Islam, and some are Christians, and Hindu.
How to Explore Komodo island
Now let's jump into several thrilling activities you should try during your stay in Komodo island.
#1 Komodo National Park
Your holiday to Komodo island won't be complete without a trip to this park. It is renowned as the home for its largest lizards in the world, Komodo dragon. It has been a main draw for tourists on the island. The island is also listed as part of new 7 wonder of nature.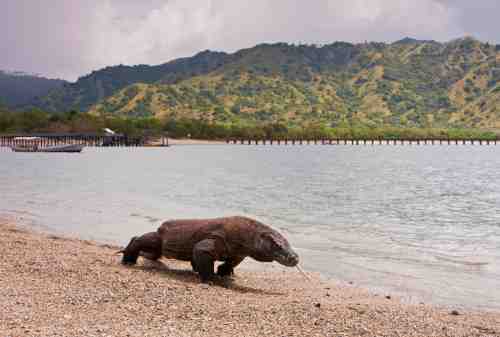 [Read: When Heaven and Earth Coexist in Ubud]
Komodo dragon is an endangered animal and one of the most venomous animals, with deadly poison in their saliva. It can run and swim up to 20kph and have far vision to spot objects from 300m away.
This fierce animal can eat 80% of its weight in one feeding. So be sure you don't get too close with them. Always have a ranger with you and follow the instructions.
#2 Snorkeling at Manta Point
Komodo island is notable also for its best diving spot on earth. You are in the right place to witness its grand underwater paradise, including the giant manta rays, in Manta point.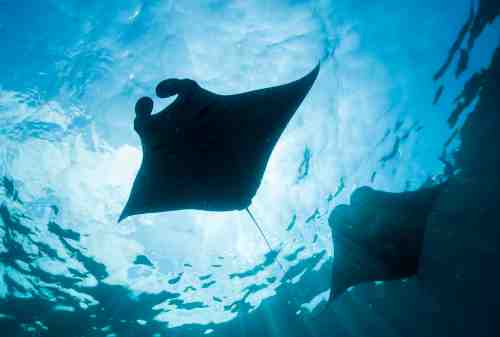 [Read: Dieng, The Exotic Plateau In Indonesia To Spend Your Holiday]
Manta rays, bulk of colorful fishes, and coral reefs will welcome you as you swim along inside its crystal-clear blue water. You also can spot turtles while drifting along on its active currents.
Don't forget to record it on your Go-pro. It is totally guaranteed that you will have the best of snorkeling experience in Manta point. 
#3 Hiking up at Padar island
A little climbing up to the tip of Padar island is a-must trip for those who love trekking. It gets one of the most breathtaking vantage points of the island in Indonesia.
It will surprise you with its distinct landscape of savanna hills of tan-colors that surround the island, and the fine blue ocean.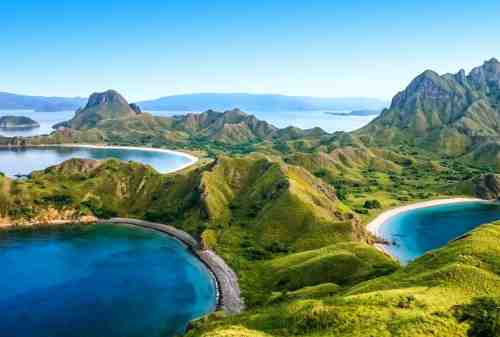 [Read: 12 Adorable Places In Yogyakarta That Everyone Should Enjoy]
The track up to its summit is difficult mainly because it has loose rocks and sands, so you should be careful with your steps.
You'll need a pair of hiking shoes (flip-flop is not recommended), and a bottle full of water, because you'll sweat especially if you trek on noon day. But it is worth the effort.
After reaching at its top, take a rest and let your body feel the freshness of clean air and the blow of wind, while gazing at its exquisite landscape in front of you.
I believe it won't take long until you grab the camera and take as many shots as you like.
#4 Sunning at Pink Beach
From Komodo park, you can head on to one of the pure pink sandy beaches in the world, Rii Taa beach.
The island is backed by the tan-colored hills which contrasted with such translucent blue water. It is just a perfect combination you can get on the island and the reason why you should never leave your camera when coming here.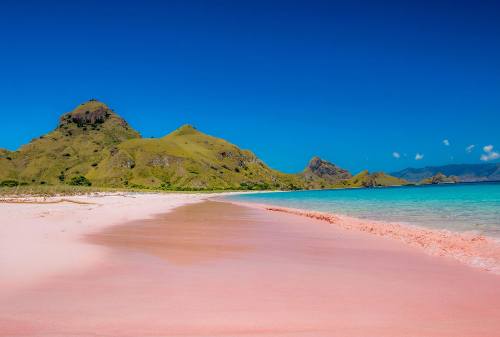 [Read: 16 Top Attractions You Must Visit In Flores Indonesia]
One of the ways you can appreciate this breathtaking view is by taking a stroll along its pink shoreline and immerse yourself into its beauty. The island has no inhabitants.
If you are lucky enough, you'd meet either few or no visitors at all. Its secluded and tranquil ambience is what you can expect to experience. So let your body rest in the peacefulness of this island.
Of course, it won't complete without snorkeling and diving into its lovely crystal clear blue seawater.
#5 Spotting Bat at Kalong island
Near Komodo island, there is a bats nest, Kalong as the locals named it because of their big size. It is covered with mangrove forest. The best time of hopping around the island is in the afternoon.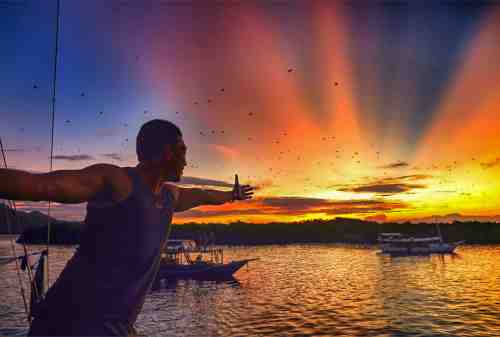 [Read: Kawah Ijen: Challenging Yet Exciting Hike To Ijen Blue Fire]
At this time, thousands of giant bats are flying out from the forest with the sunset as its backdrop that creates an epic view that makes you want to take a picture.  
#6 Spotting Komodo at Rinca Island
Another site for spotting Komodo dragon is in Rinca island. Journeying into the island, you will find a dense forest, grassy field, and few scattered watering holes where the Komodo dragons hunt for prey.
Animals such as wild water buffalos, Timor deer, wild horses, and various tropical birds present a different view of Komodo island.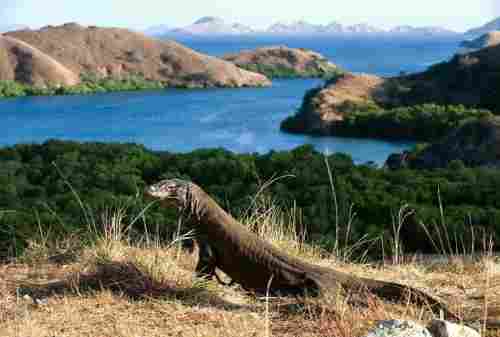 [Read: 12 Thrilling Activities You Should Try in Lake Toba Indonesia]
You'll need an experienced ranger to come along with you as Komodo dragon is dangerous. Don't forget to wear cloth that quickly absorb sweat, and sunscreen because the climate is rather dry and pretty hot.
#7 Trekking to Gili Lawa island
Another great viewpoint at Komodo island is Gili Lawa, a savanna hill just like in Padar island. The difference is in here the trail up to the tip is pretty steep with loose rocks, and less well-known than Padar. That's why you'll be sweating a lot.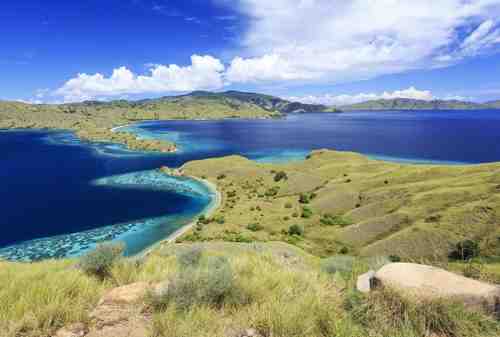 [Read: 5 Important Reasons Why You Should Visit Borobudur Temple]
The sunrise and sunset of this uninhabited island are as astonishing as in Padar. It is perfect for photography or instagrammable pictures.
How to Get to Komodo island
Here are several likely routes to get to Komodo Island.
#Route 1
The closest town to Komodo island is Labuan Bajo, in Flores, East Nusa Tenggara. To get to Labuan Bajo, you can take the cheapest flight from Denpasar, Bali.
There is also a flight from Jakarta to Labuan Bajo. Indonesian Air Transport (IAT) and TransNusa Airlines (TGN) offer daily flights to Labuan Bajo.
#Route 2
You can get to Komodo island by ferry from Bali to Labuan Bajo. It operates every two weeks. Though the cost is cheap, it takes around 36 hours to arrive. So, it is better to prepare ahead if you plan to use ferry. Be sure you check the weather for a safe travel.
Where to Stay in Komodo Island
Now here are some options of affordable yet delightful places to stay during your visit in Komodo island.
#1 Dragon Dive Komodo Hostel
This hostel is just a short stroll away from Kampung Ujung beach. Not only near Labuan Bajo airport', but it is also 30 km away from Komodo island.
For those who love to enjoy a front-sea view from your room, this hostel offers you just that. It is equipped with Italian restaurant, rooms with a pool or garden view, and arrangement for diving and snorkeling activities for guest.
#2 Komodo Lodge
Besides its strategic location which is near restaurants and airport, the lodge also offers you with a comfortable stay with a sea viewpoint you can enjoy from the room terrace. The room facilities are air-conditioned, free toiletries, wardrobe, and shower.
The services you can expect are airport shuttle, car rental, and arrangement activities for snorkeling, diving, and hiking.
#3 Bintang Flores Hotel
This hotel boasts its beachfront pool that is a short walk away from pristine white sandy shorelines. It is located on a private beach, has tropical garden landscapes, and a dive center as well.
The hotel offers free Wi-Fi access, a satellite TV, and opening out to tropical views. With easy access to Flores harbor, and a 10-minute drive from Komodo airport and Labuan Bajo ferry terminal, these will make you rest satisfied.
Conclusion
If your picture of a perfect trip is enjoying the breathtaking view of nature' wonders, Komodo island is just for you. Its terrific viewpoint, flora and fauna will make your holiday more exciting.
To prepare for your trip budget, download Finansialku application to calculate easily and fast. It's now available on both Google Play Store and Apple App Store.
Hopefully, this article provides the information you need about Komodo island, so you can prepare well for the next trip. Tag other people who'd love making a trip to this awesome island with you.
References:
Admin. 10 Reasons to Visit the Magnificent Komodo National Park. Indonesia.travel – https://bit.ly/2VFuY3a
Vicky. January 21st, 2020. How To Plan A Trip To Komodo Island-Things To Do, Where To Stay, And Where To Eat. Maketimetoseetheworld.com – https://bit.ly/34QWoHM
Admin. March 21st, 2020. Komodo Island. Wikipedia.com – https://bit.ly/2KmhOTN
Images Source:
Komodo National Park – https://bit.ly/2Vpy0JX
Manta Point – https://bit.ly/2xMS8wM
Padar Island – https://bit.ly/3cG0y85
Pink Beach – https://bit.ly/3bqIRcd
Kalong Island – https://bit.ly/3cEVq4a
Rinca Island – https://bit.ly/2yBaCjG
Gili Lawa – https://bit.ly/3cFSVyb