Come to Bali Indonesia is like entering another world full of leisure wonders. Its complete package for recreational and traveling vistas no wonder makes the visitors to come back for more.
Literally everything about retreat, cultural and art vibe in Bali are ready to serve you, not to mention the Balinese who are friendly, and welcoming with a loving spirit.
You won't regret spend money on its fascinating sites from hotels, culinary, shopping centre, art gallery, spa, and its world-class activities.
Location of Bali Indonesia
Situated in east of Java and west of Lombok, Bali is an island consisted with few smaller neighboring islands include the famous Nusa Penida, Nusa Lembongan, and Nusa Ceningan.
Its strategic location makes Bali has plenty of surfing, diving, and scenic spots.
Besides, its vibrant community in arts and tourism sectors with its openness characteristics resulted in its high human development index (HDI) 0.747.
History
Ancient Bali was a colony, established by Hindu Majapahit Empire (1293-1520 AD). Before, it was inhabited by Austronesian people who moved from the island of Taiwan to Southeast Asia and Oceania.
Since ancient time, Bali culture already had influence from Indian, Chinese, Java, Buddha, and particularly Hindu culture.
There was also a mass Javanese immigration to Bali when Majapahit Empire fell in 1520.
The island became an independent island under Hindu kingdom for 386 years until 1906 when the Dutch colonized the native.
How to Explore Bali
Now, to help you make the most of your leisure time in Bali, here I sorted out some must-try activities you surely won't miss out.
So, let's check it out!
#1 Treetop Adventure Park
Located in the lush forests, the park offers a range of outdoor activities for the adrenalin. If you love height challenge, there are different routes built up in the trees you can try.
Along with that, you'll find nets, swings, and flying foxes galore that allows you to see the charming view of the forest from above.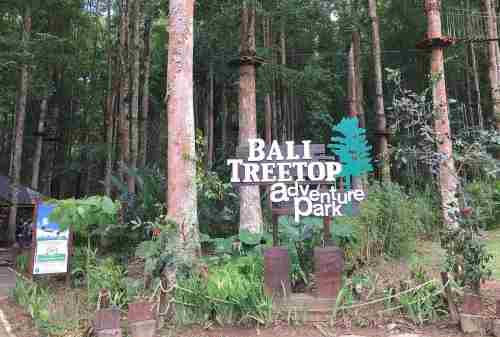 [Read More: 16 Top Attractions You Must Visit In Flores Indonesia]
If you come with a large group or family, and children, this is a great place to do outdoor activity, and enjoy the refreshing atmosphere together.
#2 Ulun Danu Temple
Clothed with its exquisite architectural touches, the temple is situated on the hill that overlooking a lake.
If you come by early morning, you can revel in the beautiful sunrise or spot flocks of hanging clouds that cover the mountain.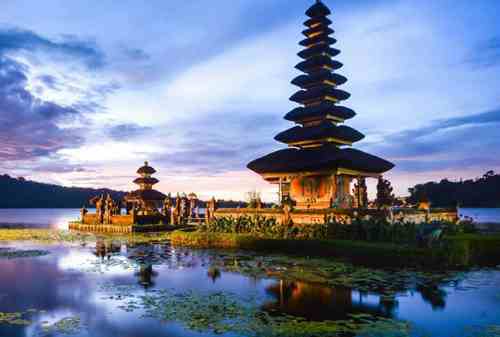 [Read More: Dieng, The Exotic Plateau In Indonesia To Spend Your Holiday]
The temple is placed on the edge of Baratan Lake in Bedugul, which is two hours from Kuta. It is very clean, and consists of several shrines dedicated for different goddesses.
In here, you can take several photo shots from its vantage point or explore the lake with a boat.  
#3 Yoga Barn
Experiencing a solitude retreat is something you can do to bring back all the positive energy and spirit, while contemplating. Although it is notable for its busy tourism industry, it is still possible to enjoy the touch of tranquil environment in Bali.
That's what makes Bali unique. If you look for a solitude space, Yoga Barn is where you need to go.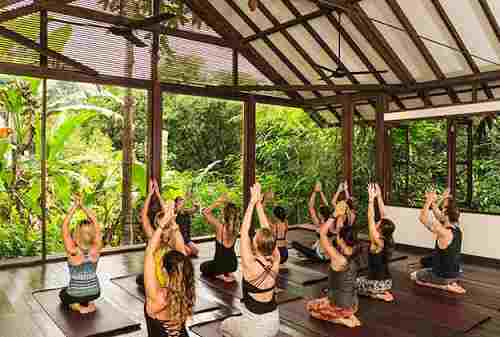 [Read More: 12 Adorable Places In Yogyakarta That Everyone Should Enjoy]
It has five different studios and a range of programs for all levels of ability. The accommodation also provides room to stay for a retreat.
If you want to convert from fast to unhurried pace of life its detox and cleansing program will help you.
GRATISSS Download!!! Ebook Perencanaan Keuangan Usia 20 an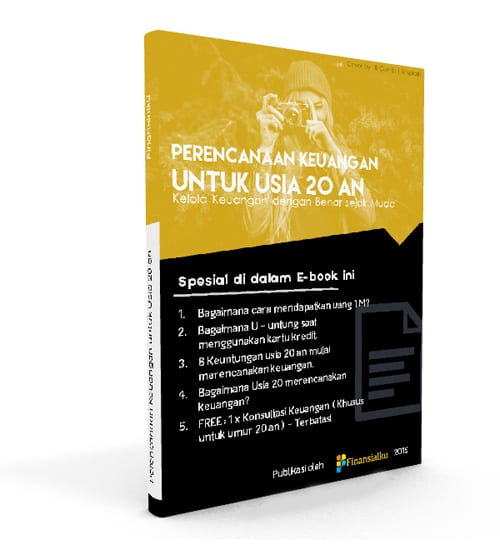 #4 Jetpacking at Tanjung Benoa
Another water activity is jetpacking at Tanjung Benoa.
Quiet challenging, this sport make you relish in the scenic view of Bali ocean in the air. With the life jacket put on your body, the water jetpack will fly you up to a height of 10 meters which usually last around 20 minutes.
That is more than enough to create a loud-exciting scream, don't you think?
Don't worry if you never try it before, there is an instructor ready to teach you.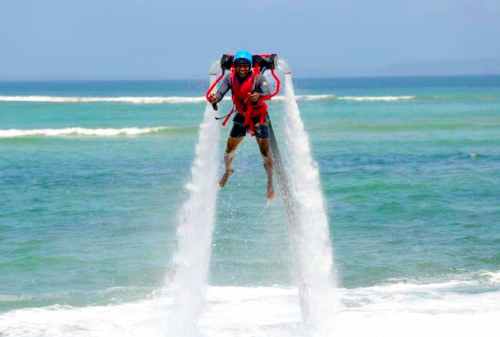 [Read More: Komodo Island, The Other Side Of Paradise In Flores]
#5 Rafting on Ayung River
Still feel unchallenged enough? Go for rafting on Ayung River. Experience your blood rushing through your body while rafting through the rapids.
As the water streams begin to slow down, take a moment to breathe, and enjoy the little local villages along with the greenery flourishing forests from the boat.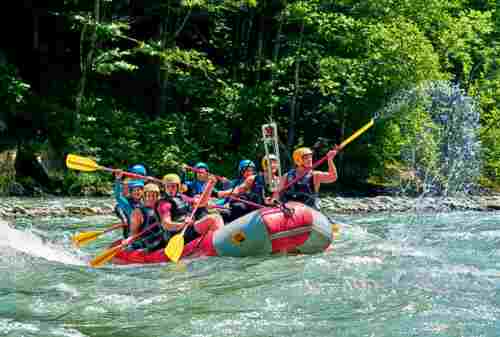 [Read More: Derawan Island, The Hidden Paradise In East Kalimantan]
#6 Tour in Ubud
Known as the heart of the heritage, arts, and culture of Bali since the 1930s, the much-artistic depth, and the convention of Ubud soon forges its visitors with the genuinely true color of Bali.  
Located in northern Denpasar, and a district in Gianyar, Ubud is one of the busy, and beautiful tourist draws in Bali beside Seminyak, and Kuta. It is about 9.75 km away from Gianyar.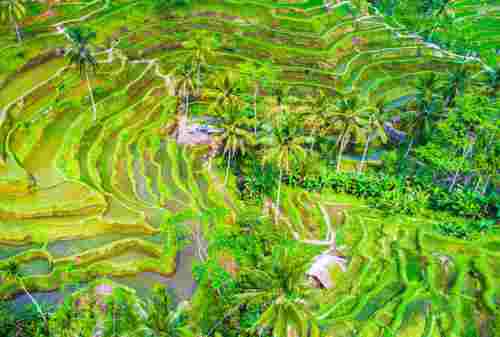 [Read More: When Heaven and Earth Coexist in Ubud]
Traveling down to its 8 villages, and feel the spirit of the locals. Connecting with the local and religious value through its work of art, festival, museum, temple, and historical palace around the town will enrich you.
Or you can in-breathe the fresh air while strolling down at Campuhan Ridge Walk early morning and late afternoon. In here you will see the sun rises and downs and the skies show their beautiful colors.
Don't worry about taking rest for a moment because there is a small café around it.
#7 Vegan Treat at Alchemy Café
What else is more satisfying for a vegan than enjoying delicious vegan dish at Alchemy Café while admiring the breathtaking view of Ubud.
The café serves up raw, and vegan foods. You can even visit a raw chocolate factory as part of the cafe.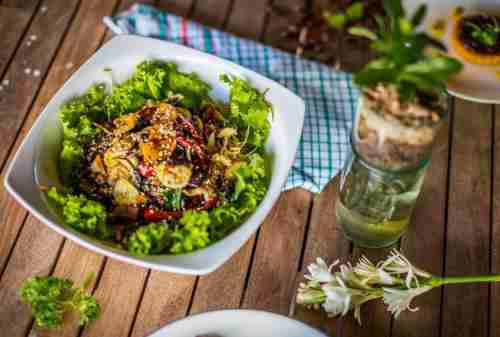 [Read More: Kawah Ijen: Challenging Yet Exciting Hike To Ijen Blue Fire]
Besides, you'll have a chance to taste its dishes made with local ingredients. Or try the famous salad bar, and some of the raw vegan sushi, if you love Japanese food.
For drinks and deserts, the café provide the customer with a great range of smoothies and shakes made with tropical fruit as well as raw deserts and chocolates.
#8 Body Spa at The Edge Hotel
Not only luxurious hotel and resort, Bali is also renowned for the lavish experience of spa that blend with the traditional ingredients.
If you want to feel the sensation of luxury while having your body get professional massage and treatment The Spa in The Edge hotel is the right option.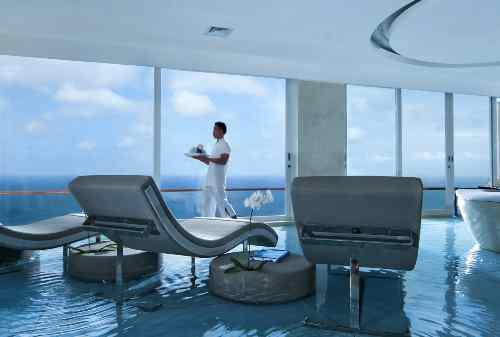 [Read More: 7 Best Hotels In Bali With A Stunning Beachfront View]
Situated on the side of a cliff in Uluwatu, The Edge hotel is one of the most luxurious property in Bali with incredible facilities and design.
It offers you a breathtaking view of Indian Ocean from many vantage point of the resort.
The expansive spa room is equipped with an elegant interior design, and amenities. It also has a spacious terrace with an ocean view that you can enjoy while lounge from the spa room.
The ingredients comes with complete packages of mix flowers, rice, and holy water.
Where to Stay in Bali
Here are the 2 beachfront view hotels in Bali for your delightful and comfortable stay.
#1 Villa Infinite Horizon
This villa stands on the greenish hillside of a mountain that is surrounded by the ocean. You'll experience the traditional view of this villa since it is located among the Balinese rural life, villages, temples and rice paddies.
You can swim in its glorious outdoor infinity swimming pool while staring at the picturesque ocean view in front of you.
In the morning, revel in the light of the sun that shines on the ocean surface while enjoying your morning tea or coffee at your private terrace.
Or you can spend the noonday by sunbathing in the seating area. Its garden can be a nice spot for playing with your kids.
This suite baths you with the luxury without costing much from your budget. It is located near on-site water sports and snorkel in Tulamben (10 minutes' drive away) where you can see the rich colorful marine life and a sunken Japanese Shipwreck.
Rate: from US$ 96 per night or Rp 1.516.992
Address: Bunutan, Abang, Karangasem Regency, Bali 80852
Contact: (+62) 363 430 1029
#2 Wyndham Tamansari Jivva Resort
This tranquil and extravagant resort sits right near the East Bali shoreline of pristine black sands. It boasts its beachfront view and the serene atmosphere of Balinese vistas.
Designed with a modern luxury pool, the resort provides you also with impressive decor of lobby, delicious dining, and a cozy spa room built in a traditional Balinese house where you can revel in the lotus and garden view while the staff massaging your body.
Among its fancy facilities, the jacuzzi in front of your balcony that directly leads you to Indian ocean view is no wonder a lavish treat for your holiday.
Take a moment to relax by sitting down on its rainbow-hued beanbag chair on the lawn with a cold drink and relish the epic Bali sunset.
Rate: from US$ 51 per night or Rp 805.902
Address: Pantai Lepang, Jl. Subak Lepang No. 16, Klungkung, Bali 80752
Contact: (+62) 366 543 7988
How to Get to Bali Indonesia
Here are several likely routes to get to Bali.
Route 1 by Flight to Bali Indonesia
Flights of major international cities regularly fly in and out of Denpasar, capital city of Bali.
The airport, Ngurah Rai, is only 13 kilometres from Denpasar. If you are in one of major cities in Indonesia, you can easily find a regular domestic flight to Denpasar.
The best option for transport is a taxi since the bus does not always come to the airport. 
Route 2 by Road to Bali Indonesia
It takes 23 hours longer if you want to make your way through the road from Jakarta, the capital of Indonesia using the bus.
This option is best for those who love some adventures by travelling through several places in Indonesia.
Route 3 by Ship to Bali Indonesia
If you love travelling by the sea, take a flight to Singapore, Sumatra or Java and book your ship ticket to Bali. Bali port is regularly visited by most cruise liners traversing through South East Asia.
Conclusion
There are more enthralling activities to explore in Bali than what has been listed in here. The most important thing is to find out what activities that suits best your holiday purpose.
With Bali diverse and complex features of nature, art, and cultural vibrant, you won't be disappointed to come back and get inspired again in many different ways.  
To prepare for the budget, download Finansialku application to calculate easily. It's now available for iOs and Android also.
Hopefully this article help you plan your next trip to Bali. And please share it with those who will love going to this 'Island of the Gods'.
References:
Admin. Bali Is Unique, Bali Is Unmatched. Bali.com – https://tinyurl.com/h94krca
Admin. 55 Best Things To Do In Bali (Indonesia). Thecrazytiurist.com – https://tinyurl.com/ybnsgltt
Images Sources:
Bali Indonesia – https://bit.ly/35k8jOq
Treetop Adventure Park – https://bit.ly/2YrqobV
Yoga Barn – https://bit.ly/2KMfK7J
Jetpacking at Tanjung Benoa – https://bit.ly/3bOZxKN
Rafting on Ayung River – https://bit.ly/2xlJyoq
Vegan Treat at Alchemy Café – https://bit.ly/2VTg1fx
Body Spa at The Edge Hotel – https://bit.ly/2yjaGVz