Make sure to check Banda Islands when you plan your next holiday trip.
Why Banda Islands? Read the reasons below!
Unique fact about Banda Island
Do you know that in the past, Indonesia ever become the only one producer of nutmeg in the world? It was in Banda Islands.
It was such a strategic place, and producer in 19th century that the colonial countries such as Portuguese, Dutch, England, and Spain strived to occupy this small islands.
But, not only endowed with such natural resources, Banda Islands also offer watersport activities that are worth exploring.
Location
Renowned for "The Spice Land", and as a part of east Indonesia region, district Banda Islands are situated in Central Maluku. Its town, Banda Naira is the administrative center of this district, and located in the same island.  
Banda Islands make up of 10 islands in the east Indonesia. Administratively, the islands have 6 villages namely Dwiwarna, Kampung Baru, Merdeka, Nusantara, Rajawali, and Tanah Rata.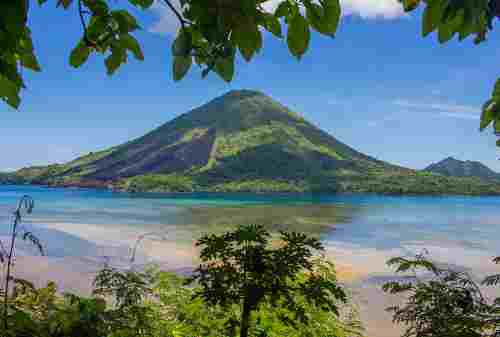 [Read: 6 Best Activities In Tanjung Puting, The Largest Orangutan Habitat]
Besides, Banda Naira, and Run Island were among the very influential places in the world history. The area covers 180 km2 wide.  
Today, this Islands are listed as the World Heritage Site by the UNESCO.
Taman Wisata Perairan (TWP) is a marine natural reserve, consisted of around 2.500 hectares of land, and is located in Banda Islands.  
History
From the colonial history, Banda Islands were a strategic place among the colonizer countries.
Banda Islands had the natural resources such as nutmeg, and mace (spice made from the reddish seed of the nutmeg seed) that was highly important for trade in European markets, food flavorings, and medicine.
Banda was governed by few people who have economic power till the beginning of 17th century, before the Europeans came.
It also had established an active trading relations with the Arab, and Venetians traders. It also maintained trading activities around its neighborhood, such as Ternate, Tidore, Aru Islands, and Western New Guinea.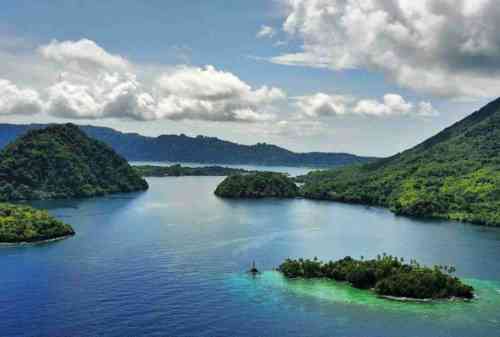 [Read: History of Mount Krakatau That Killed 36.000 People In 1883]
There were struggle for monopoly of Banda Islands, and its trading activities by the colonizer such as Portuguese, Dutch, Spain, and England.
These attempt brought conflict between the native people of Banda, who rejected the colonial activities. The result were war, and the building of fortresses by the colonizers.  
Along with that, Christianity brought in 16th century by the Europeans had no effect to Bandanese, unlike other region such as Ambon, Solor, Ternate, and Morotai, where Christianity had a strong influence.  
GRATISSS Download!!! Ebook Perencanaan Keuangan Usia 20 an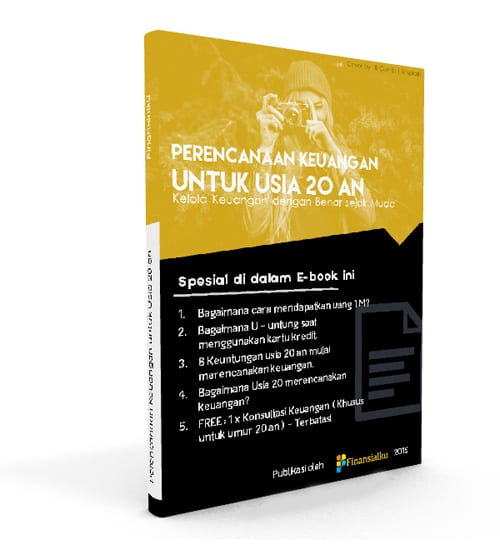 How to Explore Banda Islands
The exotic nature of Banda Islands not only come from their panoramic view but also the historical sites, and the story behind them. As a visitor, here are some activities you can expect to do in the islands.
But before that, have you planned your next trip? To prepare for the budget for your trip, use Finansialku application to calculate easily. It is now available both in Google Play Store and Apple App Store.
#1 Visit A Marine Natural Reserve
If you love a marine life, you should come to a marine natural reserve, Taman Wisata Perairan (TWP). It is a part of ecoregion (a region of land or large water that covers species, and environment condition in a geographical scope), BFME (Banda Flores Marine Ecoregion).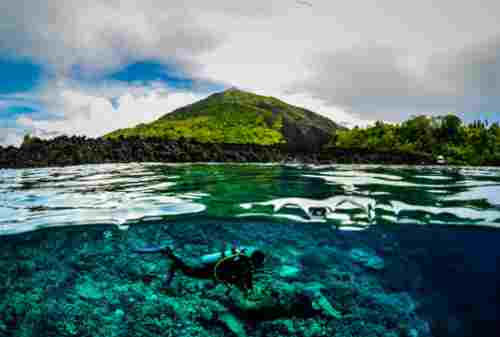 [Read: Top 8 Activities You MUST Try In BALI Indonesia, The Island of Gods]
To become an ecoregion an area must have a real geographical area, typical natural species, and communities, and environment condition such as current, temperature of sea surface, salinity, and the depth of the sea.
Revel in the scenic view of the sea as you take a short trip by a boat for an hour to this site. One of its main draw is the 300 species of hard corals with a world standard. Try snorkeling or diving to see its stunning underwater vista.   
#2 Visit A Tiny Palace of Neira
Architectural buildings with a European design can be found in the area of a mini palace, Neira. It served as a VOC governor resident. It was established a year before Istana Merdeka in Batavia (Jakarta) was built.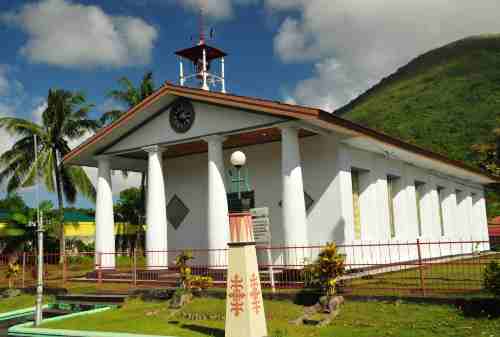 [Read: 7 Best Hotels In Bali With A Stunning Beachfront View]
Take a short stroll as you reach this palace where the big houses are surrounding this site. They were built for the European elite' home. This palace also has a seafront view that you can enjoy from its courtyard.  
Also, you can walk down along the streets designed with the European style in Banda Neira, while having selfie with your friends.  
#3 Sun Tien Kong Temple
Another cultural trip you can take in is visiting a temple. This temple of Konghucu worship place is around 300 years old, and was built by a Chinese builder. The name Sun Tien Kong means "The House of God's Power".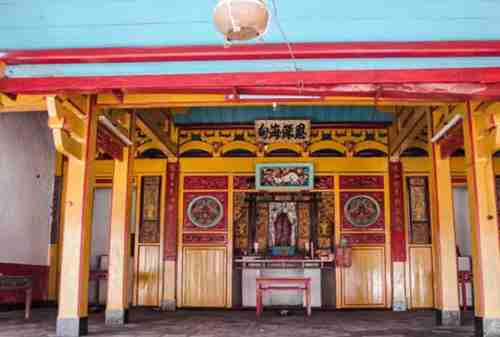 [Read: Komodo Island, The Other Side Of Paradise In Flores]
According to a note of Johan Sigmund Wurffbain, a VOC inspector of German nationality who ever lived in Banda, mentioned that in 17th century there was a Tionghoa temple located next to a wine store.
#4 Belgica Fort
Belgica Fort offers not only a historical site but also a breathtaking landscape of Banda Islands to its visitors.
This fort was built in 1611, led by General Governor, Pieter Bot. Placed on the top of a hill, this fort is 30 meters high above the sea level in Neira Island.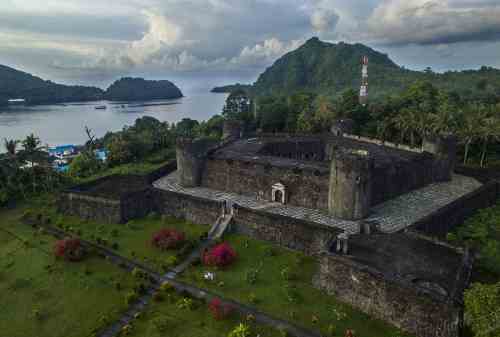 [Read: Derawan Island, The Hidden Paradise In East Kalimantan]
It is such a strategic place that from here visitors can immerse themselves in the adorable scenery around Neira Island such as Banda Besar Island, and Gunung Api Island.
From here, you can also spot the pristine blue sea of Banda where the fisherman boats line up. In the past, Belgica was a fort used to watch ships that went in, and out of Banda by the VOC.
#5 Rumah Budaya (House of Culture) Banda Neira
In this Rumah Budaya (House of Culture) many historical records are kept. For those who fond of history, and art, this site can be an interesting place to satisfy your curiosity, and enlarge your knowledge.
There are VOC remains items such as canon, and paintings about the situation at that time.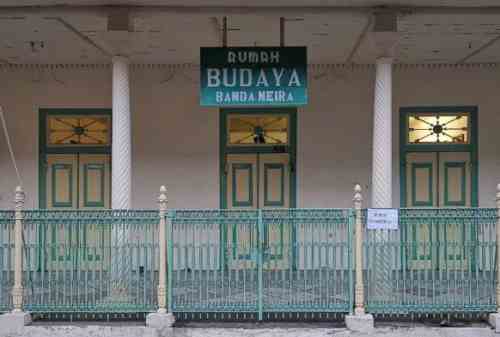 [Read: When Heaven and Earth Coexist in Ubud]
But, what is really catch one's attention is the main room of the museum. A large painting hang on the wall of the room.
It tells a story of a slaughter of reputable people in Banda. They were often called the rich man, and at that time they were captived by VOC, and brought to Nassau Fort.
All those reputable people were brutally killed in front of their wife, child, and family by the samurai hired by VOC.
You can take time to reflect for while on how power can turn people into the barbarity from this painting.
#6 Visit Duurstede Fort
Though the age of this fort is hundreds of years ago, but you can still spot the remaining of its grandeur. It is relatively undamaged, and is protected by the mountains around it.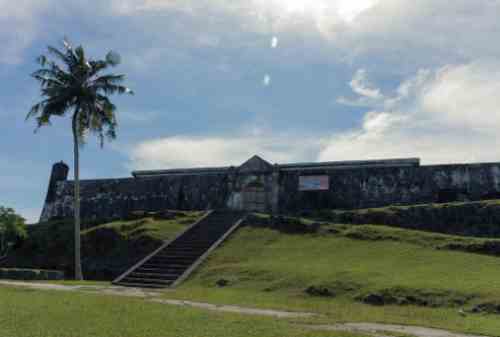 [Read: 16 Top Attractions You Must Visit In Flores Indonesia]
This is a great spot to shot some photos. Because the fort overlooks directly to the beach.
#7 Exile House of Bung Hatta
This is an exile house of Hatta, one of Indonesia founding fathers. The condition of the house now appeared to be dusty. Photos on the wall also look dull. It is different from 18 years ago, where the house was well-taken care of.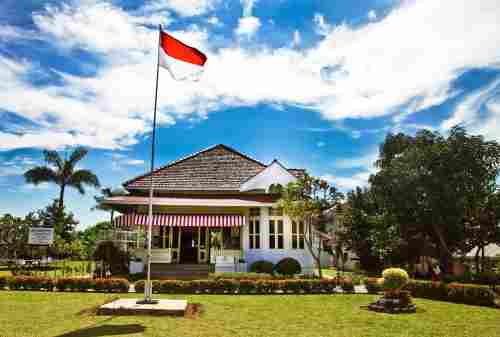 [Read: Dieng, The Exotic Plateau In Indonesia To Spend Your Holiday]
In this place you can take in a short of study tour, and throwback on the struggle of Indonesia independence in the past.
How to Get to Banda Islands
Here are several likely routes to get to Banda Islands.
#Route 1 by Flight
You can take flight from Ambon directly to Banda Neira for 40 minutes that has a small airport. The plane that operates is Susi Air that is cheaper than using speedboat.
But keep in mind that you can only book the ticket at Ambon Airport since it is not a fixed flight (only operates around September to November).
And make sure your luggage are no more than 10kg. Consider also any cancellation due to bad weather.  
To go to Ambon, you can use a regular flight such as Wings, and Garuda that goes between Kei Islands, and Ambon.       
#Route 2 by Boat
Other routes can be taken via boat.
Fast Ferry
From Tulehu Harbour, Ambon, you'll take a longer hour (6 hours) to Banda Neira. The ferry operates twice a week, on Tuesday, and Saturday. Make sure you go when the weather is friendly, otherwise the trip can be cancelled.
Pelni Ferry
This ferry, owned by the government, operates twice a month. It takes passengers from Ambon to Banda Neira, and continue to Kei Islands. This is the cheapest accommodation though uncomfortable, and inconvenient.  
If you love to have an adventure trip, you can choose this option though it will take longer hours than the fast ferry. A good dose of story book could be a good companion during the trip.
Where to Stay
Now here are some options of affordable yet delightful places to stay during your visit.
#Baba Lagoon
Featured with a great view of seafront and the volcano, Baba Lagoon is fit for those who love beautiful sight of nature. Placed in a more secluded place in the town, you can do away with the hustle, and bustle of the city while resting in its homey room.
The hotel is also equipped with a restaurant, free breakfast, and free WiFi.   
#Mutiara Guesthouse
This family guest house is possessed with the design of Dutch Colonial architectural touch. The owner, Abba, who is very friendly, and kind, will make sure that his guests experience convenient, and comfortable stay during their visit.
This expanding classical property with nutmeg gardens, are blended with the calming atmosphere that comes from its owner hospitable service.
With free WiFi, and service of arranging diving, snorkeling, fishing, and hiking, these extra will make your stay more exciting.
#Matahari Guesthouse
This lovely guesthouse is situated right in front of a volcano featuring a seafront view. You can revel in the panoramic view of Gunung Api, and the blue seawater that cascade from the wooden couch.
Also, experience the lively activity of locals in the market right next to this building. It makes up 8 rooms each with a private bathroom. Free breakfast, and free WiFi are also available.
If you love boat tours, snorkeling, or hiking, the guesthouse can arrange that for you.
Conclusion
Banda Islands are an exotic place where the richness of nature meet with the touch of memory from historical, and cultural features, making your trip become a special tour you won't regret.  
Hopefully this article help you with preparing a trip to Banda Islands. Feel free to share this with other people who are interested in traveling to this adorable place.
References:
Novita Caesaria. August 20th, 2019. Kepulauan Banda Tak Pernah Mengada-ada. Goodnewsfromindonesia.id – https://bit.ly/3ej9cdB
Ramadani Barus. March 28th, 2019. Potret Keindahan Banda Neira, Bikin Gak Sabar Pengin Liburan!. Id.times.com – https://bit.ly/3bQnpgl
May 10th, 2019. Banda Islands. Wikivoyage.org – https://bit.ly/2ZoRSzt
Image Sources:
Banda Islands – https://bit.ly/2ZtgVBp
Banda Islands 2 – https://bit.ly/2ypTDBq
Banda Marine – https://bit.ly/2zlKkD1
Banda Marine 2 – https://bit.ly/3cQ82pm
Banda Buildings – https://bit.ly/3e6cPTP
Sun Tien Kong Temple – https://bit.ly/3g9paIT
Belgica Fort – https://bit.ly/2Xf42Is
Rumah Budaya – https://bit.ly/3cR3Shb
Duurstede Fort – https://bit.ly/3cTFxHn
Exile House of Bung Hatta – https://bit.ly/2ziug4W