Tanjung Puting is the best place for you to make memories with the nature. Lets Take a look on the list of activities you can do in Tanjung Puting.
National Park of Tanjung Puting
A home for the largest population of Orangutan on earth, around 30.000 to 40.000 Orangutan, is nowhere but only in the National Park of Tanjung Puting, Indonesia.
It has been a biosphere reserve, since 1977 with center area of 415.040 hectares wide that was established in 1982.
If you are animal lovers especially Orangutan, or love some outdoor adventures, this is just the right place to be that won't disappoint you either. I
n here, you'll be able to see not only some of Orangutans, but also bekantan (monkey with a long nose), monkey, wild boar, even crocodiles that live inside Sekonyer river, and other similar type of animals that make their habitat in this park.
Location
The national park is situated in Central Kalimantan. It covers district Kumai in West Kotawaringin, district Hanau, Danau Sembuluh, and Seruyan Hilir in district Seruyan.
This wildlife reserve functions to protect this endangered animal from extinction, as there is a massive illegal-logging in this area.
This national park is managed by Balai Taman Nasional Tanjung Puting.
The ecosystems consist of a lowland of tropical forest, tropical heath forest (kerangas forest), various swamp habitus, mangrove forest, beach forest, and secondary forest.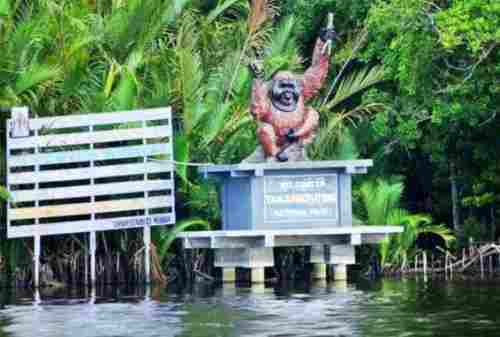 [Read: All Information You Need About Indonesia Visa Policy and Requirements]
Not only its diverse flora but also fauna can be found here.
This conservation park has 9 species of primates, 3 species of primates endemic to Borneo, proboscis, red leaf-eating monkeys, and Bornean orangutans, 230 species of birds, 2 species of crocodiles, and dozens of species of snakes, and frogs, as well as home to the highly endangered "dragon" fish also known as the Arwana.
With such a variety of ecosystems, you can do a lot of exciting exploration, and activities in its wild jungle.
History
In 1937, Dutch colonial government established this park, and named it Suaka Marga Satwa Sampit. But it was changed into Suaka Margasatwa Tanjung Puting around 1970es.
How to Explore Tanjung Puting National Park
This national park is still dominated by foreign rather than local tourists, who are interested in seeing the wild life of Orangutan from near distance. As you arrived, there are several exciting activities to do.
If you planning your next trip, better use Finansialku Application. You can easily calculate the budget and make it efficient. You can download Finansialku Application on Google Play Store or Apple App Store. So, let's read on the list.  
#1 Watching the Feeding Time by the Rangers
Do you want to see how orangutan eat from a near distance? In these 3 camps namely Camp Tanjung Harapan, Camp Pondok Tanggui, and Camp Leakey, you can observe how orangutans are being fed by the rangers. In each camp, there is orangutan' king.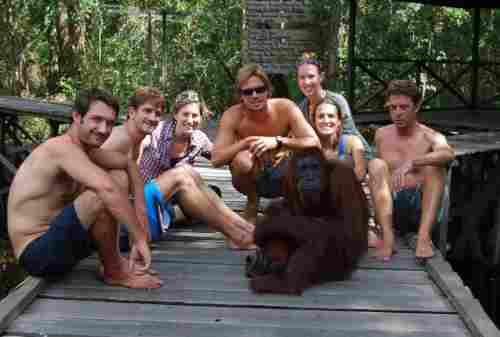 [Read: 7 Best Hotels In Bali With A Stunning Beachfront View]
When the feeding time come, these 3 kings of orangutans will probably appear, and waiting for the rangers to feed them some supplements such as bananas, sweet potatoes, or milk.
You can watch closely this interesting activity from a special place made for visitors. Be sure to bring your camera to get some shots of this adorable orangutans.
In every camp, the schedule for a feeding time is different. So, no need to be worried to miss out this lovely activity.
#2 Learn the History of Tanjung Puting at Camp Leakey
Besides watching this habitus of orangutans, you'll be able to access the information about the history, and how orangutans are being nursed.
In Pondok Tanggui, you also can learn the history of Tanjung Puting along with observing orangutan from inside. Quiet interesting right?   
#3 Visit Kali Hitam (Black River)
Have you seen a river with black color before? In Tanjung Puting, there is one like that. But no need to be scared as it is not polluted by oil or other pollutants. The black color is caused by the roots of trees around the river that surround it.  
The water is turned from brown to black color because it is carried away by the root of the trees. And if you carefully pay attention to it, the water is very clean that you can see what behind the water.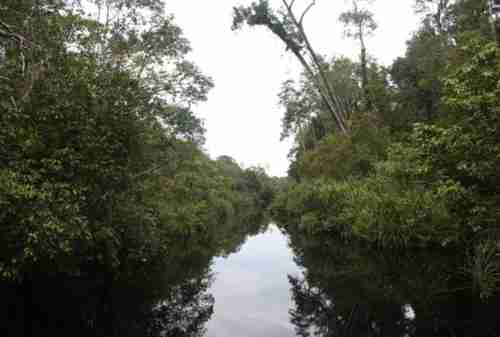 [Read: Komodo Island, The Other Side Of Paradise In Flores]
Even you can take shower using the water, because it is truly refreshing for your body. Because there might be crocodiles inside the river, it is still unsafe to swim. Ask the ship crew to help you get the water.
But if you want to hop around the river, you can use spit boat to enjoy the green forest around its sides.
#4 Hopping around Sekonyer River with Canoe
Sekonyer is another river inside Tanjung Puting. By using sampan, a typical canoe in Indonesia, you can relish in the beautiful view of lights from sunset that hindered by leafs, or that emerge from them. You can borrow sampan from locals who live around Sekonyer.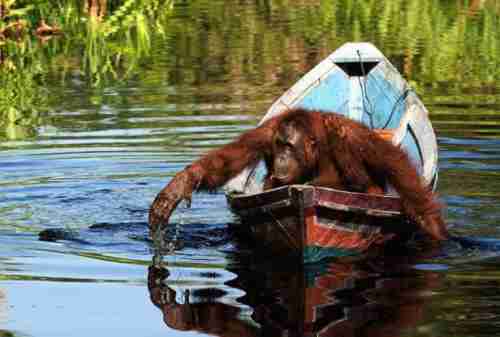 [Read: Derawan Island, The Hidden Paradise In East Kalimantan]
Though it is exciting, it's still dangerous if you use sampan by yourself, especially you are not used to it. There is the dangerous crocodiles live inside, so it is pretty bad if the boat go upside down.
#5 Staying in Klotok
Ever stayed in a home boat? If you haven't, this is an amazing experience offered in Tanjung Puting you don't want to miss out. This home is called Klotok, a traditional-wooden boat from Central Kalimantan.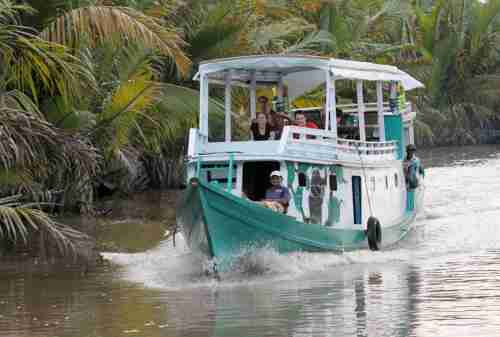 [Read: Top 8 Activities You MUST Try In BALI Indonesia, The Island of Gods]
Experience how living in Klotok would be like when you visit the park. The crews are a guide, and a captain. Not only serve as a boat for going around Tanjung Puting, it also serves as a room for resting, almost similar to hotel.
You can have a breakfast while enjoying the beautiful sunrise with the view of tropical forest from here.
#6 Explore Tanjung Harapan Village
Trekking on Tanjung Harapan village, is another enjoyable activities you can do inside Tanjung Puting. Some locals are living here.
They work as fisherman, or work in the ship. And some volunteers stay in this village during their time visiting Tanjung Puting.
How To Get To Tanjung Puting
The nearest entry point to Tanjung Puting National Park is from Pangkalan Bun (PKN), Central Kalimantan. The daily flights from Jakarta, Bali (via Semarang), Kuching-Malaysia (via Pontianak), and Banjarmasin to PKN are available.
Unfortunately, the flights are operated by small airlines, and not regular. Besides, you need to book a ticket through a phone call or fax since the reservation doesn't use computer, and doesn't connect to major airlines.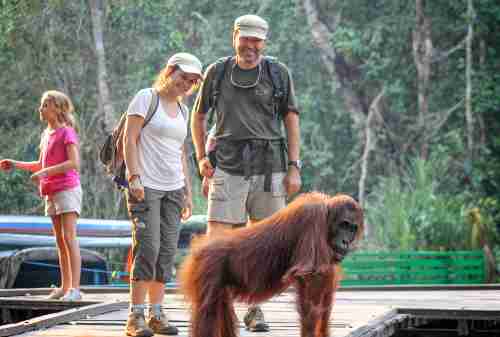 [Read: When Heaven and Earth Coexist in Ubud]
Another challenge is the flight schedule can be changed with or without prior notice. Therefore, it is better to use travel insurance, and domestic flight.
Most of these small flights also subject to be delayed, and get fully booked during religious holidays. So, booking after a day or two is better for flight in or out.
From PKN, continue your trip by taxi for 20 minutes to Kumai, an old seaport in PKN town. And from Kumai, you will use Klotok, and go along the Sekonyer River for 2 hours to Camp Leakey, one of orangutan rehabilitation center in the park.
INI YANG KAMU BUTUHKAN!
DOWNLOAD GRATIS!!!! E-book Perencanaan Keuangan Untuk Usia 20-an dan 30-an!
Where to stay near Tanjung Puting
Now here are some options to stay during your trip in Tanjung Puting.
#Orang Utan Houseboat 3
This wooden-made houseboat has a double function, not only as a transport vehicle, but also as a place to stay during your trip in the park.
Set just 1 km away from Tanjung Puting, the houseboat features a lake views, a terrace, a patio, and a shared kitchen. The amenities are 1 bedroom, 2 bathrooms with a shower, a seating area, and a kitchenette with a stovetop.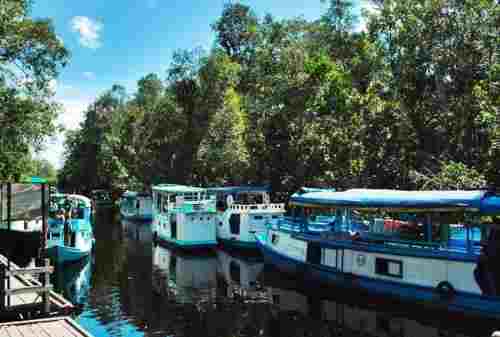 [Read: Kawah Ijen: Challenging Yet Exciting Hike To Ijen Blue Fire]
From the terrace you can choose to enjoy a buffet or Asian breakfast that available every morning. There are also a free-airport shuttle service, and car rental from this property.
#Grand Kecubung Hotel
This hotel is known as the best hotel in Pangkalan Bun town, but also the most expensive one. It is 30 minutes drive from Kumai.
Several amenities to ensure the guest comfort are Samudera resto where you arrange for privacy room, room with a minibar, TV cable, and workspace, gym, and outdoor pool, and free WiFi as well.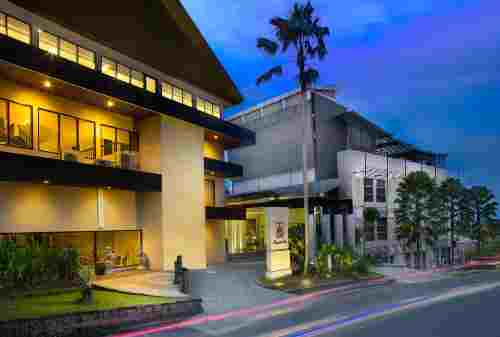 [Read: 5 Important Reasons Why You Should Visit Borobudur Temple]
Additional service for easy mobility is car rental or shuttle service if you want to hanging around the area, and day trips arrangement at tour desk.
#Borneo Alase Kapitan Homestay
Located 5 km from Tanjung Puting, this wide homestay has air-conditioned, complimentary WiFi, as well as a kitchen-set equipped with a fridge, and a seating area, to make your stay comfortable.
For those who love biking, it offers a bicycle rental service as well. Another service you can enjoy is a breakfast of Asian food, or à la carte.
[Read: Dieng, The Exotic Plateau In Indonesia To Spend Your Holiday]
Before making your trip to Tanjung Puting area, prepare supplies such as anti-mosquito lotion, waterproof mountain boots, and comfortable thin clothes for a comfortable trip.
Most of the time will be spent in Klotok during your trip, so it would be good to bring some books, or games to kill time.
Conclusion
Tanjung Puting is the heart of wildlife reserve especially for thousands of orangutans that almost extinct, in Indonesia.
Being in this shelter of ecodiversity with diverse habitat of fauna, and flora will be a thrilling exploration for anyone who wish to journey this robust tropical forest area.   
Hopefully, after reading this article you'd be excited to visit Tanjung Puting, and can prepare for the trip.
Please tag your friends who never heard of, or who also want to join the trip to this lovely wildlife reserve of Central Kalimantan.    
References:
Zulcar Chaeril. April 14th, 2019 . 7 Hal yang Bisa Dilakukan di Taman Nasional Tanjung Puting, Kalimantan Tengah. Kompasiacom – https://bit.ly/2WzYuYT
Admin. Taman Nasional Tanjung Puting, Rumah Aman Orangutan. Pesona.travel – https://bit.ly/2YFjJLr
Admin. TANJUNG PUTING NATIONAL PARK. Orangutan.org – https://bit.ly/2WA15lw
Image Sources:
Tanjung Puting – https://bit.ly/2zkEPnw
Feeding Orangutan – https://bit.ly/2WaeqC6
Kali Hitam – https://bit.ly/2xMvq86
Sekonyer River – https://bit.ly/2T0CvcH
Klotok – https://bit.ly/2WA4q3X
Tanjung Puting 2 – https://bit.ly/2SKqUy8
Orang Utan Houseboat – https://bit.ly/3doh2C4
Grand Kecubung – https://bit.ly/2LaSVe8
Borneo Alase – https://bit.ly/3ci7tV6