Don't forget to visit Prambanan Temple once you visit Yogyakarta!
Take your time and enjoy the temple with tons of history value.
Unique Facts
Prambanan Temple is one of the famous Hindu temples in Indonesia.
As a part of the largest Hindu Temple, and the second largest in Southeast Asia, the 9th-century temple is a part of Prambanan Temple Compounds, which consists of three other temples, Lumbung Temple, Bubrah Temple, and Sewu Temple.
This temple has been in the list of World Heritage Site by UNESCO since 1991. And these things make Prambanan Temple is hard not to visit and admire.
Location
Prambanan Temple is located in Bokoharjo, Prambanan, Sleman Regency. It is 17 kilometers northeastern from the capital city of Yogyakarta Province, and about 46.9 kilometers southwestern from Solo.
As explained before, Prambanan Temple is located within Prambanan Archaeological Park along with three other temples.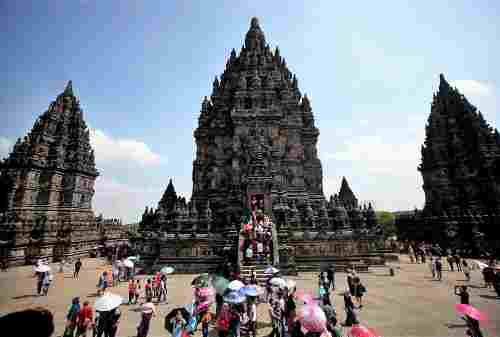 [Read: Derawan Island, The Hidden Paradise In East Kalimantan]
The large area of Prambanan Temple is about 39.8 hectare. So, make sure that you have plenty of time to explore the majestic building of Prambanan Temple, and its history.
If you want to go to Yogyakarta and visit Prambanan Temple after pandemic ends, don't forget to use Finansialku Application. With Finansialku Application, you can easily manage the budget for your trip. You can find Finansialku Application both in Play Store and App Store.
History
Prambanan Temple was established in the 9th century AD by the Sanjaya Dynasty. The name is found in the Syiwagrha Inscription (856AD) for the first time.
This temple dedicated to Trimurti, which consists of three main temples. These temples are Brahma as a symbol for God who is The Creator, Shiva for The Destroyer, and Vishnu for The Preserver.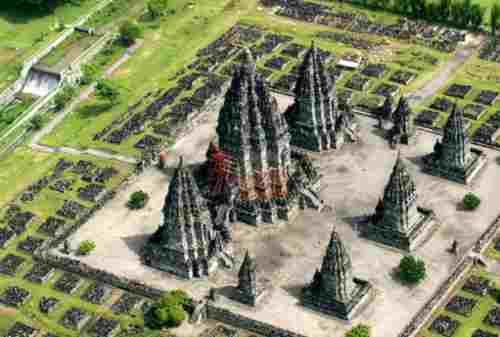 [Read: Dieng, The Exotic Plateau In Indonesia To Spend Your Holiday]
What makes this temple is worth to explore is because there were a story, and a folk tale behind this great temple.
The first story is about Rama who saved Shinta, his beloved one after kidnapped by Rahwana. He was getting help from Hanoman, the Hindu god who appeared as a white monkey.
The other story is a folk tale from Javanese culture. This story is about Bandung Bondowoso who wanted to marry Rara Jonggrang.
But because she didn't like Bondowoso, she was accepting the proposal but in one condition, that he must build a thousand temples in one night.
After all, Bondowoso had finished 999 temples with the help from the genie, but it was failed by Rara Jonggrang through time 'manipulation'. Prambanan in the Javanese language is Rara Jonggrang.
In this story, there were 1.000 temples, but the actual structure of the Prambanan Temple consists of 240 structures. From 1733 to 1953 even now Prambanan Temple continues to undergo preservation.
How to Explore Prambanan
Here are some activities you can do while in Prambanan temple.
#1 Visit the Temples
The area of the temple is consists of three main grounds. The first or base ground is the outer square called Jaba or Bhurloka with 390 square meters wide. Bhurloka is the underworld where a place for animals and humans.
This is the unholy place where lust is placed. The second grounds is Bhuvarloka/Tengahan. This mid world is the base where people start to walk away from their earthly desires, and see the truth of the light.
With the wide about 222 square meters, this base full of stupas with the same size.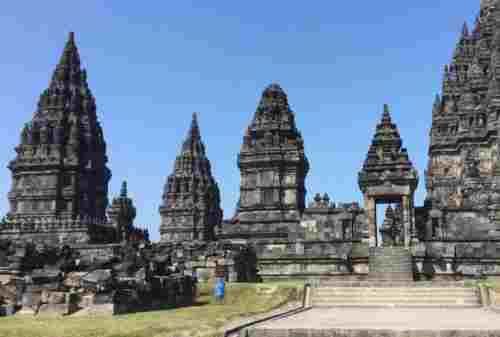 [Read: Top 8 Activities You MUST Try In BALI Indonesia, The Island of Gods]
The last base with a crown is Svarloka or Njeron, the holy place, were meant for gods. This innermost square consists of Trimurti temple, Shiva Temple, the tallest temple (about 47.6 meters high), Brahma Temple, and Vishnu Temple with 33 meters high.
Besides that three main temples, this compound also has several temples, three of Wahana temples (Nadia, Garuda, and Angsa), two of Apit Temple, four of Kelir Temples situated at 4 cardinal directions right behind the entrance of core zone of the compound, four Patok Temples, and 224 of Perwara Temples.
The landscape, and the architectural design of the temple compound are so graceful.
Not only that, but also the story of Ramayana, and Krishnayana can be read in the relief of Ramayana carved on the inner walls surrounding the main temples. This story can be read clockwise, starting from the eastern side of Shiva Temple, and then to Brahma Temple.
#2 Ramayana Ballet Performance
If you want to know more about Ramayana story, you can come on Tuesday, Thursday, and Saturday night to watch Ramayana Ballet Performance presented by Prambanan Ramayana Ballet.
If the weather is friendly enough, the performance will take the outdoor stage with Prambanan Temple as the background, and it is definitely can't be missed.
#3 Museum (get to know the history of art and Hindu religious)
An excursion while learning about Hindu history is one of the activities that you can do in the Prambanan Temple. This museum can be found in the complex of the temple about 500 meters eastward.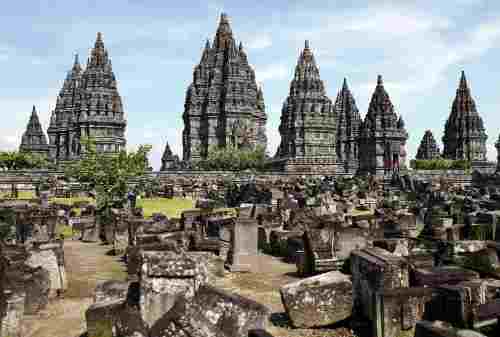 [Read: 6 Best Activities In Tanjung Puting, The Largest Orangutan Habitat]
This museum has three rooms that consist of two gazebos, one audiovisual room, and one outdoor museum full of statues (arca).
You can see the collections of historic, and valuable objects such as artifacts, statues, pottery, the picture of the structure of Shiva Temple, and animal fossil, even the legend of Rara Jonggrang.
#4 Photo Hunting
No need to doubt the splendor of Prambanan Temple even the scenery around the temple is so gorgeous. You can stroll temple by temple while taking photographs of you, and those who are with you, because every spot in there, is suitable to be photographed.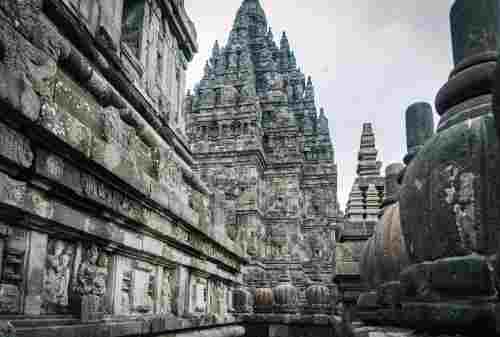 [Read: History of Mount Krakatau That Killed 36.000 People In 1883]
Don't forget to stay until night every Tuesday, Thursday, and Saturday, because they have Ramayana Ballet Performance.
You will watch the performance while enjoying the golden light that will emit the architectural splendor of the temple, and of course, you don't waste the moment by taking several photos with the temple as the background.
#5 Get Around and Buy Some Souvenirs
While you are getting around the temple, you can stop by at the stalls in the area of the temple and buy some souvenirs. You can find various souvenirs from key chains, necklaces, bracelets, t-shirts to the miniature of the temples, certainly at an affordable price.
How to Get to Prambanan
Here are several options to get to Prambanan Temple:
#Route 1
If you come from Yogyakarta there are several options for vehicles. First, you can use 1A lane for bus, Trans Jogja, from Malioboro Halte, or from Yogyakarta Station.
You will spend about one, and a half hour travel from Malioboro Halte to the Temple, and about 44 minutes from Yogyakarta Station.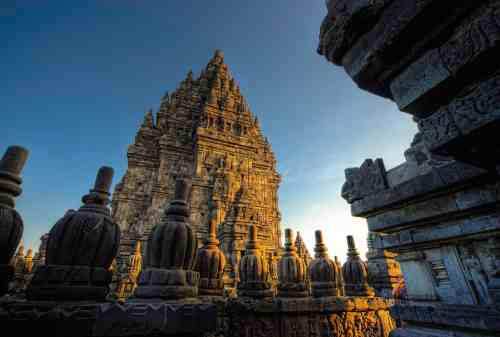 [Read: 6 Fascinating Activities To Do During Your Tour In Banda Islands]
You will stop at the bus stop, and you will cross the road to get to the temple. Second, you can use a taxi or car rental, and straight to the temple.
With these vehicles, you will take at least 30 minutes to get to the temple, and from Adisucipto International Airport (serving flights from Singapura and Kuala Lumpur), you will spend about 10-15 minutes to the temple.
#Route 2
If you come from Adi Soemarmo International Airport, in Surakarta (Solo), that serving flights from Kuala Lumpur, you can use a taxi, car rental or private vehicles from the airport.
It will take about an hour to get you to the temple. If you decide to use public transportation such as buses, you can start from the airport, but it will take at least three hours to the temple.
Where to Stay Near Prambanan
Now here are some options of affordable yet delightful places to stay during your visit.
#Quin's Colombo Hotel
This three stars hotel is located in the main road of Yogya-Solo, and only six minutes' drive to Prambanan Temple. This affordable accommodation is facilitated with air conditioner, TV, WiFi, hairdryer, ironing, and non-smoking room.
This hotel offers to you three views to the outside such as mountain, garden, and city views that you can find pleasure through the balcony.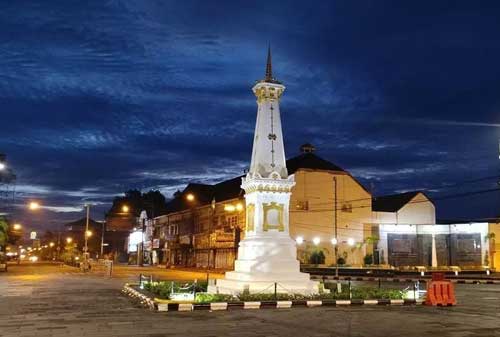 [Read: 6 Unconventional Attractions in Tana Toraja Every Traveler Should Visit]
If you want to go to the Prambanan Temple, you can rent the car from the hotel. You also can enjoy your day with relaxation in the outdoor pool.
Moreover, the hotel provides laundry service, so you don't have to worry if you need to wash your clothes.
#Poeri Devata Resort Hotel
This resort hotel with heritage, and classic styles is located near the Prambanan Temple. The convenient location of the resort hotel provides easy access to the temple that only needs 5 minutes.
It provides rooms with a cottage model, and the hospitality of the services will make you comfortable to stay.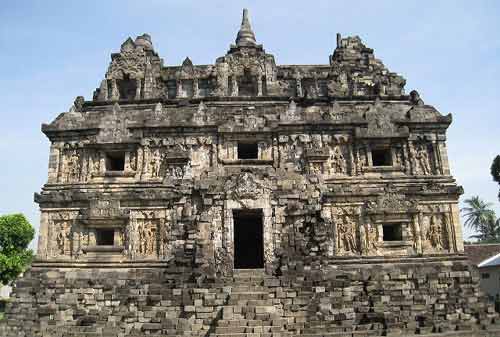 [Read: When Heaven and Earth Coexist in Ubud]
Facilitated with free WiFi, 24-hour room service, outdoor pool, meeting room, and dining, you will be cozy to stay while relishing on the beautiful landscape of green paddy rice fields, and view to the Mount Merapi.
Even better, you will be pleased by the view of Prambanan Temple from the restaurant.
#Opak Villa Guest House
Opak Villa Guest House is suitable for you who want to stay with beautiful scenery, and tranquility of Opak Riverside. The location is near Prambanan Temple with only 5 minutes to the heritage site. This villa is facilitated with air conditioning, WiFi, 24 hours receptionist service.
Its service, food, and ambiance are the best. With affordable prices, you will enjoy your holiday with a variety of delicious foods whilst pleased by a lush garden, and the river.
Conclusion
Prambanan Temple is not only a Hindu historical heritage temple but also the real proof that gods ever lived in here according to Hindu belief, and it will always fascinating to trace back the legacy of their living by experiencing it firsthand at this magical historical temple.
If you already visit Prambanan, please give your opinion about Prambanan in the comments section and don't forget to share this article with your friends! Thank you.
References:
Admin. Wisata Yogya-Candi Prambanan. Anekatempatwisata.com – https://bit.ly/2MuVx76
Admin. Prambanan Temple Compounds. Bumn.go.id – https://bit.ly/2zTYQlQ
Admin. Prambanan, Magical Temple. Borobudurpark.com – https://bit.ly/3cxl2iI
Image Sources:
Image 1 – https://bit.ly/2YePiKn
Image 2 – https://bit.ly/3dBw33O
Image 3 – https://bit.ly/2Y0jclh
Image 4 – https://bit.ly/3dyjw1d
Image 5 – https://bit.ly/3gRRJef
Image 6 – https://bit.ly/2XyjWiu
Image 7 – https://bit.ly/3dwixPa