Looking for tourist attractions in Tana Toraja for your next vacation? Here's some information you need to know before traveling there.
Unique fact
Not only the astonishing landscape of its nature, but Tana Toraja also has a diverse culture. It has been preserving unique traditional customs among the tribe. The famous one is the unusual burial of the death that contains the ancestral belief, mystical elements, and its distinct cemetery.    
Having wavy forms, and hilly land makes Tana Toraja even more appealing for exciting outdoor activities. Wondering what that might be?
Let's see the description below.  
Location
With an area of 1.990,22 km2 (BPS 2017 data) wide, Tana Toraja is located in the north of South Sulawesi.
It is bordering with North Toraja district in the north, Mamasa district in the west, and Enrekang, Pinrang, and Luwu districts in the south. There are around 283.214 people who inhabited the land.
History
Toraja tribe has a typical lifestyle of the original Austronesian people with similarity to the Nias tribe in the North Sumatra. Most of them work as farmers. Therefore you can find a variety of land corps such as vegetables, coffee, clove, cacao, and vanilla.
The population consists of Protestant as the majority (72,54%), Catholic (17,57%), Muslim (8,43%), Hindu (1,07%), and Buddhist (0,39%).   
What to Explore in Tana Toraja
Here are some major attractions to explore during your visit to Tana Toraja.
#1 Uncommon Cemeteries of Toraja Tribe
Unlike general tourist attractions in other places that arouse one's excitement, Tana Toraja presents a totally different draw that is both fascinating and yet creepy at the same time.
It is the peculiar cemetery. Are you curious already? Let's check some of them.
#1 Londa
Placed 7 km away from Rantepao, Londa is a cemetery cave that is very popular in Tana Toraja. The tribe has an unconventional way to bury the dead. Instead of burying the dead on the ground, they lift the coffins among the wall of a cliff.  
You are going to trek down bypassing some stairs down below to see this unique cemetery. As you go down, you can see a very steep cliff where the shades of leaves from very thick trees fall down, creating a mystical impression for the surrounding.
As a preparation bring a flashlight or lantern as it might get darker below. Once you reach the cave that lies beneath the cliff, there are wooden coffins sustained by wood put inside the crack of the cliff's wall. So they appear to be hanging.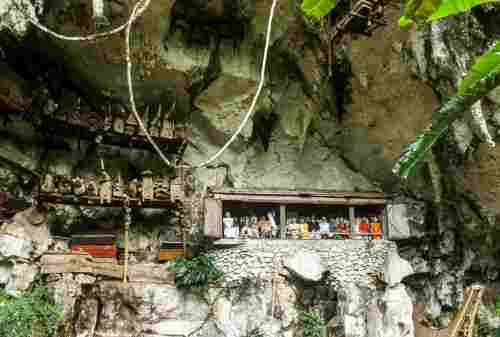 [Read: Komodo Island, The Other Side Of Paradise In Flores]
This outside picture is enough to make people feel scared or uncanny. For some people, this can be a bit spooky as well as your eyes catch the glimpse of these coffins.
Those coffins have bright colors. Locals call them erong. They are from the family of noblemen. The position of the coffins shows the family has high social status among the tribe. Locals also believe that the higher the position the nearer it is to heaven. 
Londa cave is 1000 m depth with stalactite, and stalagmite forming inside.
Many bones and human skulls are scattered on its ground. They are from the falling coffins that have been broken. Therefore be careful when entering the cave, so your feet don't step on them.  
#2 Tampang Allo
It is an old cave of cemetery in Tana Toraja. Inside, there are old coffins, and skulls of Toraja nobleman. Tau Tau is an old coffin around 200 years old placed in here.
#3 Lokomata
This is a giant stone cemetery that can be found in several villages. The locals make a hole in the stones to place the dead body of the family member. Some of these stones can be seen in front of the villagers' houses.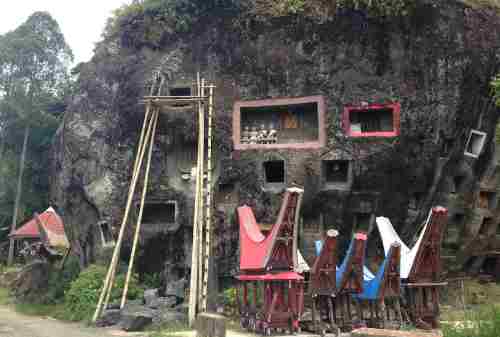 [Read: 7 Best Hotels In Bali With A Stunning Beachfront View]
#4 Tree Grave
In Sangalla district, you can find another unusual type of cemetery. The ancient wisdom of Toraja believes that babies and children who die should be buried in a tree. The body is put inside the big trunk of a tree because the tribe believes that the tree will feed it.    
#2 Rambu Solo'
In June, July or December there are many funerals ceremony take place in Rambu Solo'. If you want to see the whole process of this occasion, just come around those months.  
The rite is held for one even until seven nights. During the event, people kill many buffalos, and pigs, depending on their social status in the group. Toraja people consider them as a sacrificial animal for a funeral. This ceremony is held to honor those who have passed away.
It is believed by the locals that the buffalo spirit will take the human' spirit to puya (heaven), a resting place in the south of human habitation.
#3 Village Ke'te Kesu
This is the original village of the Toraja tribe. As you arrived many Tongkonan, a traditional house of Toraja tribe, are lining up in a row. The rooftop has a typical design of a buffalo' horn-shaped. It is made out of bamboos that are torn apart, and stacked. But some uses iron sheeting as the material.    
Tongkonan also represents a hierarchy according to the level of nobility, namely gold, bronze, iron, and brass rank. The wall is decorated with abstract, and geometrical patterns that resemble natural black, red, and white colors. The village is also well-known for its bamboo' carvings, and traditional crafts.  
#4 Mai'ting River
Lovers of rafting will love Mai'ting River. A journey along 2 km needs to be taken to get here. Don't worry about being exhausted because of the charming picture of the rice fields along the way will make you exciting.
The river is still relatively clean with a strong rapid that makes you want to go rafting right away. On each side of the river, the lively sight of pines is accompanied by the hills, a picture that truly refreshing.
Be ready to scream aloud as a steep stone about 1 m long laying down becomes the challenging part of your track.    
#5 Pa'piong Duku Manuk
For your culinary reference, Tana Toraja also has a traditional food that is delicious. Cooked in a bamboo, Pa'piong Duku Manuk is a mixture of vegetables, shredded coconut, and meat of a chicken, pig, buffalo, or goldfish.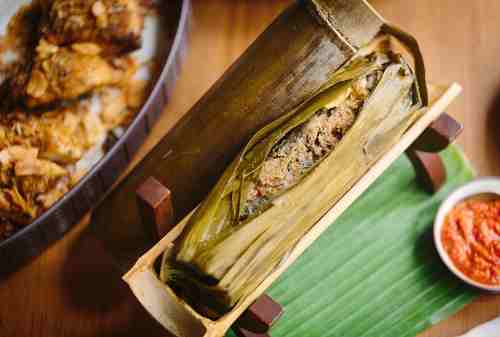 [Read: Top 8 Activities You MUST Try In BALI Indonesia, The Island of Gods]
This spiced-filling is wrapped with banana leaves, and is placed inside the bamboo' trunk. You can smell the pleasant odor as it is grilled on a traditional grill using charcoal.    
The fat from the meat that blended with the veggies creates a juicy unique aroma that is very tempting.     
#6 Lakawan Hill a.k.a Gunung Nona
After exploring the cultural heritage, climbing up to Lakawan Hill known as Mount Nona is another outdoor activity you should try.
From its top, the layout of a fine scenery of mountains is polished elegantly with the golden, and green shades of the tress and the bushes. The bright blue sky makes this landscape even more stunning.
What is more captivating, and romantic than enjoying the sunset or sunrise from this vantage point with your spouse.  
Some Travel Tips
Here are some tips to consider before making a trip to Tana Toraja.
#1 Respect the convention, custom, and tradition of Toraja people.  
#2 Be careful to not stepping on, or moving the bones, and skulls when visiting the graves.
#3 Watch your head when entering Tongkongan because of its low ceilings.
#4 You can bring gifts such as cigarettes for the owner of Tongkonan.
#5 Chose the right car even when the weather is good in May or October because most of the roads haven't been covered with asphalt.
#6 Bemo, a mini car with three wheels is a common transport use for getting around.  
GRATISSS Download!!! Ebook Perencanaan Keuangan Usia 20 an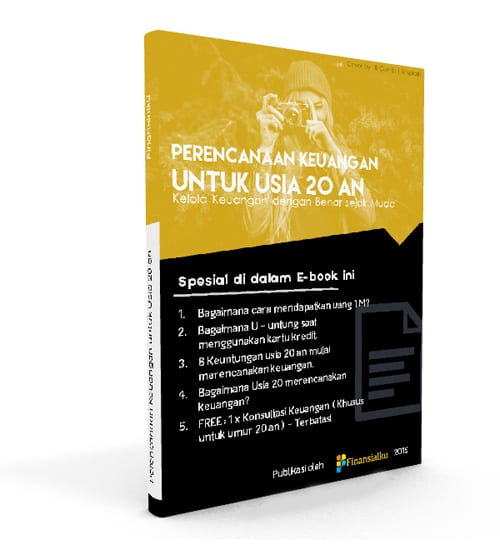 How to Get to Tana Toraja
Here are several likely routes to get to Tana Toraja.
#Route 1 By Flight
As you flight to Makassar, you can reach Tana Toraja by flight which takes only 45 minutes. Hassanudin in Makassar is an international airport, with the regular flights operated daily from major cities in Indonesia, and from major international flights.  
#Route 2 By Land
From Makassar, you can take a bus to get to Tana Toraja. Although this is rather long which take around 8 to 9 hours trip, it is enjoyable for those who are looking for an adventurous tour.  
Where to Stay
Now here are some options of affordable yet delightful places to stay during your visit to Tana Toraja.
#1 Toraja Misiliana Hotel
Encompassed by the great greenish hills, this hotel is settled in a spacious land near the mountain. It comprises ornate traditional houses Tongkonan with Toraja architectural, and decorative design.
Experience the relaxation from the convenient room, and breathe the fresh air of its clean atmosphere from the lawn in front of your door.
This building features an outdoor pool, free WiFi, and a restaurant that provides Toraja coffee. And its location is nearby Rantepao main draws that you can reach easily such as Londa Burial Caves (1.7 mil), and Kete Kesu
Village (1.8 mil).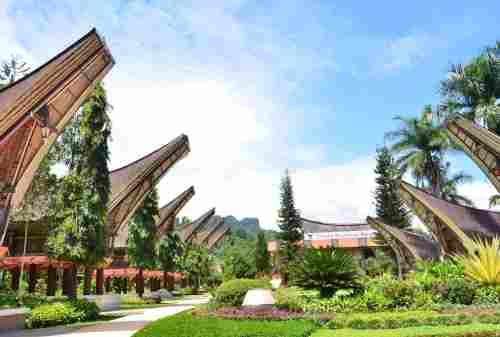 [Read: 6 Best Activities In Tanjung Puting, The Largest Orangutan Habitat]
#2 Hotel Sahid Toraja
This hotel provides you an amazing view of nature, and comfort stay for resting. Rooms with traditional designs of Toraja, each with a terrace, allow the guests to enjoy the dew of the morning over a cup of tea or coffee. The property features an outdoor pool, an on-site restaurant, and a parking lot for your convenience.
Get to some popular sites such as Wisata Religi Buntu Burake, and Makale Pond Roundabout, in an easy, and a relatively short distance from this hotel.  
#3 Mama Tia Homestay
This family-owned homestay is placed only 5 minutes from the center of Rantepao. With a beautiful fresh rice fields-front view, this building is equipped with 2 simple rooms with double, and single beds (each bed have a mosquito net).
But you can bring anti-mosquito lotion too. This place is the right choice for those who seek a secluded place that far from noisy and allow the guests to interact with the locals.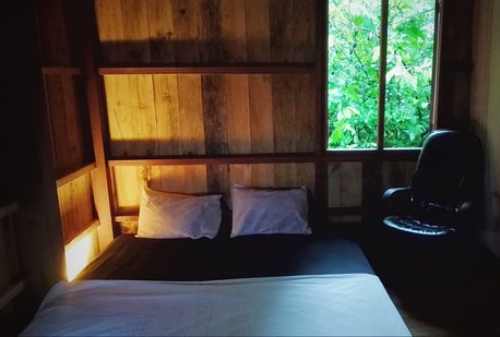 [Read: 6 Fascinating Activities To Do During Your Tour In banda Islands]
Conclusion
Tana Toraja has uncommon groups of graveyards that attract many visitors to come. Every traveler will be grateful, and happy to spend their holiday in this land blessed with rich cultural heritage, and exquisite landscape of nature, including you.  
Finansialku has travel tips for you to follow, see this video below!
To prepare your budget, download Finansialku application to calculate easily. It's now available for iOs.
Hopefully, this article help you to arrange your trip. Don't forget to tag your friends who also want to visit Tana Toraja in the near future.
References:
Admin. Tana Toraja, Tanah Eksotik di Pegunungan Sulawesi. Pesona.travel. https://tinyurl.com/ycojxz6h.
Admin. Kekayaan Tana Toraja. Yuktravel.com. https://tinyurl.com/y92kbmp7.
Admin. 10 Hal Yang Wajib Dilakukan Saat Melancong Ke Tana Toraja. Phinemo.com. https://tinyurl.com/y8hwb56h.
Image Credits:
Toraja 01 – https://bit.ly/3gHMxcS
Toraja 02 – https://bit.ly/2XE0U9f
Toraja 03 – https://bit.ly/3dg6tBw
Toraja 04 – https://bit.ly/3dcpTXZ
Toraja 05 – https://bit.ly/2ZLXBiZ
Toraja 06 – https://bit.ly/2TOo8bQ