Kylie Jenner on The Youngest Ever Selfmade Billionaire
Self-made according to free dictionary online is:
"Having achieved success or recognition by one's own efforts: a self-made billionaire."
As much as I don't like drama and (perhaps) fake scene, I have to swallow the reality that this girl is super rich. In one of her spin off reality show, she said that "I don't like being famous, it's not me. I don't even remember when I got out without being recognized".
Oh yes girl, but you monetizing it now, big time!
The statement and reality are against one another but definitely impacting her wealth a lot.
The reality show Kardashian-Jenner family's drama selling is their lifestyle on E! and people are seem loving it.
I am not curious on any news or scene but when it comes to Forbes, yes it must be something. The show actually helps Kylie Jenner gain her popularity and advertise her Kylie Cosmetics.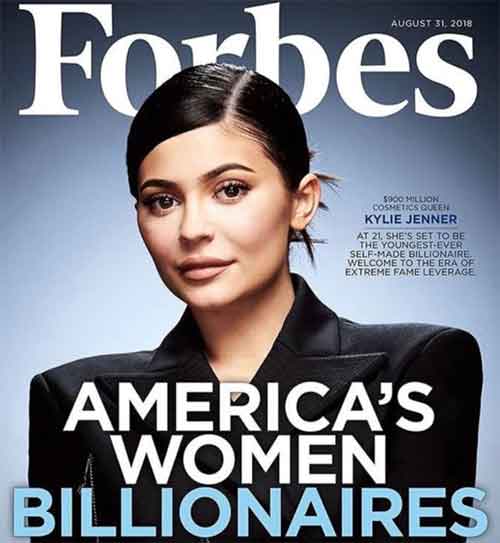 The term of SELF-MADE got a lot of disapproval among public. But Forbes seems taking on the final count of the money and ownership of the company, regardless how she achieves it.
There is really nothing to be proud about from achievement on academic subject that brought up the family. It was all started with scandal and fortunately it became fame. And they are terribly good at taking it into the moment and convert it into cash.
We have to admit the momager Kris Jenner has the skill on seeing the opportunity to manage her daughter as money makers.
In the last four years, Kylie Jenner's cosmetic line named Kylie Cosmetics generates US $900,000,000 (equals to 13,050 billion rupiah). It made her the youngest woman with 10 digit numbers and beat Mark Zuckerberg at the same amount of money at the age 23 in 2008.
It cannot be all negative, we still got the lessons from this scene:
#1 Creates FOMO (Fear of Missing Out)
Kylie Jenner always put the LIMITED word on her product while she always exists in every occasion.
She keeps her followers on Instagram updated and market her make up line by writing on what she is wearing at the time.
These kind of mixed situation of being exist and limited, makes her make up easily sold out.
#2 Using Instagram Platform as Marketing
Kylie Jenner doesn't have to sweat on the sun to sell her products. She just need to take a selfie, upload the makeup tutorial or sneak peek on her Instagram account. And it's FREE!
#3 Online Stores
Kylie Jenner doesn't need to spend on expedition to supply store her make up line across the world. She has storage where the products are directly distribute worldwide based on order.
Can you see the fans and people effort to buy product that only available online?
#4 Offline Store
Lately, Kylie Jenner has a new deal with ULTA that put it products in all the makeup retailer's 1,163 US stores.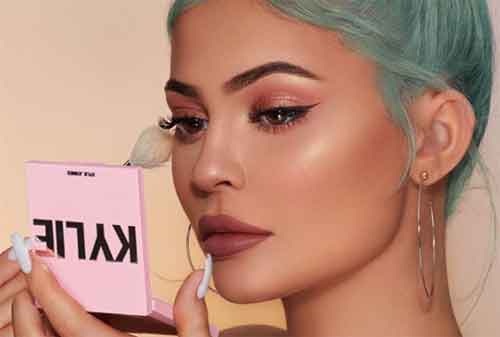 Kylie Jenner is the youngest in the clan, she grew up in front of camera since 11 years old. However, she has a lot of insecurity; she feels the ugliest in the family and always worries with her lips.
Within less than a decade, she transformed her appearance from thin quirky teenager into guitar-body young adult. Not to forget her lips that she put filler in. Recently she denied on underwent plastic surgery.
I personally once bought the Kylie Lip Kit when it first launched and I regret it. I was carried away by the euphoria and curious about the product itself. I would say, not the best one.
I guess on her case; it is all exceptional. Not everyone can make business with privilege as starter to leap far ahead. She cut a lot of process that normal people use to have to struggle to be successful.
Her profitable business is the prove that a lot of fans and people would love to buy her product.
It came into my logic mind; why would I buy a product form a founder which actually insecure and fake?
One way or another, agree or disagree, deserve or not deserve, Kylie Jenner has successfully put personal branding on her image.
CONGRATS BILLIONAIRE!
Please share your opinion in the comments column below! Thanks :)
References:
The Free Dictionary Online
The Guardians
The Forbes
Images:
Kylie Jenner, Selfmade Billionaire 01 – https://goo.gl/iSsjBL
Kylie Jenner, Selfmade Billionaire 02 – https://goo.gl/EiPzfM
Kylie Jenner's Products – https://goo.gl/sf744R
Free Download Ebook Pentingnya Mengelola Keuangan Pribadi dan Bisnis