How does it feel to be in Makassar, the epicenter of West, and East of Indonesia? Visit Makassar to experience its wonder.
Introduction
As the largest city port in Indonesia, Makassar is blessed with prominent city landmarks including historical site, unexplored beaches, and beautiful coastlines that blend with delicious culinary treats found in the life of a vibrant urban city.  
The 6th largest metropolitan city in Indonesia, Makassar that is located in the southwest coast of Sulawesi Island, has been undergoing a vast economic development for its strategic location that facing Makassar strait and surrounded by the Flores Sea, make it even more attractive to travelers.
This multi-ethnic city, inhabited by Makassarese, Buginese, Torajans, Mandarese, Butonese, Chinese, and Javanese, continues to become an important trading port in the Eastern Indonesia, as it was in the Dutch colonial period, as well as the gateway of Eastern Indonesia.
If you are planning to have a long trip vacation at the end of this year, and intend to visit various sites of attractions in the eastern city of Indonesia, we recommend you to go to Makassar.
How to Explore Makassar
This cosmopolitan city offers you a broad range of tourist attractions including some distinct architectural landmarks, and breathtaking view of natural sites that give joyful excitement to your long vacation at the end of 2020. Here are some highlights of the city's best spots.
Trans Studio Makassar Theme Park
Located in Jl. Metro Tj. Bunga, Trans Studio Makassar is the third largest indoor theme park in 2009 in the world.
Designed conceptually by an entertainment firm based in Los Angeles, the Goddard Group, this indoor theme park comprises of over 20 features and amusement rides.
It makes you feel like being in Disneyland for some rides are adopted from Disneyland in US.
The park is where you want to have a lot of fun, and share exciting moments together with your family.
Experience the horror impression of the world of ghosts in Dunia Lain, an Indonesian version of a haunted house consisted of Indonesian ghosts such as Kuntilanak and Jelangkung.
Also, the educative Studio Central reveals the tricks and secrets behind the scenes of great movies.
The Floating Mosque, Amirul Mukminin Mosque
Ever seen a floating mosque before? Yes, it exists in Makassar with a stunning architectural design.
Located in the eastern Losari beach, the Amirul Mukminin Mosque is an iconic landmark in the city that comprised of a double blue dome with three-story.
The site that can house up to 500 people is fit for those who want to visit a sacred place, praying or collecting delicate architectural photographs.  
A Cultural Trip to Fort Rotterdam Since 1545
The remaining of Dutch colonial period, Fort Rotterdam that argued to be found in 1545, ever been used as a fort for Dutch regional military, and governmental headquarters until 1930s.
Now this best-preserved example of Dutch architecture in Indonesia becomes a museum that introduces sailing boats, artifacts from Tana Toraja, ancient musical instruments, and ethnic costumes in Museum Negeri La Galigo.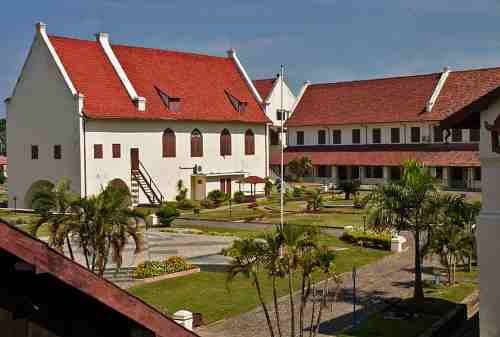 [Read Also: Way Kambas National Park, Home for Endangered Species of Sumatra]
This cultural, and education center is also a venue for music, and dance events that comprised of 13 buildings.
While enjoying these ethnic traditions, also take a short walk to reflect on clay-painting work of Daeng Zainal Beta. Don't miss the chance to chat with the master artist about this fine artwork.
The fort is located in Jl. Ujung Pandang, Bulogading that is open from 8 am to 6 pm.
Traveling to The Spermonde Archipelago
A prominent archipelago known for its many breathtaking uninhabited tropical islands (out of 115), the Spermonde offers you a gateway to luxury secluded remarkable beaches to experience the serene peace of nature. These two are must-visited beaches.  
#1 Samalona Island, The Shrinking Island
Formed by a sparkling coastline of white sand, along with the crystal clear water where diverse marine life exists, you can expect a tranquil relaxation on the seaside of this small island. The island is also known for its best snorkeling spots.
If you want to experience stargazing near the beach, just stay the night in a small fishing village community where some accommodations are available.
#2 Kapoposang Island
This uninhabited island is where you can get the luxury of tranquil ambiance, and a natural therapy from a city's noise.
It highlights the glowing, and clear blue water that is contrasted with pristine white sand. Kapoposang is known for its very diverse diving spots where watching stingrays, turtles, and sharks is made possible for divers.
The Mouth of God or Bawakaraeng Mountain
An incredible sketch of the urban life of Makassar, and the sea is seen from the top of Bawakaraeng Mount which literally means the Mouth of God.
Climb up to its summit, and witness the view of adorable clouds that are elegantly clothed the body of the mount.
To catch the best sight of the natural landscape around the mount, start the climbing before the sunrise. Feel free to enjoy every step of the climbing. And watch how lights of the sun penetrate the surrounding and create a spectacular sight of nature that will be hard to forget.
The mount is located near Danau Tanralili, Manimbahoi which takes 2,5 hours from Makassar.
Celebes Canyon, Great Artwork of Nature
A stunning piece of art by nature never cease to raise awe for the eyes such as Celebes Canyon, ever-flowing water even in a dry season, located in Libureng in Barru District that is 2 hours from Makassar.
We never know how, and when, but nature truly brings such distinct asymmetrical formation of rocks into reality. It is fresh, and unpolluted cool water is quite a natural spa for the body.
How to Get There
As the gateway between western, and eastern Indonesia, Makassar is an important hub that becomes a transit for flights from, and to the west, and east Indonesia region.
Most of Indonesia airlines fly from almost all big cities in Indonesia such as Jakarta, Surabaya, Bandung, or Bali, and from cities in eastern Indonesia such as Manado, Maluku, and Jayapura.
Here are some routes to get to Bangka Belitung.
By Air
Garuda Indonesia, Air Asia, Lion Air, and Sriwijaya Air, and other small airlines like Express Air are some airlines that operate to, and from Makassar.
By Sea
Soekarno-Hatta Harbor in Makassar also is the major port for central, and eastern Indonesia. Pelni's ship operates from Makassar to Balikpapan (16 hours), to Surabaya (24 hours), and to Jakarta (30 hours).
Where to Stay
To complete your trip list in Makassar, here are some exciting places to stay during your holiday.
Arthama Hotels Makassar
Located near Losari beach, Trans Studio Makassar, and Panakkukang Mall, Arthama Hotels Makassar is a convenient place with a city view, and near Makassar city's top attraction.
If you travel on budget and want to get the best of the city's landmarks this hotel is for you.
It provides relaxation amenities such as an indoor pool, sauna, spa center, bar, and restaurant for the guest to enjoy.
The room also features a flat-screen TV and a private bathroom. And some rooms have a city, and Losari beach view that you can enjoy from the balcony.
Amatoa Resort, Bira
Located on the top of a cliff that is looking out to the ocean, Amatoa Resort is where the guests can have a tropical retreat in one of the most beautiful areas in Bulukumba, Tanjung Bira beach.
It is 5 hours drive from Hassanudin Airport, and 3 minutes stroll from Tanjung Bira beach.
A tropical stylish design, along with elegant wooden furniture, and an artistic decor, the resort provides you with large, and fancy bungalows overlooking the great ocean, all to create the best comfort you can expect.
The rooms are equipped with mosquito-net, a day bed, sitting area, and shower facilities. Besides you can take in the best panoramic view of Tanjung Bira beach from its outdoor pool or tanning on its sunbeds.
Use its stairways down into the sea, and enjoy the breathtaking view of Tanjung Bira.  
Hotel Grand Town
A large building with its elegant Victorian style, Hotel Grand Town is located right in the center of Makassar where Losari Beach, Bugis Water Park, and Panakukkang Mall are only in a short distance.
Its spacious rooms feature a flat-screen satellite TV, minibar, and electric kettle.
You can access the urban life of Makassar city from Grand Town Restaurant located in the 6th floor. Newspaper, and meeting/banquet facilities are provided as well.
Download Sekarang! Ebook PERENCANAAN KEUANGAN Untuk USIA 20-an, GRATIS!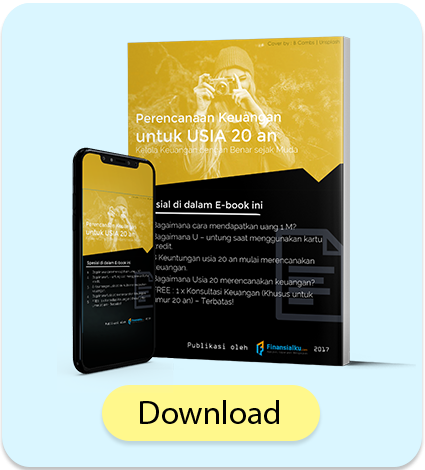 Conclusion
As a busy city port marked by the metropolis living, Makassar doesn't lose its beauty.
Offered an amaze of its distinct cultural landmarks, theme park, and unexplored fine beaches, and natural wonders, the city is where you want to spend your long vacation at the end of 2020.
To prepare your trip budget, download Aplikasi Finansialku to calculate easily. It's now available for iOs.
Tag those who love to come along with you to Makassar.
References:
Cisca Lim. 14 extraordinary things to do in Makassar and South Sulawesi you never knew possible. Indonesia.tripcanvas.co. https://tinyurl.com/y4jbpxhs.
Admin. Makassar. Indonesia.travel. https://tinyurl.com/y2twfm8s.
Image Sources:
Makassar 01 – https://bit.ly/31wGXnK
Makassar 02 – https://bit.ly/3ogtUAp
Makassar 03 – https://bit.ly/3joE1zA
Makassar 04 – https://bit.ly/3ogu2zT
Makassar 05 – https://bit.ly/2HtRCbD
Makassar 06 – https://bit.ly/3kopTYm
Makassar 07 – https://bit.ly/3jvP2PL
Makassar 08 – https://bit.ly/2Tj1wPU
Makassar 09 – https://bit.ly/3dUox55
Makassar 10 – https://bit.ly/34mUe3R
Makassar 011 – https://bit.ly/3kp6AxU