Only in Sumatra's rainforest, Way Kambas, where bathing the rare Sumatran elephant can be a fascinating way to end this year.
Introduction
Create your own version of an unforgettable experience by making friends with this giant animal, the Sumatran elephant, in the center of elephant training in Way Kambas National Park.
This park is one of the oldest reserves in Indonesia, and a home for the other endangered animals namely tigers, and rhinoceroses of Sumatra.
For adventurous souls plus animal lovers out there, this is a great chance to see closely the wildlife of these endangered species in their habitat.
Location
Comprise of swamp forest, and lowland rain forest, Way Kambas National Park with 1,300 km2 wide, is situated in Lampung province, South Sumatera.
History
Serve also as the Elephant Training Center, and located 9 km from the park's Plang Ijo entrance inside the park, Way Kambas National Park was officially found in 1989. as National Park.
It secured its status as an ASEAN Heritage Park in 2016.
In 1937 Way Kambas was built as a game reserve by the Dutch administration.
Habitat Loss and the Conservation Effort
Due to the illegal logging, palm oil production, and the hunting of tigers using illegal trap where some use the tiger's body as a medical practice in Asia has caused a decline and loss of wildlife habitat in the park.
Other factors come from villagers claiming the traditional land as their rights, and the opening of road, and trail to the park that makes the illegal logging becomes possible.
As the result, 60% of the park that consists of rainforest have loss.
The number of Sumatran elephants in the park was predicted to be 180 in 2005, and 20 Sumatran rhinoceros which was reduced from 40 in 1990, and Sumatran tigers that declined from 36-40 in 2000 to less than 30.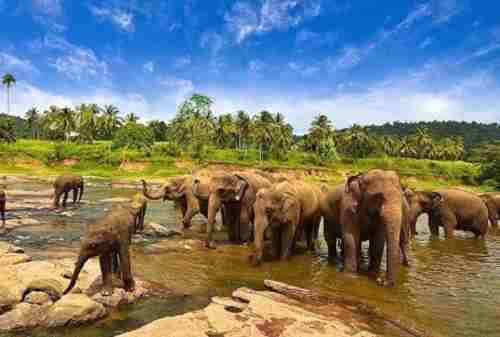 [Read Also: 17 World Tourist Destination You Can Find in Indonesia]
To address this problem, some conservation efforts have been taken by the government such as building a rehabilitation center in the park for rare species, closing down around 2000 wells that once became a trap for the animals.
The Berlin park, Tier, has been working to save the population of Sumatran tigers and has succeeded in its breeding program that born 118 Sumatran tigers in the past 60 years.
Its corporation with regional and, global conservation breeding programs and zoos aimed at creating ex-situ populations as part of its strategies to save Sumatran tigers from extinction.
How to Explore Way Kambas National Park
Way Kambas National Park comprises 50 species of mammals which most of them are endangered animals.
Besides crocodiles, rhinoceroses, elephants, and tigers, other mammals such as the Malayan tapir, Sumatran dhole, and Siamang also inhabit the park.
Although only a few tourists' facilities inside the park, with some simple foods in the township, located 13 km from its entrance, some exciting activities such as excellent bird watching, interaction with the elephants are possible to do.
If you are lucky, you also will spot the rare white-winged wood duck beside the various birds of the park.
#1 Riding on An Elephant
Riding on an elephant is a fun way to journey around the park. Isn't it feels like being in the Tarzan movie?
Elephants are known for their smart ways of avoiding or breaking a trap set by the locals who want to protect their farmlands.
You'll be accompanied by a mahout who works with, rides, and tends an elephant.
The mahout will guide you to enjoy unique birds, and the lush trees in the forest by riding an elephant. Its special saddle makes your ride convenient. Do you know that riding elephant is also a good exercise for the elephant?
What else is you can see the elephant get showered, and saddled? And you also can feed it with delicious coconuts, banana or other fruits.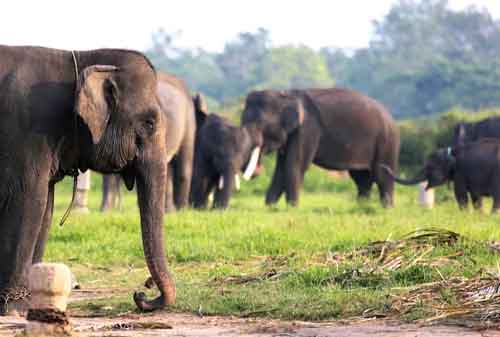 [Read Also: A Perfect Vacation on the Small Heavens of Bangka Belitung]
What a great chance to take pictures with this smart, and lovely animal.
To be able to experience this you need to visit the center for elephant conservation, a place where you can see how the elephants are domesticated, used for patrolling, ecotourism, and breeding.
Another place to spot the elephants is in Rawa Gajah which you can reach by an easy walk. It is a swamp area where elephants often appear for 4 hours.
#2 Excellent Birding in Way Kambas
Meet various species of birds, hear their cheerful chirping, and see how they live in the surrounding of the park.
If your hobby is birding or bird watching, this is the place to be. It offers around 400 species of birds. The best time to spot the colorful array of local birds is in early morning from the tower of fire protection.
The Storm's stork, woolly-necked stork, lesser adjutant, crested fireback, great argus, and Oriental darter, and white-winged wood duck are some of the species here.
Well, what about a trek in the evening with the help of a guide to observing owls, nightjars, mongoose, civet, and deer?
#3 Using Boat for Wildlife Trip
By boat, you can start a fascinating trip of observing the wildlife in Way Kambas through Way Kanan River together with a ranger, and boat's driver.
If you are lucky, you'll be greeted by Siamang Gibbon, Long-Tailed Macaque, Pig-Tailed Macaque, and Black Leaf Monkey, and varieties of birds such as King Fishers, and Hornbills, wild Elephants, Rhino, Tapir, Tiger, Deer, Wild Pig, Crocodile.
There will be a fishing village, and many raptors too. So prepare your camera to take the best pictures of this amazing wildlife.
How to Get There
To reach Way Kambas it can take 2 to 3.5 hours drive from Bandar Lampung airport. Here are some mode of transports that you can use.
#1 By A Public Transport
A trip using public transport is around 2 to 3 hours. From Rajabasa Terminal in Bandar Lampung, take a bus that heads toward the direction of Way Jepara.
Stop at the stone elephant at Rajabasa Lama Village, Way Jepara. From there using a motorbike (ojek) or taxi ride, continue your trip to the Way Kanan or the Elephant Training Centre (ETC) as the entrance to the park. Other options are to catch a bus to Metro, and another bus to Rajabasa Lama that last around 2 to 3 hours.
The bus to Rajabasa Lama operates until 3 pm Western Indonesia Time, and so does the ojek.
Using a taxi from Bandar Lampung to Way Kambas is more expensive.
#2 By Rent or Private Car
Using private or rent a car, take Kota Bumi Road northward, and follow the elephant signs to Way Kambas National Park.
Arrived at Sukadana some of its roads are in poor condition so the trip will get a little bumpy. And the roads about 5 km, from Way Jepara market to the entrance of the park, is also in poor condition.
Where to Stay Near Way Kambas National Park
Now here are some options of best-value hotels nearby Way Kambas National Park.
#1 Radisson Lampung Kedaton Hotel
This best value hotel, Radisson Lampung Kedaton is a suitable place to stay especially for a family vacation.
The building is well-equipped with facilities such as a gym center, and kid's pool. It is also located near several restaurants in the city. And the room features air conditioning, a minibar, telephone, and a wardrobe.
#2 Batiqa Hotel Lampung
A place to enjoy a convenient stay at the family-friendly-setting of Batiqa Hotel Lampung.
It offers you the best values of amenities that make you cozy, and comfortable from the coffee shop, lounge, and fitness center to spa.
The room features air conditioning, a TV, and coffee/tea maker, and a balcony that overlooks the picturesque city of Lampung.
The hotel is also located nearby Lampung landmarks such as Thay Hin Bio Temple, and Krakatau Monument.
#3 Satwa Elephant Eco Lodge
As a fourth of eco-lodge in Ecolodgeindonesiagroup of lodges, Satwa Elephant Eco Lodge is the nearest place to Way Kambas National Park with only 500m from the park entrance.
It is a place where you can get comfortable rest after a long trip from the park.
This B&B service is facilitated with bicycle rental, restaurants, lounge, and kid's activity, and a terrace with a fresh garden view. While the room is a family type that features a desk, safe, and shower.
Download Sekarang! Ebook PERENCANAAN KEUANGAN Untuk USIA 20-an, GRATIS!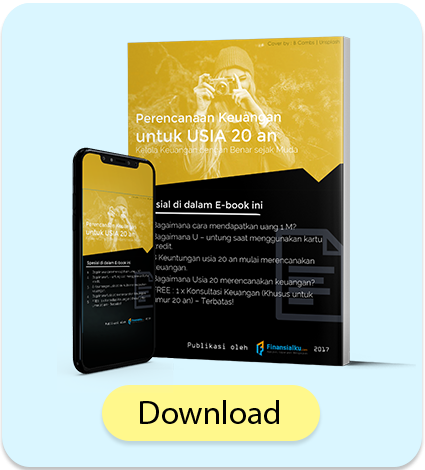 Conclusion
Regardless of its habitat loss for animals, Way Kambas National Park is still an amazing home for the endangered species especially those from Sumatra that is going through conservation programs.
It will be a wonderful way to end 2020 by visiting, and building awareness of the wildlife in the park.
To prepare for the budget, download Finansialku application to calculate easily. It's now available for iOs.
Don't forget to tag those who want to explore Way Kambas National Park on your next trip.
References:
Admin. Way Kambas National Park Tour. Adventureindonesia.com. https://tinyurl.com/yybjmrj5.
Admin. Way Kambas National Park. Indonesia.travel. https://tinyurl.com/y5qosllb.
Admin. Way Kambas National Park. Lonelyplanet.com. https://tinyurl.com/y2rwhyru.
Admin. Sumatran tiger. Instagram.com. https://tinyurl.com/y2qrblf2.
Image Sources:
Way Kambas 01 – https://bit.ly/37d92UC
Way Kambas 02 – https://bit.ly/3lWp8WV
Way Kambas 03 – https://bit.ly/3nQJxyp
Way Kambas 04 – https://bit.ly/2HdO6SE