Stuck with this pandemic situation? Need more job to support your finance? Here are some work from home jobs you can do in pandemic.
Work From Home Trends
Work remotely has been a trend since online gigs platform developed. One of the reason was more businesses offered a remote job, where people can work from home without have to be presence in the office.
A study from Flexjobs 2018 annual survey shows that there are more than 54.000 companies posted remote job listings on the site so far.
Besides from businesses, demand also came from workers. Citing a survey from Flexjobs, many workers believe that flexible job could help save money, reduce stress, and increase health, and quality of life.  
Remote Work during Covid-19
But Covid-19 pandemic created a universal state of exception almost in every life aspect.
It became such a massive disruption in this disruptive era that forced many businesses.
It also created a massive physical distancing that sends employees to work from home. It also created a trend of working from home greater than the one created demands above, and even becomes a new normal.
Work platform is transferred from office to home, and from offline to online.
Along with the disconnection, de-industrialization, and de-finance also followed through as the effect of this pandemic.
Those who get laid off, have their income cut, or get no income, try to make money to fulfill primary needs.
Some try to be as productive as possible by developing new skills they have that could earn them some cash.
To help you update news about Covid-19, Finansialku provides a page contained recent news on corona pandemic in Indonesia.  
Possible Jobs That Earn Decent Pay During Covid-19 Pandemic
If you are one of them, and look for jobs that can be done from home, and earn you a good pay, this article sorted out 9 works from home that can be done during Covid-19 pandemic.
The income you make out of these jobs can help you meet your basic needs especially during corona pandemic. So, let's take a look.
#1 Tutoring
Turn your mastery in school subjects into money. You can teach subjects you are expert in such as math, science or languages to generate a fast cash.
Although this can be done offline, to prevent the transmission of the virus you can go with online tutorial which is safer.  
Use the apps for video conference such as Zoom, Google Meet, Skype, or WhatsApp. Or if you don't prefer a self-employee option, check out these websites for an online tutor job; WyzAnt, Preply, VIPKid (a Chinese online education), and Tutor.com.
Who knows you can use your public speaking skill in tutoring to prepare you for other works after the pandemic?
#2 Catering
With the pandemic that limit the mobility of people to do activity outside, people now spend most of their activities inside.
This affected their diet pattern. Since no gathering in café, restaurant, or other public spaces, ordering meals online is increasing.
If you get some special talent at cooking, this can be a great opportunity to start a catering business. With online transportation apps, you don't have to worry about sending the meals to the customers.
You also can adjust the menu according to the customer's needs. They can be drinks, desserts, cakes, or meals. Healthy meals or drinks can be a good idea during the pandemic.
#3 Drop-shipping for Medical Products
While consumption of secondary needs might reduce during the pandemic such as fashion, electronics, or furniture, there is still a possibility to sell them.
You can still do a drop-shipping business that sells medical products such as masks, disinfectant, or personal care such as for babies, and children which are highly needed during the pandemic.
Though it is relatively easy to do, and takes a small amount of cash to begin, the challenges lay on setting up your price.
Since there are other drop-shippers who will likely sale the same product as yours, it is important to put a good price. Another challenge is to create an inventory system if you get two or more suppliers.   
#4 P2P Lending
Generate a fast cash can be helpful for an emergency fund that is important in uncertain period such as this time.
If you haven't saved for emergency fund, earning a fast cash can mean a lot. One way to do that is through P2P lending.
It is an online platform where people can lend to or borrow money from other people online. The terms vary from 3, 6 months, and 1 or 2 years.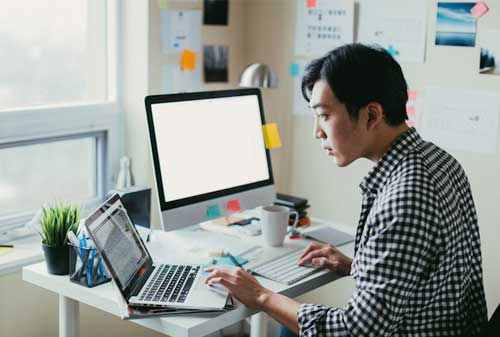 [Read Also: Why You Need to Launch Online Business Now and How]
The return can reach as low as 8%, and as high as 30% a year, with tax around 15%.  
The platform is relatively flexible for those who have small budget to start (can start from Rp 100.000).
What you need to prepare is to choose the right borrower, since you expect him/her to pay on time, and platform (to avoid scam).
In this investment, the risk is default of payment (when borrower fail to return your money). So how to minimize that risk? Here is what you can do.
#1 Collateral
Choose a company with a collateral schema. It is a mechanism of company to guarantee your money. Choose the one that use an invoice financing, with big companies as its payers.
This is the most important part before deciding to invest, because not all P2P lending companies have collateral schema.  
#2 Risk grade
Check the risk grade whether it is according to your risk tolerance or not. Usually the company put grade A (low risk), or grade B (higher risk) that have return range from 16% to 22% or more.
Remember; high risk, high return, low risk, low return.
#3 Company or Platform
Choose a company with a good track record of loan (you can check in its NPL/Non-Performing Loan, it measures how much the percentage of default from the total loan), financial report (at least profit flat), credible, and legally listed in OJK.
#4 Loan
Choose a productive loan such as in business that has relatively stable income, or are growing well.
You can choose trade, service, or household industry sectors. Avoid loan for consumption, education, or other high risk loan. Besides, choose a borrower with a good-track record of loan.
In Indonesia, there are more than 60 companies legally operate. Among them are Koinworks (many types of loan), Amartha (using insurance as collateral), Investree (90% invoice financing), and Modalku (mostly business expansion loan).
#5 Writing Gigs
To get a decent pay from this job, you need to have at least experience in writing. If you can write well in your native language, English, or other foreign languages, it would be an advantage.
Some companies hire writers to create content, write news, copy writing, or website in diverse topics.
To start you can create your own blog, or apply as a local newspaper writer to build a strong portfolio.
The rate of a freelance writer depends on your portfolio, field of expertise, and the job.
The minimum rate start from $1 or around Rp 14.000. The pricing can be per word or flat/fixed-fee approach (get paid for the work not for how many hours it takes). They all depend on your work contract.
Check out these sites from abroad that offer vacancy as a writer.
Upwork, Pro Blogger Job Board, Freelancer.co.id , JobStreet.co.id , Appen, Flexjobs.com, Truelance.com.
#6 Affiliate Marketing
If you are an active blogger, or social media influencer, affiliate marketing could maximize your profit. It is a process where you promote products and get a commission by doing so.
Why affiliate marketing? This can be your passive income stream, since you only need to post a link and you will be paid whenever people doing transaction through it.
You only need money to buy the best domain and hosting for your website. The income could be more than enough to pay off the electricity, gasoline or your rent.
Not only that, if you already got paid from your blog or website, affiliate marketing helps to boost the traffic on your site, so you can reach out to a larger audience.
You can start by posting an affiliate link of the product through your website or blog.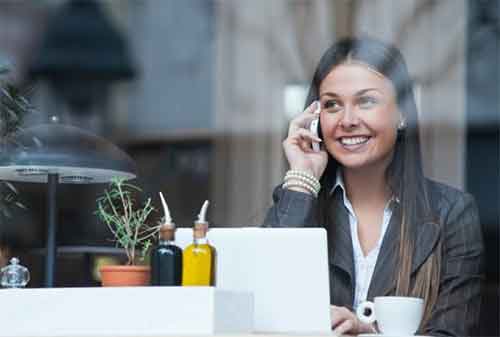 [Read Also: How to Be a Professional Financial Advisor and Its Advantages]
Another way is by signing up for affiliate programs. In this program, you will get paid by reviewing a product.
If you want to promote a product that aligns with your business value or interest, then try creating a strategic partnership with the desired companies.
They will ask you to write posts that promote or review their products. In this way, you would be more focused on the content you love, and it keeps you from having too many affiliate links in your blog or website.
How much commission you will get? Amazon gives 4% of commission while Clickbank  up to 75% for people who affiliate their links.
#7 Consulting Business
An expertise in a special field is as valuable as more people seek to improve their personal skills, business, or education. Using skill in your expertise field can get you a satisfying return.
Your main task is giving an advice to your clients to solve their problems, and help achieve their goals.
In Indonesia, profession as a personal financial planner is highly needed, since more people become literate about money and investment, especially millennials who want to purchase house, vehicle, or obtain financial freedom.
Consulting business most people search; small and medium business, finance, investment, IT, advertising, communication, editorial services, human resources development, mental therapy, marketing, taxes, publishing, personal development, career, and education.
Answer these questions to help you consider working as a professional consultant.
# Do I need a certification or special licensing in this expertise?
# Do I have requirements needed to be a qualified consultant?
# Do I have a good time-management, organized schedule, and personal planning?  
# Do I have enough experience in this field?
# Do I like to networking?
If all your answers are yes, congratulation! You are closer to be a professional consultant. What you need is to begin promoting your expertise in your network area.  
#8 Online Translator
Being bilingual or multilingual today is an advantage as the business world growing more multicultural. Work as a translator can pay you a good amount of money with such language skills.
Many company seek a way to make business process more efficient. They need remote translators who can work from home to promote the product with the local languages around the world.
Some company require a language test and some translation samples for their applicants.  
Appen, Lionbridge, and Text Master are some companies that are legitimate or trustworthy. They offer job for translating document, transcription, live video or chat.
#9 Web Developer/Programmer
Web developers are those who can create and manage a website. Their job is to create a website along with its program, application, and feature.
In fact, the task of a web developer is broad with a rewarding income.  
There are 3 types of web developers.
#1 Front-End Developers
A front-end developer are responsible for managing the front part of a website such as color, font, dropdown, and slider.
The developer will use a coding language of HTML, CSS, and JavaScript to manage this front page.
He/she should be familiar with Boostrap, Foundation, Backbone, AngularJS, and EmberJS framework, as well as library such as jQuery and LESS.
#2 Back-End Developers
Back-end developers are responsible for building and managing technology to support server, application, and database. This is done to create a front-end of a website.
This developer usually uses language programming such as PHP, Ruby, Python, Java, and .Net to build application, and tools such as MySQL, Oracle, and server SQL.
When you open Finansialku website and see this article, it is the work produced by a back-end developer.
#3 Full-Stack Developers
Full-stack developers cover task of both front and back-end developer. Many opportunities of work you can obtain from this developer, but the challenges are a lot.
Usually he/she works in website server part and is fluent in language for front-end, also understands programming language from HTML to Python.
Conclusion
As work from home becomes a new normal during Covid-19 pandemic, people seek to obtain more jobs to meet their basic needs or simply to develop their skills.
These 9 work from home-jobs can be a good option to serve those needs.
To help you manage your personal budget and investment easier, please download Finansialku apps. It is now available for both Android and iOs.
May you find this article useful and make you more productive while staying at home. Please share this article with those who also need this information.
Stay safe and stay healthy!
References:
Holly Johnson. May 18th, 2020. 10 Real Work-From-Home Jobs for 2020. Thesimpledollar.com. https://tinyurl.com/yaslaztc.
Jeff Rose. January 22th, 2020. The 10 Best Jobs Working From Home. Forbes.com. https://tinyurl.com/y7sc64sb.
John Rampton. 50 Jobs Paying as Much or a Lot More Than the Average American Salary. Entrepreneur.com. https://tinyurl.com/yc6ewugp.
Admin. August 8th, 2018. Mau jadi Web Developer? Ini tugas-tugasnya!. Dewaweb.com. https://tinyurl.com/y7wwftpk.
Admin. How to Start a Consulting Business. Entrepreneur.com. https://tinyurl.com/jmuxa8q.
Rachel Jay. January 12th, 2020. Top 100 Companies with Remote Jobs in 2020. Flexjobs.com. https://tinyurl.com/ya79eu3n.