Who has a plan to go to Halmahera? Do you? Let's find out what's exciting about Halmahera. Happy reading guys…
Halmahera Island
Take a trip to Halmahera Island that offers you the exotic hidden gems of marine tourism of the Spice Island.
Mollucan or Maluku is not always about nutmegs, cloves or forts. It is also rich with distinct view of Islands and beaches in the eastern archipelago of Indonesia.
As the largest Island in Maluku, Halmahera is a hidden pearl of North Maluku that comprises some of the unspoiled beaches with stunning diving spots as incredible as Raja Ampat or Bunaken yet still unknown to many divers and travelers.
The Island brings you the opportunity to witness some of its endemic birds such as the Wallace's Standardwing Bird of Paradise like the one in Papua, rare view of Islands, and unspoiled white sandy beaches, as well as the amazing underwater vista for divers to take in.  
As a potential Island for tourism, Halmahera has many hidden gems that are worthy of exploration.
In this article, we have listed several places in Halmahera you should visit on your next trip.
#1 An Untapped Paradise, Sali Kecil, South Halmahera
It takes only around 2 hours walking to travel this whole paradise since it is very small.
Set in South Halmahera, Sali is a new gem that provides a jaw-dropping underwater life rarely explored by divers.
It is a secluded Island that gives you a chance to experience a tranquil rhythm from its exquisite nature.
The Island is wrapped with green forest and has white sand shores coupled with a crystal-clear turquoise water. Its mirror-like water, enable people to clearly gaze on what is under the water surface especially when cool breeze occur.
It has a stunning view of colorful coral reefs and other sea creature, makes it perfect spot for diving and snorkeling.
Right behind the beach, locals build their homes from woods and cement. Most of them are fisherman and others are copra farmers.
They come from Buton, Tobelo, and Ambon. From Bacan Island in South Halmahera you can use boat in Babang Port to cross to Sali Kecil in East Bacan.
#2 A Hidden Gem of Aquamarine Gem, Weda Bay, Central Halmahera
Another hidden gem worth your visit is Weda Bay.
Known for its nikel-producer land, Weda Bay offers an unknown yet enchanting aquamarine life in North Halmahera.  
What you'll find under its pristine turquoise water are diverse marine creatures from pygmy seashores, tuna fish, dolphins, napoleon wrasse to sharks.
Its currents perfectly fit for both novice and professional divers since it is calm that you can make shallow dives.
The shallow corals park is also an incredible draw to appreciate. Besides its stunning underwater life, Weda Bay also keeps a part of historical record from WW II, the Japanese shipwreck.
If you are into a wildlife, spotting Bird of Paradise, hornbills, eagles, cockatoos, and cuscus in its lush rainforest is highly recommended for birding activity.
To reach Weda Bay, use a speedboat from Ternate to Weda Resort that takes 4 hours trip.
From the harbor you can book a car that will pass lovely views of village and scenery before arriving at Weda Beach near Weda Resort.
#3 The Mini Garden Guraici Island, South Halmahera
Located in Kayoa, South Halmahera, Guraici name is from Gura or garden and Ici or small, means a small garden.
This Island resembles a mini garden in the middle of the sea, a perfect spot to escape for a while from hectic life in the city.
It is a perfect gateway to seclusion where you can enjoy being alone by yourself in this jaw-dropping tropical paradise.
This uninhabited Island is also lovely for a family vacation. It is blessed not only with an amazing scenery of white sand beach, but also with plenty and unique coral reefs under its turquoise water.
In Guraici there are more than 20 diving points to explore. You can find many manta as you dive in.
Ships that go from Komodo Island to Raja Ampat sometimes make a transit in Guraici.     
Besides snorkeling and diving, stargazing is a fascinating activity to do in the Island. The electricity on the Island is limited from 6pm to 12am.
So, if you want to stay the night, you can book a cottage or homestay in its neighboring Island, Lelei, before going to gaze on the stunning galaxy.   
You can book a flight from Ternate Airport to Bastiong Harbor to reach Guraici.
From the harbor you can take a regular ship that serves route from Ternate to Guraici.
However, this ship operates only twice a week with a changing schedule. Other options to either use a speedboat that has expensive price from IDR 5 million to IDR 8 million, or a regular ship that costs IDR 90,000 which takes around 5 hours journey.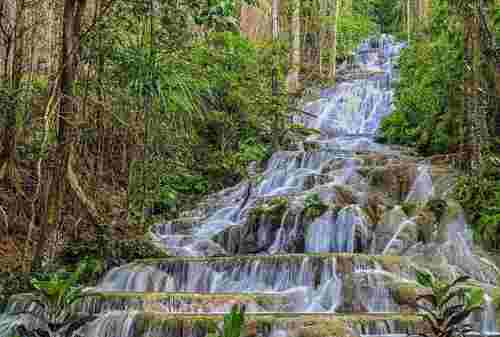 [Read Also: 6 Hidden Gems of Natural Appeal and Culinary Delight Kulon Progo]
#4 Sunrise or Sunset Gazing at Luari Beach, North Halmahera
Luari is a beach that is popular among locals in North Tobelo.
People will flood this place on the weekend since it takes only 15 minutes drive from Tobelo city center.
Luari is covered with white sands that blends with the turquoise water. Gazing at sunrise or sunset from the shore of Luari is an exciting memory to have.
North part is the best area to enjoy sunset while part of its edge, where lay many reefs, is best for sunrise.
Come on the weekday to better revel these lovely panorama.   
#5 Pogo-pogo Island, South Halmahera
Uninhabited Island yet offers a marvelous sight of a tropical beach and underwater vista.
Settled near Labuha, the capital city of South Halmahera, Pogo-Pogo is hard to be reached. But the effort to get here is worthwhile.
It provides lovely sights of coral reefs under its pristine turquoise water that fits for snorkeling or taking pictures.
Although located in lowland, uniquely Pogo-Pogo has a waterfall inside its rainforest.
Trekking inside to enjoy its waterfall, and then coming back to the shore to enjoy your cold drinks with its charming panorama will be exciting trip to have.
To reach Pogo-Pogo, you can use a speedboat from Habibi Port for 45 minutes.
#6 Dodola Island
Located in Morotai Island, Dodola is another hidden gem where vacation in its tropical beach feels like in a little paradise.
The Island makes up of Dodola Besar and Dodola Kecil Islands. When low tide, the smooth white sands will appear radiantly.
It looks like a hidden bridge that connecting both Islands surrounded by the crystal clear turquoise water.
Prepare your camera to have memorable pictures here while the tide is low. Its underwater vista is as appealing as the scenery with 13 diving points to take in.
You will find also a shipwreck and sunken airplane of WW II between Japan and the allies around the area.
Dodola is located in the west of Morotai. Go from Tobelo to Daruba and continue with a speedboat to Dodola that takes only 20 minutes.  
#7 The Rich Aketajawe Lolobata National Park
Next to its marine wonders, Aketajawe Lolobata is a National Park blessed with wildlife, rainforest, volcano, and rivers, waterfalls, cave, and lake as well.
It is endowed with 237 type of flora and 194 type of fauna. The park comprises of Aketajawe Block and Lolobata Block.
The location is in 3 places namely Tidore Island, Central Halmahera, and East Halmahera.
But to enter the park, you must first ask for permission from the officials. Trekking or camping here is a rich experience to have.
Visit its famous waterfalls Havo, Goshimo, and Bay Roray, and Tayawi River, as well as Susur Cave.
Birding and observing group of butterflies are activities you can take in here. You will get a chance to visit many traditional villages, tribes, and their way of life.
The locals live in the villages around Akatajawe Lolobata.
Generaly they work as a coconut, clove, nutmeg and cocoa farmer. There are also cemeteries of the locals' ancestors in Dusun Kulo, in the middle of the park.
And you will find a transmigration area in Ake Jawi Village. Before the area became a National Park, Togutil tribe had a nomadic life and did hunting.
But now, the government built houses for them to live in Tayawi Resort area. Some of the locals in the area earn their living from hunting, looking for Damar and Gaharu.
To go to Aketajawe go from Ternate to Bastiong Harbor using a speedboat for 30 minutes and continue to Gita with car for 3 hours.
After that go to Akeira River for 3 hours. To go to Lolobata start from Ternate to Sidangoli use speedboat for around 1 hour.
And continue using car to Daru for 2 hours and continue with ship to Poli for 1.5 hours.  
How to Get to Halmahera Island
There are two routes to Halmahera you can take.
#1 Flight Route
From Ternate Airport Sultan Babullah book a flight to Galela Airport in North Halmahera near Tobelo City.
Many flights come via Sultan Babullah Airport in Ternate.
#2 Sea Route
The transportation available is cruise from PELNI.
It comes to Ternate twice a month and make a transit to several cities such as Semarang (Central Java), Surabaya (East Java), and Makassar (South Sulawesi).
From Ternate Harbor you can choose to take ferry from either Kota Baru or Bastiong Harbor that will take you to Sofifi in Halmahera.
Where to Stay in Halmahera
We have sorted out these 3 best places to stay comfortably and restfully during your visit in Halmahera.  
#1 Marahai Park Hotel, North Halmahera
Located in the city of Tobelo in North Halmahera, Marahai Park Hotel brings you a modern minimalist living to create a comfortable stay during your visit.
It can be reached easily from Tobelo Port (only 5 minutes), Gorua Ferry Port (16 minutes), and Tobelo Modern Market (12 minutes).
Wrapped in a dark-gold color theme in elegant style, its 50 room offers you a cozy and charming setting that overlooking mountain scenery.
For Amazing Suite Room that contains up to 4 people, you can enjoy amenities such as flat screen TV with cable channel, air-conditioning, Wi-Fi, in shower adjust temperature, and coffee and tea maker.
It has a lovely garden view to enjoy from your room, and a restaurant that provide American cuisine.
This first luxuries hotel in Tobelo will sure make your stay memorable.
Address: Jl. Kemakmuran, Wosia, North Halmahera, Tobelo, Halmahera, 97762

Contact: +62 821 9690 7878; +62 924 232 1470

Website: www.marahaiparkhotel.com

Price: Trip.com
#2 Sali Bay Resort, South Halmahera
Want to experience a piece of small paradise in South Halmahera?
If your definition of vacation is seclusion with incredible sea view, Sali Bay Resort is where you should head to.
Set in Sali Kecil, the resort serves you with a 4-star accommodation that features spa center, and terrace.
From this secluded island, you can stroll around its amazing private beach or snorkeling to take in its beautiful marine life.
Deluxe Double Room that contains up to 2 people offers you a superb sea view you can take in from your balcony.
Wrapped in a wooden elements with elegant style, the room is equipped with air-conditioning, suite bathroom, Wi-Fi, and tea or coffee maker.
The hotel can arrange for you exciting activities during your stay from diving, snorkeling to fishing.
Take delight also in its Continental and Vegetarian dishes in the restaurant that specializes in international cuisine.  
This gateway to a secluded and incredible island is where you want to make an unforgettable memory with your loved ones.     
Address: Dusun Kalero, Sali Village, Sali Kecil, East Bacan, South Halmahera, North Maluku
Contact: +62 812 4300 911; +62 821 9683 4905

Website: www.salibayresort.com

Price: Booking.com  
#3 Weda Resort, North Maluku
Located strategically in the east coast of Central Halmahera between Lembeh Strait and Raja Ampat Island, Weda Resort offers opportunity to dive and snorkel in the heart of the coral triangle that comprises rich underwater-life.
There are total 8 cottages in the resort. For One-Room Bungalow, it offers a bathroom, bedroom, and terrace for double and single occupancy.
If you want the most spacious and comfortable bungalows with great privacy, you can go with Luxury Bungalow that features sleeping room, bathroom, and a living room with sea view.  
You don't only get the chance to revel the rainforest where the Wallace's Standardwing Bird of Paradise, and other endemic tropical birds are, but you also can explore its forested coast and rivers by kayak.
By staying in the resort, you also make contribution to its community and environment projects such as conservation of forest and reefs and the development of Sawai Itepo and Kobe Villages.
Address: Sawai Itepo, Central Weda, Central Halmahera, North Maluku

Contact: +62 812 4433 754

Website: www.wedaresort.com  

Price: Wedaresort.com (for easy booking send your request and questions to info@wedaresort.com or info@diverslodgelembeh.com)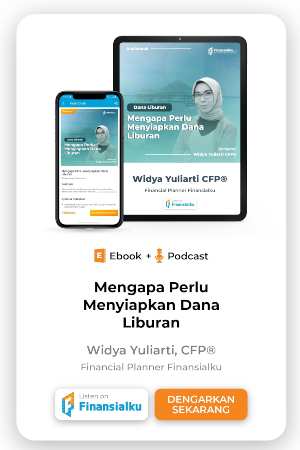 Conclusion
Halmahera has among the best hidden gems of marine life as well as wildlife in the country that remain unknown for many travelers and divers.
Start your exploration in this Island of Spice and experience its wonders in your next trip.
So, who you want to take with along the journey to this hidden paradise? 
Preparing the budget for your climbing trip with Aplikasi Finansialku for easy, and fast calculation. It is available for iOs and Android.
Or click on the link below.
Download Aplikasi Finansialku Sekarang!!

 Reference:
June 28, 2020. Halmahera Selatan Miliki Spot Diving Terbaik Di Indonesia. Halmaheraselatankab.go.id. https://bit.ly/3a61Aez.
Rini Kustiani. October 27, 2020. Sali Kecil, Pulau Makam Keramat yang Keindahannya Tak Kalah dari Raja Ampat. Tempo.co. https://bit.ly/3d8tMzm. 
admin. March 9, 2020. Explore the Pristine Aquamarine of Weda Bay in Halmahera. Indonesia.travel. https://bit.ly/3dbZ4Fq.
Admin. December 20, 2020. Pantai dengan Pasir Putih Primadona Maluku Utara. Nusadaily.com. https://bit.ly/3dTyy2U.
Admin. Pulau Pogo-Pogo, Mutiara di Halmahera Selatan. Seputarmalut.com. https://bit.ly/3g9xpHr.
Admin. Data dan Informasi Potensi Kawasan Taman Nasional Aketajawa Lolobata. Aketajawe.com. https://bit.ly/3dT8kxD.
Admin. Pulau Dodola, Pulau Surganya dari Morotai. Pulaumorotaikab.go.id. https://bit.ly/3d8wCV2.
Credit:
Halmahera 01 Finansialku – https://bit.ly/2PBpFmB
Halmahera 02 Finansialku – https://bit.ly/3nHdIZe
Halmahera 03 Finansialku – https://bit.ly/3u6UtdW
Halmahera 04 Finansialku – https://bit.ly/3xyCbEp
Halmahera 05 Finansialku – https://bit.ly/3vufFKZ
Halamhera 06 Finansialku – https://bit.ly/3eIqmD1
Halmahera 07 Finansialku – https://bit.ly/3aS3yQ3
Halmahera 08 Finansialku – https://bit.ly/3tareFz
Halmahera 09 Finansialku – https://bit.ly/3tarkwV