One of many paradise in the eastern of Indonesia, Raja Ampat has many wonderful things. Planning on taking a holiday trip? Read this first!
Unique Fact
A paradise of underwater marine life where unique creatures of water live, and the crystal-clear blue water come along with the pristine white-sand beach are the breathtaking sceneries of Raja Ampat, literally mean The Four King, islands that anyone will want to see.
Raja Ampat is a gateway for those who want to experience the joy of recreation in its panoramic landscape, and seascape. For visitors who love to take some time off from a busy routine, this is just the place to be.
And for divers, the biodiversity of its underwater vista is just amazing, and worth diving for.
Location
Set in West Papua, Raja Ampat is a chain of islands comprised of four major islands namely Misool, Salawati, Batanta, and Waigeo, with Waisai as its capital. In 2017, the population in the archipelago already reached 50.000 of people.  
It encompasses over 1,500 small islands, cays, and shoals surrounding the four main islands, and is separated from Sorong regency in 2004.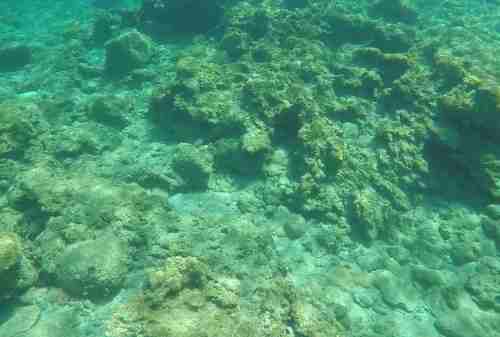 [Read: Bandung City: When Old Heritages Meet Beauty of the Present]
The locals who live around this enormous island make living through fishing as their main occupation since they live nearby the sea. Some who live in the smaller island Kofiau, work as a farmer.
You can find the traditional culture are still preserved among the locals. The beliefs hold by the locals are Islam, and Christian.
History
The local mythology tells a story of a woman who finds seven eggs. Four of them hatch, and become the kings of the four main islands, while the other three become a woman, a ghost, and a stone.  
The land was seen first by Portuguese navigator with his crew in 1526 who made the first landing on the islands.
The Ternate, and Jailolo Sultanate from Maluku once ruled over Raja Ampat Islands. Therefore, many of the islands residents are Muslims, and look more like Ambonese than Papuan. After Dutch invaded Maluku, Netherlands took control of the land.
You can see the trace of the history of Sultanate in some villages named in Arabic such as Balal, Talabi, Mikiran, and Awat.
How to explore Raja Ampat
Renowned for its world best diving vista, Raja Ampat not only offers the ultimate experience of diving, but also an enjoyable exploration to some of its great natural, and cultural sites that are reviving, and exciting for those who love outdoors activities.
So, let's check some of them.
Stunning View of Underwater Vista
Without any doubt, Raja Ampat has been a spectacular underwater world that bring divers around the world to experience its sheer wonders.
A report developed by The Nature Conservancy, and Conservation International stated that around 75% of the world's species are in Raja Ampat. Along with that, it is a home to 540 types of corals, more than 1,000 types of coral fish, and 700 types of mollusks.
Some sea creatures you can expect to see are pigmy seahorses, Manta Rays, a kind of sharks, wobbegongs, and schools of tuna fish, giant trevallies, snappers, batfish, barracudas, the dugong, and the turtle. Down at the sea floors, you can encounter giant sea clams.
Such diverse underwater biota, and coral reefs make Raja Ampat as the richest marine life in the world. These are more than enough to get divers, and underwater enthusiasts amazed at the remarkable work of nature.
While many fantastic spots for diving, and snorkeling disperse around Raja Ampat, here are some that are just mind blowing.
Piaynemo Island
Piaynemo is an Island made up of a village, diving spot, and several big reefs that circling around on the water surface. You'll be stunned on how outstanding its seascape is.
The color of the water are unbelievably clear with green light, and blue. Not to mention its spotless white sands on the seashore.
A vantage point is made on top of a hill in Piaynemo, allowing visitors to enjoy such exceptional scenery from its highest point. You'll walk up through several stairs to get there which take only around 20 minutes.
As you walk down the hill, you can dive in, and watch the sea creatures of unique shaped, and coral reefs that make the underwater simply incredible. After you finish snorkeling or diving, you can rest, and enjoy the seafood provided by the locals around the area.
Misool Island
Misool Island is another spot in Raja Ampat that has equal astonishing beach, and great draws as Piaynemo. It takes 4 hours using speed boat to get to Misool from Sorong.
To see its picturesque view you need to hike up to Puncak Harfat, the most popular hill top of the island. If you fond of trekking, the way up to its summit is very steep that sure will make you sweat along the way.
It will take 20 minutes hike. But you won't regret since the view from its top is so breathtaking. For safety on your way use hiking shoes because it's a small steep road with reefs.
Misool provides visitors with pristine white-sandy beach along the shore, and a graceful landscape to appreciate. Its crystal-clear water is the best spot for water sport activity such as kayaking, diving, or snorkeling.
Namlol is a nice spot for kayaking, located in the east of Misool, while Geosip Karawapop another main draw in this island is located in the south of Misool where you can revel in the gorgeous Telaga Love/Love lagoon.
Other top attractions you should visit are caves such as Keramat, and Tengkorak Caves, Telapak Tangan Sumbayo, Yapap, Balbulol Summit, and Danau Ubur-Ubur/Jellyfish Lake.          
Engage With The Vibe of Local Ambience
Visitors who love learning different culture will sure to travel to some of Raja Ampat villages. They introduce unique customs, values, and the way of life of the locals.
Arborek Tourism Village
Arborek is a community-based marine conservation, tourism village, and among the 18 beautiful villages in West Papua. It secured a position as outstanding village among West Papua in 2015.
You can engage with the locals' everyday life by staying in one of the homestays. They are very friendly, and diligent people. They produce handicrafts from sea pandan leaves to make the most of their time daily.
It is renowned for handicrafts such as noken/the string bags, and hats.
Most of women make this delicate crafts for living while helping their husbands who work as a fisherman.   
Experience the sheer of joy through the welcoming dance at the dock that comes along with various Papuan folk songs as you arrived at this village. It takes only one, and half hours from Waisai, Raja Ampat's capital to Arborek.
Sawandarek Village
Another village you can take in is Sawandarek. Most of its locals' livelihood come from sea pandan leaves, and wood. They convert these natural materials into handicrafts which they sell to tourists. You also can purchase the beautiful wooden carving made by the locals.
Take a short stroll around the area to enjoy the beauty of this small village where its road covers by the fine white sands. While getting to know the local wisdom of the villagers, you can still relish its stunning shore, and the great diving spot.  
Flora and Fauna of Raja Ampat
When you come to Raja Ampat, it seems like the list of the great works of nature are endless.
Not only the beauty of its underwater vista, and local convention, the islands are made up of tropical forests, a cool spots for trekking. It is a great way for reenergizing, and refreshing both your mind, and body.  
Even some villages such as Sawinggrai, and Saporkrein villages allows you to closely observe the rare, and famous bird of Papua, the bird of paradise, Cenderawasih.
There is also an endemic species of cuscus, the Waigeou cuscus or Waigeou spotted cuscus (Spilocuscus papuensis) which is a species of marsupial in the family Phalangeridae you can spot in the forests.
All these incredible wildlife of Raja Ampat are the richness of nature that need to be preserved, and maintained wisely.
How to Get to Raja Ampat
You need to take a flight from Jakarta or Makassar to Sorong, to get to Raja Ampat. From Sorong there are 2 routes options you can take to reach the islands.
#Route 1 Plane
With the establishment of the Marinda Airport in Waisai 2012, the airport served flights to, and from the city of Sorong. Wings Air served daily flight between Sorong, and Raja Ampat, while Susi Air flight twice a week on Monday, and Saturday.
Bring some snacks and drinks on as Marinda Airport is still under development, and expansion, and located relatively far from any facilities.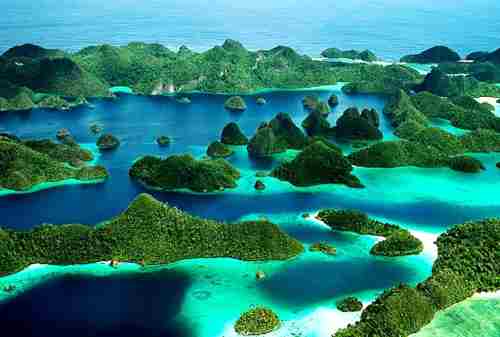 [Read: Amazing 8 Attractions To Visit In Wakatobi Island, Divers' Paradise]
The Domine Eduard Osok Airport in Sorong operates flights from, and to Manokwari, Jayapura, Ambon, Makassar, Manado, and Jakarta.
Garuda Indonesia, Sriwijaya Air, and Nam Air serves daily flights between Jakarta-Sorong. While Batik Air flies twice daily between Jakarta, and Sorong.
#Route 2 Ferry
Alternatively, you can choose ferry to get to Waisai from Sorong. The ferry trip will take about 2 to three hours. Notice the weather when you decide to use boat.
Where to Stay
Now here are some options of places to stay during your visit in Raja Ampat. The rates of the following hotels are expensive since they are located near some of the islands in Raja Ampat namely Batanta, Waigeo, and, far from Waisai, the capital city of Raja Ampat.
Affordable hotels are usually located in Sorong, and Waisai, the capital city of Raja Ampat.
Maharaja Eco Dive in Batanta Island
A paradise for those who seek not only a retreat, and luxurious vacation, but also the secluded place to disconnect with the busy world.
Built in a private island where some Papuan live as well, in Batanta, you can expect all the remarkable experiences of nature, culture, and recreation here.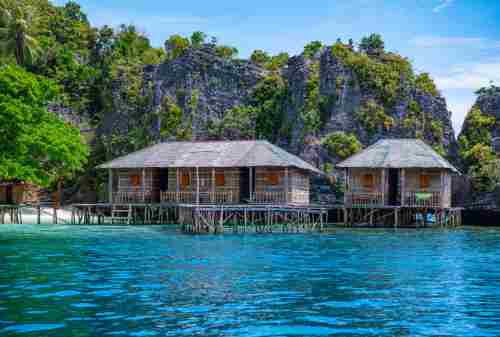 [Read: The Magical Legacy Of Gods At Prambanan Temple]
The rooms are made out of wooden materials, with a round-shaped roof that resembles Papuan traditional house, honai. It is facilitated with bathroom, shower, mosquito net, and a balcony overlooking the gorgeous beach.
You can enjoy your cocktail while revel in its stunning view of seascape.
Waiwo Dive Resort, Waigeo Island
Placed in Waigeo Island, Waiwo Dive resort is a great place to stay that has amazing beach-front view. It only takes a short walk to get to the beautiful seashore clad in spotless white sands, and a dock to enjoy sunrise or sunset.
The property comprised of cottages with wooden materials, furniture, and air conditioning. It features a bar, meeting rooms, and shops.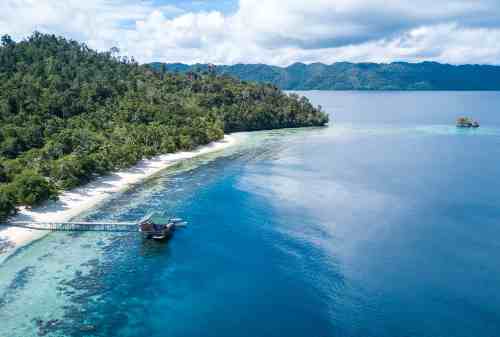 [Read: 6 Unconventional Attractions in Tana Toraja Every Traveler Should Visit]
You can arrange for outdoor activities such as diving, snorkeling, fishing, and hiking. It also provides sun terrace to sunbathing.
Staying in here guarantee you the comfort, and convenience of living nearby the sea you won't forget.
Agusta Eco Resort, Sawandarek Island
Settled in Sawandarek Island, this building provides the remarkable view of seascape, and located nearby the beach. Comprised of cottages, the amenities are beds with nets, blackout curtains, sofa, shower, and a private balcony overlooking the beach.
It features a pool, a lounge, a restaurant, a coffee shop, a gym, and shops. You can arrange for activities such as hiking and snorkeling with the hotel.   
Experience the incredible view of its beach, and water activities while indulge yourself in the convenience of its facilities, as well as the local ambience near the property.
Conclusion
The treasure of nature in Raja Ampat is undoubtedly astounding. Its exceptional view of sea, land, blended with locals convention are surely things one can take in, and learn from. As you begin a trip to the islands it will be more wonderful than your expectation.
Thus, if you planning to go to Raja Ampat soon, prepare the budget with Finansialku application. With Finansialku application, you can easily calculate and manage the budget for your trip.
Download Finansialku application on Google Play Store or Apple App Store now and enjoy the feature!
Hopefully you found this article inspiring, and help you prepare a journey to Raja Ampat. Don't forget to tag those who love to visit this land of wonder.
References:
Raja Ampat. Indonesia.travel – https://bit.ly/3fi9Icn
Raja Ampat: Surga Petualangan Dunia di Ujung Papua. Indonesiakaya.com – https://bit.ly/3ecLIWR
Muhammad Yanuar, March 29th, 2018. 10 Destinasi Wisata Di Raja Ampat yang Akan Membuatmu Terkesima. Tripzilla.id – https://bit.ly/31XJnwC
Mitra Tarigan. June 30th, 2014. The Other Side of Raja Ampat. Tempo.co.id – https://bit.ly/38GQ5s0
Images Source:
Image 1 – https://bit.ly/3gKqCAV
Image 2 – https://bit.ly/3gLlhJG
Image 3 – https://bit.ly/38KVTAI
Image 4 – https://bit.ly/2OdZE8q
Image 5 – https://bit.ly/2BWVJu7
Image 6 – https://bit.ly/2ClRPee
Image 7 – https://bit.ly/2DtJDJB
Image 8 – https://bit.ly/2ZeMPkz
Image 9 – https://bit.ly/309ykxZ