Ever wanted to climb Mount Rinjani? Please read this before you go! We prepared some essential information regarding this mountain.
Unique Fact
Climbing the second highest mount in Indonesia, Mount Rinjani, is never too bored. In fact, it might be the most exciting experience you could have in Lombok Island.
Magnificently breathtaking mountain, where an astounding crescent shaped lake resides, Mount Rinjani not only presents one of the best views of mountain top in Indonesia, but also is considered as one of the best treks in South East Asia.
Besides its stunning beauty, the sacred spirit around the fine Segara Anak Lake, along with its diverse flora and fauna of South East Asia mixed that of Australasia, Mount Rinjani provides the most exhilarating experience of more than just mountain climbing in Lombok Island.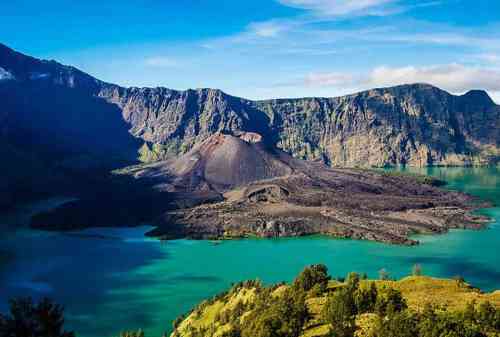 [Read Also: Nusa Penida, A Remarkable Beauty of the Southeast Island in Bali]
Location
As the part of the Pacific Ring of Fire, an area where many earthquakes and volcanic eruption take places, Mount Rinjani is located in North Lombok, West Nusa Tenggara (NTB).
Its point of elevation is around 12,000 feet high or 3.726 m high, make it the second highest mount in Indonesia after Mount Jayawijaya (around 16,000 feet high).  
Given its location, Mount Rinjani is among at least 129 active volcanoes in Indonesia. Because of several eruptions, the land around the area is very fertile and produces important agriculture commodities.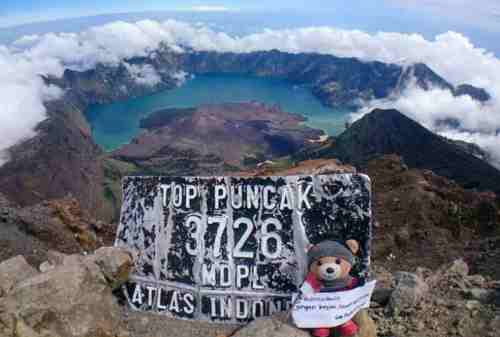 [Read Also: Baluran National Park, The Exotic Wildlife Of East Java Island]
The fertile lowlands produce major crops such as rice, soybeans, coffee, tobacco, cotton, cinnamon, cocoa, cloves, cassava, corn, coconuts, copra, bananas, and vanilla.
Besides, the indigenous Sasak people, live on the slopes of the mount. To them, the mount and the lake are considered as sacred. During certain months, you could spot a religious ritual is taking place in the lake.
Rinjani' volcanic activity resulted in the formation of the blue sea water-like of Crater Lake, Segara Anak (Child of the Sea).
The lake has been a spiritual place for religious ritual, and as one of the main appeals that attracts many visitors to camp near the lake.
History
There was a catastrophic explosion in 1257 of Samalas volcano that considered triggering global cooling, and failed harvest. Segara Lake then was formed after the eruption.
Rinjani' first historical eruption happened in 1847, and the most recent eruption was in 2010.
But its most recent significant eruption was in 1994 to 1995 that made the size of Gunung Barujari increased. The ash from the mount reached up to two kilometers and damaged crops, but there was no victim.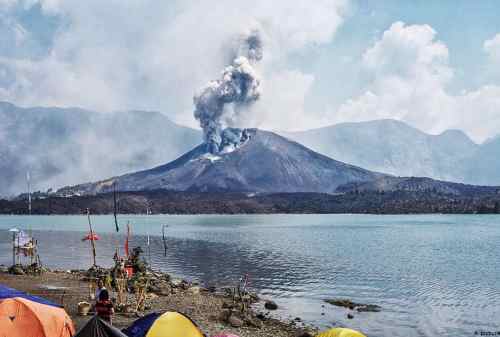 [Read Also: Exploring Karimunjawa Island, The Paradise of Java]
Mount Rinjani area was established as a part of Mount Rinjani National Park in 1997.
In July 2009, the summit route of Rinjani was closed due to a volcanic activity.
Despite of its active status, the park that comprises 66.000 hectares of protected forest, has been drawing many tourists for climbing, and camping.
How to Explore Mount Rinjani
The mount is flooded with group of students and other climbers from July, and August particularly because they want to celebrate the independence day of Indonesia at the top of the mount.
Along your journey up to the mountain summit, the experience of climbing this rather steep trekking is not only liberating for those who seek for refreshment and adventure, but also ignite your sense of admiration of nature's great work, and how your journey can feel like passing from one to another phase of life with its up and down.
The view along the way is exceptionally impressive and definitely far from disappointing. It seems like the mount know how to surprise you with its hidden beauty that spread out along your journey.
Here are just several awesome places you might encounter on the route.
#1 Savanna Field
Wrap in a tan color, savanna in the body of the mount looks like a lively giant carpet that is being laid above its fertile hilly surfaces by the wind.
Anyone who pass it through must not but stand in awe at this majestic landscape with few presence of trees.   
The view is more than enough for a perfect resting before you continue the journey. At this place several fresh fountains are available.
Drink this nature-made water right away and you'll be thirsty no more. Now if you feel your energy are completely recharged, be sure to fill up your bottle before continue climbing.   
#2 Lokok Putih Hot Spring
If you are heading to Segara Anak Lake, through Sembalun, Torean, or Senaru route, you'll find a hot water spring, Lokok Putih.
The locals believe that the water can heal all diseases. For some people, the hot spring is considered as a transit place for guardians (Wali).
What a good idea to soak your weary legs into the hot spring water and enjoy a natural spa provided by the mountain with a lovely view of large trees, bushes, and medicinal plants around the area.
#3 The Stunning Crater Rim
Secured its place as the second highest mount after Puncak Jaya, with an elevation of 3.726 m, trekking to Mount Rinjani' summit is considered as a heavy climbing.
That means, a person should have a high level of physical fitness, particularly given the size of the mountain that is huge, besides its very steep trek.
Usually it takes two days and one night at Mount Rinjani, to make climbing 1.000 meters to reach the crater rim.
But if you have a high level of physical fitness it's possible to go to the summit of Mount Rinjani less than that time.
A group of hanging clouds highlight the strikingly magnificent view of Rinjani that appears between them.
The splendor of its crater rim seems to radiate the awe-inspiring sense to the body of the climbers as the sun appears.
It feels like all weariness suddenly disappear and replaced by the feeling of wonder, awe, and gratefulness for the trip to the top is paid off.
It also gives the impression of how small we are in the face of nature and reminds us how our life is full of struggle yet precious.
#4 Segara Anak Lake
After witnessing the greatness of Mount Rinjani, climbing down to experience the incredible view of a crescent shaped lake, Segara Anak.
This lake of sulfur resides 600 meters below the crater rim. Mount Baru, a new volcano created from a series of eruptions during the 1990's, rises from the water.
The mount looks like a wall that's protecting the lake from danger.
Spend the night around the area and witness the best view of the lake before sunrise while enjoying your morning coffee accompanied by the mist that are pouring down.  
Mulang Pakelem Ceremony
Not only famous for its stunning beauty, Segara Anak is also considered as a sacred place for both Hindu adherents, and Sasak tribe.
If you are lucky, you can join the procession that is held once every 5 years during the full moon or in May. However, you must obtain a permission before joining the ritual.
Mulang Pakelem is a long religious ritual of Hindu believers. They are not only from Lombok, but also from Bali.
The ritual aims to bring good fortunes to the earth, and prevent any natural disasters in the future.
It's also a reflection of Tri Hita Karana, literally means three causes of well-being, namely a harmony with God, harmony among people, and harmony with nature or environment.
The occasion takes place for 3 days long and involves many people from different villages.
You can feel the sense of peacefulness and sacredness of the ritual while the people are doing prayer. During the procession, they may build an altar to place offerings on it.
Later, they'll sing Pangruwat Bumi song and perform a holy dance to God. While for Sasak tribe, the lake represents the tribe' spiritual epicenter.
#5 Air Terjun Penimbungan Torean
Torean located in Sembalun village, is a route where you'll find an amazing waterfall with a 100 m high, Penimbungan Torean.
The waterfall is located at the foot of Mount Rinjani with blue tosca color of water that is gorgeous.
The water is coming from Segara Anak Lake and has such a strong flow that it caused fog from its drops, resulted in a strong roaring.
The weather is so cold and the stream even creates thick smokes that it's difficult to take picture.
The steep cliffs around are like giant walls that seem to forbid those who wants to see this breathtaking waterfall from near distance.
It's sad to only revel this stunning view from White River Valley since the route down to the waterfall is too steep and dangerous.
#6 Edelweiss Field
Known as an eternal flower, Rinjani beauty is not complete without the presence of Edelweiss that is waving happily from the midst of the savanna field to the climbers and tourists who admire its graceful appearance.
For some, this rare flower presents a mystery of the spirit kingdom of Mount Rinjani.
It's also called a dying flower for in ancient times it's a life-risking to get the lovely flower. However, visitors are prohibited from picking the flower.
#7 Tetebatu Village
Located at the feet of the mount, an ever-cold temperature, Tetebatu is a village that becomes a suitable place for tobacco and rice growing.
For tourists, this place is a perfect gateway to a temporary stopover to let go weariness.
The blends of tobacco plantation and rice fields, where your eyes catch the glimpse of mountain nuance in the village is truly calming.
The landscape of Lombok in the south, Mount Rinjani in the north, and the seascape in the east are dispersing finely from Tetebatu.
The village also provides several attractions such as Monkey Forest and a waterfall to visit. Spending your rest time here is truly rewarding.
Tips to Climb Mount Rinjani
Now let's see some tips to help you prepare well and enjoy the trip to Mount Rinjani at best.
#1 Summer Season
Instead of rainy season, come in the summer season to enjoy the best trek.
During rainy season, the trek becomes slippery and dangerous since there're landslides occurring. If you love crowded, then come in July or August.
#2 Personal Needs
Other than medicine and clothing, no need to worry of bringing food and beverage supplies from home since you'll meet the merchants who sell those stuff you need near the entrance.
#3 Physical Fitness
Be sure you physically healthy. Rinjani includes a heavy climbing trek and it is a huge mount, so it will consume a lot of your energy.
Having a strong physical fitness help you make the best of your trekking to the mountain top.
#4 Procedures & Arrangements
It is important that you follow the reasonable procedures and make necessary arrangements to avoid incident in the expedition and maintain your energy and physical fitness.  
How to Get to Mount Rinjani
Mount Rinjani is located in Lombok, West Nusa Tenggara. Take a direct flight to Lombok International Airport before heading to Mount Rinjani.
But if you can't fly directly to Lombok, you can fly to Jakarta or Bali and take a boat to Lombok. Note that this route will take a lot of time and you might need to stay overnight.
As you arrive in Lombok, take a drive to the foot of Mount Rinjani that takes around 2,5 to 3 hours where you'll go through Mataram, circling half the island before arriving.
To begin your journey climbing on the challenging trek up to the top of Mount Rinjani, you'll need to choose where to start.
Either Senaru or Sembalun Lawang, these two villages offer you their own treks that are both unique and challenging.
Drive to the north of Mataram for 3 hours to Senaru Village if you choose the route. There is also a public transport to Bayan and then you'll walk to get to Senaru.
While for Sembalun Lawang Village, it is approximately a four-hour drive to the east of Mataram.
If you are a beginner climber, the best route to take is from Sembalun Lawang. The trek is a short trip that spends 3 days 2 nights including staying at hotel and climbing activity on the mount for 2 days 1 night.
Download Sekarang! Ebook PERENCANAAN KEUANGAN Untuk USIA 20-an, GRATIS!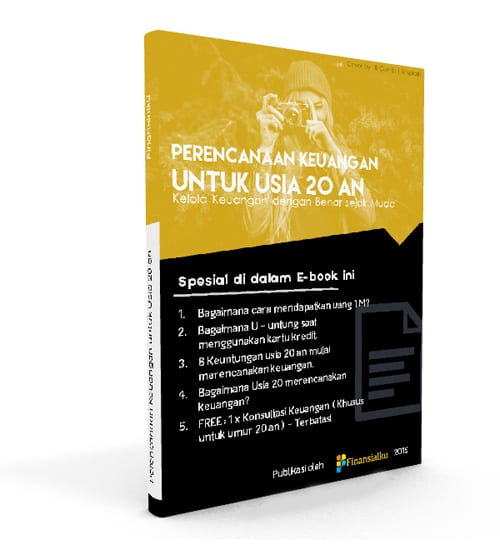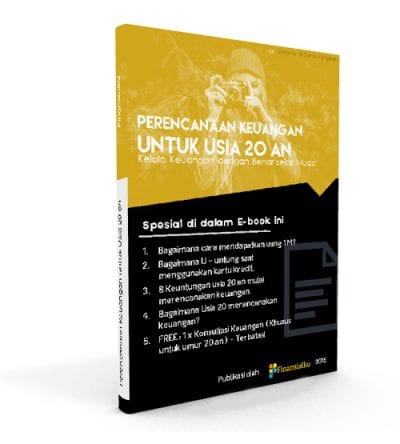 However, for those who love challenge and seek more adventurous climb on the mount, the best route is via Senaru route from Senaru to the crater rim, down to the Crater Lake, then on to Sembalun Lawang.
It is considered one of the best treks in South East Asia and is the most popular route to climb Rinjani which take 4 to 5 days hiking expedition.
Where to Stay Near Mount Rinjani
Now here are some options of affordable yet delightful places to stay near Mount Rinjani.  
#1 Rinjani Green Park
Located in Sembalun Lawang, Rinjani Green Park is set in the foot of the mount, 9 km from Mount Rinjani.
The scenery of rice fields where Mount Rinjani as the background towering over the land are awesome and can be enjoyed directly from your balcony. 
Situated among the farmland, you can expect a quiet atmosphere during your stay before climbing up.
The property features accommodation with a restaurant, a garden, and a terrace. Each rooms equipped with a flat-screen TV. Also you can have a halal breakfast here.
Besides, the hotel resides near the top attractions in Rinjani Mountain you can revel in such as Penimbungan Rinjani Waterfall, Telaga Madu Waterfall, Sindang Gila Waterfall and Tetebatu Monkey Forest.
#2 Bale Sembahulun Cottages & Tend
Built in Java traditional homestay design, Bale Sembahulun Cottages & Tend located 6 km from Mount Rinjani. Wake up, and enjoy the fresh morning air with a beautiful garden overlooking the mount from the terrace.
The building is also facilitated with a terrace, and a shared kitchen, so it's easy for you to cook your meals before going up to the mount.
You also can arrange for a bicycle rental service to cycling around the area. A car rental service is also available at the holiday park.
Besides it is set around top attraction of Mount Rinjani such as Sindang Gila Waterfall, Tetebatu Monkey Forest, Penimbungan Rinjani Waterfall, and Telaga Madu Waterfall.
#3 Rinjani Lighthouse
Located in Senaru, Rinjani Lighthouse offers its guests with a panoramic mountain view, and a lovely garden.
Built in Java traditional house, the hotel room' is filled with unique wooden furniture include bed with mosquito net, private bathroom with a shower, and free toiletries, as well as terrace where you can sip a cup of your morning tea while enjoying the magnificent Mount Rinjani.
The building features a restaurant, and free Wi-Fi, a free private parking, and the property offers paid airport shuttle service.
Moreover, the top attractions in Mount Rinjani is just within a short distance such as Sindang Gila Warerfall, Tiu Kelep Waterfall, Telaga Madu Waterfall, and Rinjani Senaru gate.
Conclusion
Still think about a challenging, adventurous, yet exciting trip that not only is refreshing, but also encouraging for a life changing experience? Book your flight to Lombok, and experience Mount Rinjani mountain climbing on your next vacation.
Preparing the budget for your climbing trip through Finansialku app for easy, and fast calculation. It's available for iOs, and Android.
Who are other climbers you want to take with you along the journey?  
References:
Admin. September 21st, 2018. The Mighty Mount Rinjani, Indonesia.travel – https://bit.ly/34EvJ2H
Admin. Hiking and Trekking Mount Rinjani Lombok Island Indonesia. Trekkingrinjani.com – https://bit.ly/2YBU2uo
Admin. Gunung Rinjani National Park Lombok Island–Indonesia. Rinjaninationalpark.com – https://bit.ly/2QESM5v
Admin. 10 Top Things to Do In Mount Rinjani Lombok, Indonesia. Allindonesiatourism.com – https://bit.ly/3gxIRc8
Pictures:
Mount Rinjani 01 – https://bit.ly/3b0oQtM
Mount Rinjani 02 – https://bit.ly/3hxj2dI
Mount Rinjani 03 – https://bit.ly/2G1hfQj
Mount Rinjani 04 – https://bit.ly/31wDKEM
Savana Field – https://bit.ly/32n98VG
Lokok Putih Hot Springs – https://bit.ly/34HGGAq
Crater Rim – https://bit.ly/2YBmIDA
Segara Anak Lake – https://bit.ly/2YBtGbU
Mulang Pakelem – https://bit.ly/31tto8M
Air Terjun Penimbungan Torean – https://bit.ly/3jaV3RU
Edelweis Field – https://bit.ly/3hJQduR
Tetebatu – https://bit.ly/2Qvgz7u
Rinjani Green Park – https://bit.ly/3hxluks
Bale Sembahulun Cottages and Tend – https://bit.ly/31whDyE
Rinjani Lighthouse Cottage – https://bit.ly/2FXamiN
Trekking Map – https://bit.ly/34zNMqJ