If you want something different for your vacation in Bali Island, here is why you should visit Nusa Penida, an unknown Island to most people, yet unusual for its sight.
Unique Fact
Away from the bustling life of Bali, unfamiliar to many ears used with Ubud, Uluwatu, or Seminyak, this rather small Island, separated by Badung Bay, and highlighted by the presence of elegant cliffs, Nusa Penida, provides the rare view of nature for everyone who wish to find wonder during their holiday.
Location
Situated in the southeast of Bali, Nusa Penida with a total area of only 202.8 km2, resides near the two other islands, Nusa Lembongan, and Nusa Ceningan, that included in Klungkung Regency of Bali province.
The climate is drier than the nearby Island of Bali.
Most of the locals work as seaweed farmers because the land where they live is very dry, and containing quiet high calcium. Some work as fishermen, and merchants.
Besides greater among the other two islands, Nusa Penida is often called Nusa Gede (meaning big) by the local. Nusa Lembongan is the most popular Island among tourists, especially from Australia. While Nusa Ceningan is the smallest Island among all.
Despite its great attraction for tourists, the land still lack of tourism infrastructure.
However in 2014, there was a huge change in tourism sector. It grown rapidly that it attracted many tourists from abroad. This resulted in many locals who shifted their jobs to tourism enterprises such as accommodation, transportation, and restaurants businesses.
Compare to tourism in Nusa Lembongan that has a vibrant tourism sector, Nusa Penida' sector slowly develops. Nevertheless, it doesn't make this beautiful Island lost its charm.
Financial Planning For College Students Ebook (Bahasa Indonesia)
Download Now, It's FREEE!!!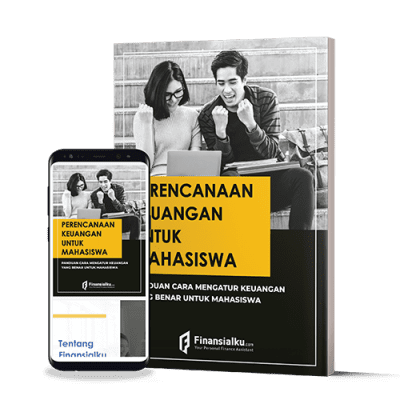 History
Though Nusa Penida is endowed with a stunning natural view, there is a dark history behind its beauty you probably don't know.
The Island was known as an exile, a prison for those who violated the rules of kings in Bali. The Island was chosen as the main prison for the criminals. The ideal condition of the Island made it fit to confine the prisoners.
The weather was dry with a long dry season. Moreover it was fortified by the sea with a great waves, made no one could barely escape, nor survive in the land.
The prisoners were transferred to the Island, and punished with a sentence of exile for the rest of their life. What's interesting is the mystical belief among the kings at that time about the presence of black magic in Nusa Penida.
The people who undertook the exile sentence were used as a sacrifice for the supernatural power that always attacked Bali each year.
The prisoners also sentenced with forced labor to open a new land that aimed to increase the export products of the Island that produced commodities such as red beans, corns, cows, and pigs farming.
Despite its past as an exile, and prison, today, tourists, divers, and backpackers come to spend their leisure time in the incredible recreational points of Nusa Penida.
How to Explore Nusa Penida
Nusa Penida comes from Bali language, Nusa meaning Island, Penida from Ped meaning death, and Ida meaning power. If combined the meaning of Nusa Penida is an Island that has a great deadly power.
In spite of its name that has a negative connotation, Nusa Penida offers places that make people feel happy of spending their leisure there.
Comprised of plains, and hills that are surrounded by the blue ocean, most activities done here are diving, snorkeling, and trekking. For the photographers, vantage points with remarkable view of its nature are fortunately amazing spots for natural picture collections.
Let's take a look at some of the Island best points.
#1 Beaches with Tranquil Ambience
You can expect the best view of coastlines where most of them feature white sands, and crystal clear blue water.
However the rarity of the spots lay in the incredibly massive cliffs, with some rarely remarkable natural phenomena.
#1 Kelingking Beach
Located under huge cliffs, it takes physical strength to get down to the shore of Kelingking (pinkie) beach.
The unique shape of the cliff seen from the top resembles a T-Rex, makes this place popular, and is one of the best famous coastal cliffscapes in the Island worthy of picture taking.
Passing the stairs of stones that are even steeper on the way down is a challenging sport for body. Please put on shoes instead of flip flops since the path is also slippery, and supported only by a set of bamboo railings.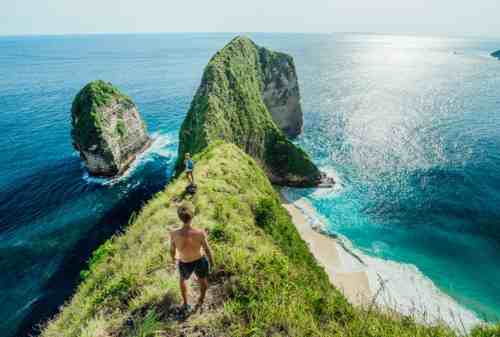 [Read More: Bukittinggi, The Truly West Sumatera Tourism Pride]
You'll find the waves are strong, hitting the white shore, and forming a white bubbling water that are beautiful to see when you arrive. Whether you lay down on its fine white sand, swimming or snorkeling on its underwater, the view are just astounding.
However, keep in mind that, the beach is not for novice swimmers since the currents are very strong, and coming out of nowhere.
If hiking down stairs isn't your thing, head to the right instead along the cliffs to enjoy Kelingking beach. There is a worn path along the cliff edge but no railing so be careful. Some striking viewpoints can be seen from here particularly if you love seeing sunset.   
#2 Broken Beach
The name came from Pasih Uug, Pasih means beach, and Uug broken. Broken Beach is a small coast that's famous among tourists especially for a whole in one of its cliffs that looks like a bridge.
This arch shape is the architecture formed for many years by the nature with its hand of water that eroding the cliff surface.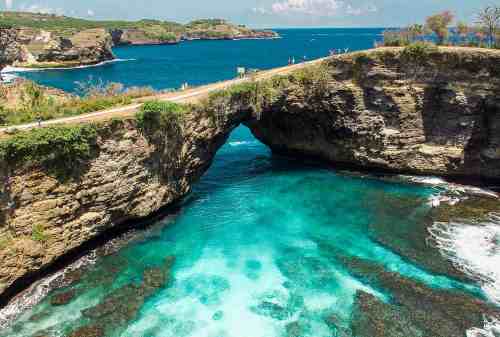 [Read More: Baluran National Park, The Exotic Wildlife Of East Java Island]
If you use drone you'll see from above that the cliffs are formed into a huge circle, and looks like a giant pool which make people wondered at this unusual natural work.
It has been a unique spectacle in Nusa Penida, and the only one rare spot in Bali everyone must visit.
#3 Angel's Billabong
Just around the corner of Broken beach, another natural wonder will appear astoundingly exceptional. Angel's Billabong is a magical pool on the top of a cliff that is formed by a natural process.
The unusual shape, and the rarity of its creation remain the most spectacular site in Nusa Penida, and Bali that everyone must visit.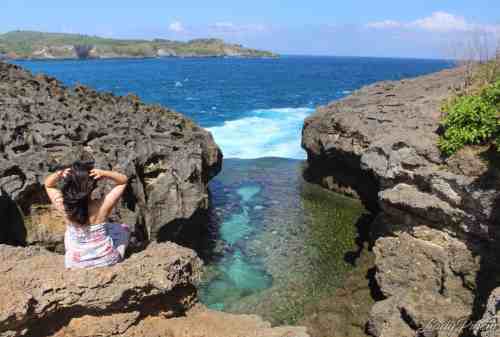 [Read More: Bunaken National Park, A Paradise In the North of Sulawesi]
This cliff-top pool cascades into the ocean on the east coast of Nusa Penida.
To experience it at best, come when the tide is low. And to do that you need a help of a professional guide to tell you the right time of day, since the place can be dangerous when the tide is high.
Swimming, and watching the magnificent ocean from the pool are just remarkable yet are breathtaking experiences. And the viewpoint of this area is definitely worth a photo shot, especially when no one is around.
#4 Atuh Beach
Experience the exotic panorama of the green hills with the blue ocean on the sides of the road along your way to Atuh, a fine secluded white sand beach overlooking the blue ocean, and groups of small islands.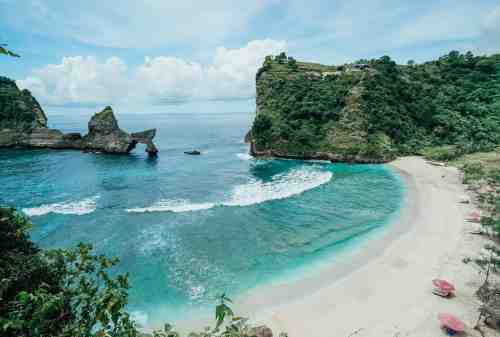 [Read More: Exploring Karimunjawa Island, The Paradise of Java]
To reach Atuh beach you'll need extra energy to walk down the reef cliff. But the effort is worthy.
Surrounded by the huge cliffs that separated its 3 shorelines, Atuh is far away from local' residence, make it a good place for relaxing, and unwind, especially because only few visit the place. You can sun bathing, swimming, or snorkeling to take in its best view.
#5 Diamond Beach
Located besides Atuh beach, the huge wall of cliff is a dominant view you will get when seeing Diamond beach from above.
Like Atuh, and Kelingking beaches, you need to trek down through stairs of rocks to reach Diamond beach.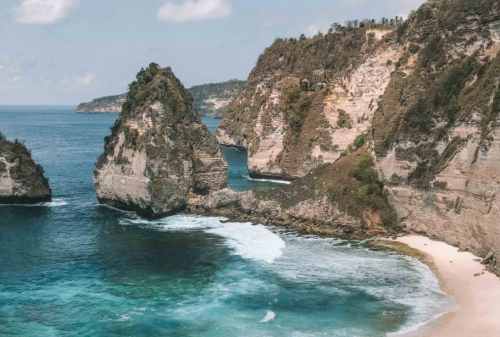 [Read More: A Paradise in The Eastern Indonesia, Raja Ampat]
The stairway is different from Atuh, or Kelingking beaches where it is still unpolished. In Diamond beach, it was incredible white stones of stairway with elegant railings made by the locals.  
Compare to the other beaches, Diamond has a bigger wall of cliff, with white sands that create a perfect contrast with the crystal-clear blue water.
There is a huge swing where you can take in its amazing view while pumping your adrenalin since it is set on a high land near the shore.
#6 Crystal Bay Beach Nusa Penida
The crystal clear water, along with smooth white sands will make you rest satisfied in this popular tourist destination, Crystal bay beach.
It is situated in the west side of Nusa Penida, and takes 40 minutes speed boat trip from Sanur.
To reach Crystal beach it will take around 40 minutes ride using a car or motorbike.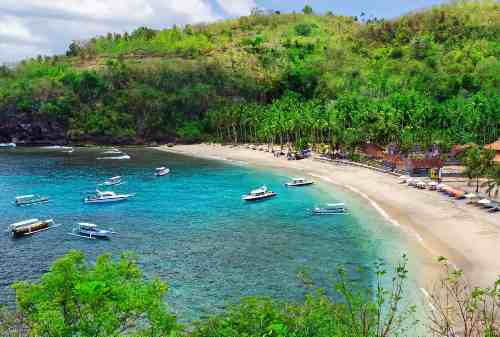 [Read More: Bandung City: When Old Heritages Meet Beauty of the Present]
The lines of its palm trees that grew in almost organized way is a perfect feature for a scenic view to enjoy, and best for your beach theme photo background.  
Capturing sunset or sunrise from this bay is a wonderful moment to have if you stay the night in Nusa Penida.
#2 Sacred Places
The locals who are Hindu have several temples where they used to pray, and doing religious rituals.
Fortunately you could join the ritual on the temples that have unique location in the cliffs. Here are some of them.
#1 Peguyangan Waterfall
Peguyangan Waterfall is both an attraction for visitors, and a place where a sacred temple exists. It represents a religious, and cultural life of the locals that you can appreciate.
Given its long path of stairs, how devoted are the locals who come here to pray every day.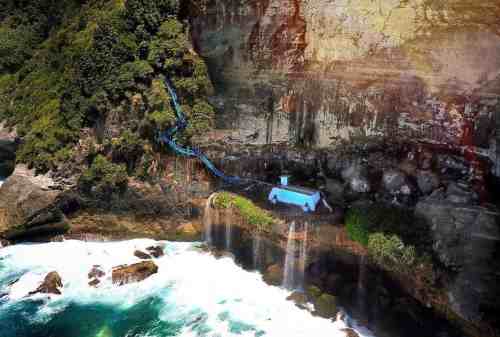 [Read More: Amazing 8 Attractions To Visit In Wakatobi Island, Divers' Paradise]
To get to the waterfall, there are steep blue stairs you need to pass.
Though it is a workout, the view of the spectacular coastal cliff isn't disappointed, and so is the waterfall that comes out of the crack from the cliffs.
#2 Pura Goa Giri Putri
An underground temple used by the locals to pray, and doing ritual, Pura Goa Giri Putri, is located near the edge of the midway up the mountain. You can access it through a steep winding staircase.
You need to rent sarong before going into the temple that resides inside the cave.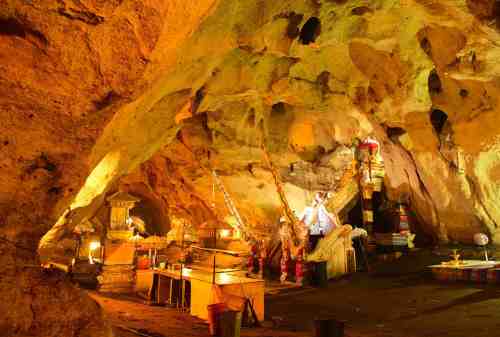 [Read More: The Magical Legacy Of Gods At Prambanan Temple]
In your way to the temple, you might spot some rouge monkeys. What's unique about the shrine is its door is a tiny crack in the ground making those to crawl in order to get inside.
However, before coming inside, you'll be blessed with some water to the forehead.
The cave was a 300m long where you can enjoy the odor of burning incense, and the locals who are praying inside, resonating a sacred experience from this massive temple.  
Financial Planning For Employees Ebook (Bahasa Indonesia)

Download NOW, FREE!!!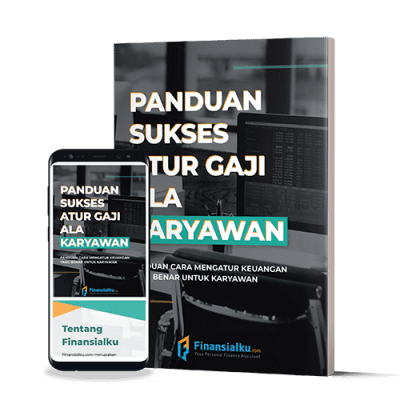 #3 Best Diving Spots
Not only known for its exquisite beaches, Nusa Penida is also well-known for its best diving points each with its distinct features, that became attraction for many divers.
#1 Toyapakeh
For professional divers, diving in a strong current is always an exciting experience to have. Here in Toyapakeh such experience is guaranteed.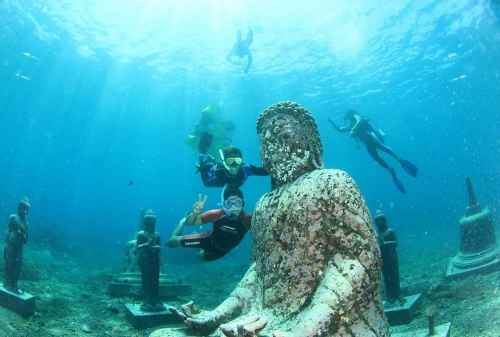 [Read More: 6 Unconventional Attractions in Tana Toraja Every Traveler Should Visit]
Also, Toyapakeh underwater vista provides divers with its pillars of coral, an endangered fish Mola mola (Sunfish), big school of fish, and sea turtles.
It is special for its stretch of reefs, and the area is similar to area where the large sea waves breaking over, rich with color, and fish.
#2 Manta Bay
To swim, and snorkel near the playful giant Manta Rays is possible in Manta bay frequented by tourists.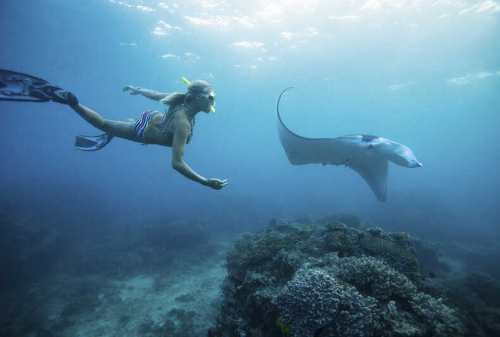 [Read More: 6 Fascinating Activities To Do During Your Tour In Banda Islands]
#3 Malibu Point
Gray reefs, reef with white tips, silver tips, and numerous sharks are waiting for you in Malibu point. Its currents move up, and down because the bay is vulnerable to swell that's relatively strong.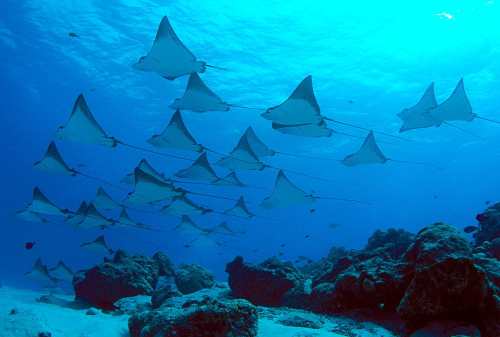 [Read More: 6 Best Activities In Tanjung Puting, The Largest Orangutan Habitat]
#4 Crystal Bay
The clarity of the water with its orderly set of palm trees on the beach make Crystal Bay, located in the west side of Nusa Penida, one of the most popular spot for divers, and tourists.
Caution for those who want to dive in Crystal Bay. At least 5 accidents that took life of divers at Crystal bay happened from 2012 to 2015.
They died after unexpectedly caught by a strong current. 16 years old boy became a victim when snorkeling. It was known that he had no swimming experience before. And a Sri Lankan tourist drown while snorkeling at the bay.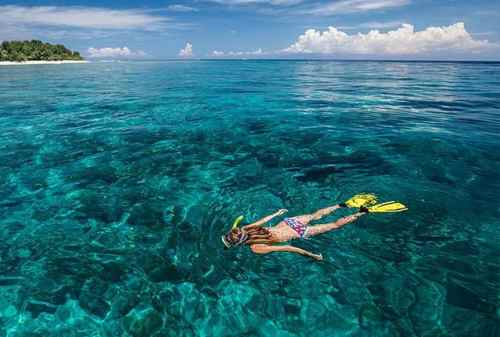 [Read More: Komodo Island, The Other Side Of Paradise In Flores]
So if you are not a strong swimmer, or professional diver, please do not snorkel around the bay as its strong current could caught you.
But, despite of its dangerous current for inexperienced divers, its marine life are among the best in Nusa Penida where you can spot Napoleon fish, parrot fish, seasonal turtles, and brilliant coral.
During summer, and rainy season if you are fortunate, you can meet Mola mola, a giant graceful fish that's usually found in deep, and cold oceanic waters, but occasionally come inshore.
It will be a remarkable experience being able to swim with this Sunfish.
How to Get to Nusa Penida
The best, and most affordable way to Nusa Penida is through sea route. Here are 4 points of departure from Bali to Nusa Penida.
#1 Sanur Beach Harbor
This location is the most popular harbor to get a fast boat to Nusa Penida. Many fast boats operate from low to high pricing such as Maruti Express, Idola Express Sanur, Mola-Mola Express Fast Boat, Angel's Billabong Fast Cruise, and Tamarind Express Fast Boat.
Sanur beach harbor located strategically in south Bali. If you happen to stay in Seminyak Bali, going to Sanur will take only 50 minutes ride to Sanur beach harbor.
#2 Serangan Harbor
Located also in Bali southern part, Serangan harbor is close to Benoa harbor. Though most of its fast boats provide services from Bali to Gili Trawangan, and Lombok West Nusa Tenggara, operator such as Gili Getaway will take you to Nusa Penida.
The harbor is easier to be accessed from Kuta than from Sanur beach. The time it takes from Kuta to Serangan harbor is only 30 minutes ride.
If comfort is your priority this harbor offers you facilities for your convenience such as a restaurant, a comfortable waiting room, and you can get into the boat without getting your foot wet.
#3 Padangbai Karangasem Harbor
If you use vehicle, the harbor provides a ferry service (Roro Nusa Jaya Abadi boat) that takes your vehicle to Nusa Penida. It takes 1 hour to get you to main harbor in Penida.
Most tourist choose this point since they stay in the eastern part of Bali such as Amed, Tulamben, and Candidasa. Locals also use this point when going with their cars.
#4 Tribuana Beach Kusamba Klungkung
Tribuana beach harbor is located in Klungkung. People in Klungkung choose to use fast boat from the harbor to Nusa Penida since the price is cheaper, and the location is nearer to their homes.
For tourists who stay in Ubud area they also choose this point. 3 operators that serve route to Nusa Penida of this harbor are Sekar Jaya Fast Boat, Gangga Express, and Sebrang Hill. The trip takes 1 hour to get you to Toyapakeh or Sampalan in Nusa Penida.
Mommy & Money: How to Manage Money For Mommy Ebook (Bahasa Indonesia)
Download NOW, FREE….!!!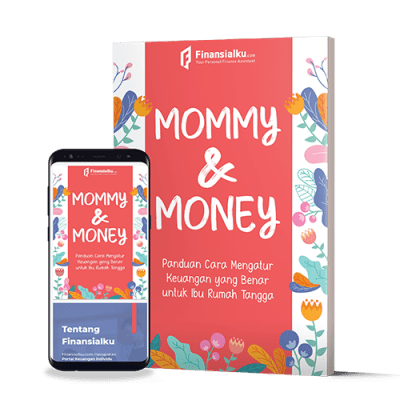 Where to Stay in Nusa Penida
Now here are some options of some affordable yet delightful places to stay during your visit in Bali, Nusa Penida.
#1 Sunrise Penida Hill
Located on the hill of the countryside, Sakti village, Toyapakeh, Sunrise Penida Hill offers the breathtaking view of hills that blends with the tranquil ambience a village. This is just a great haven to those looking for a gateway from the city bustle to a solitary place.
The property is run by a friendly small family, and featuring room with air conditioning, pool overlooking the picturesque landscape, free Wi-Fi, and a restaurant. You can easily arrange for trip to attractions in Nusa Penida with the staff.
It is a family friendly property, design to make your stay peaceful, and delightful.
Waking up, and witness the sunrise overlooking the Oceanside from this magical viewpoint location is the best experience to have in this hotel. 
#2 Ananta Bungalow
Situated right next to Crystal bay, you and your family will be treated with the best sunset every day, and watersports activity that are just around the corner of the hotel.
The bungalow is designed with a thatched roof almost like the roof of the hobit' house, terrace, and style that mixed warm spirit, with modern facilities. The room features Wi-Fi, and air conditioning.
You can feel the warm atmosphere, and the service from the family who own this iconic building, along with the beautiful natural views around the property.
#3 Semabu Hills Resort
Luxury hotel for those who love the lavish experience of staying is provided by Semabu Hills Resort. You'll be entertained with the stunning view of ocean from its infinity pool.
The resort features room with air conditioning, coffee/tea maker, minibar, and flat screen TV.
It also offers amenities such as restaurant, bar, BBQ facilities, and currency exchange for your convenience. And you can arrange for fishing, as well as watersport activities with the hotel.
This is a picturesque gateway where you can revel in the fine scenery of nature in the quiet atmosphere of this property located on the hill top.
Conclusion
The unusual natural view with its rare experience in Nusa Penida is the reason why spending your holiday in this piece of paradise of Bali will be definitely different.
If your next trip is Bali, you're sure won't skip visiting this graceful Island.
To prepare for the budget, download Finansialku application to calculate easily. It's now available for iOs.
Ready to cross to Nusa Penida from Bali? Tag those who are as enthusiasts as you about going to Nusa Penida.
References:
Wayan Suadnyana. April 10th, 2020. Panduan Liburan Ke Nusa Penida Bali. Water-sport-bali.com – https://tinyurl.com/y4k2pxm7
Jackson Groves. January 2nd, 2019. 27 Awesome Things To Do On Nusa Penida. Journeyera.com – https://tinyurl.com/y5dv25pv
Admin. TOUR PACKAGE Find and book affordable trips and vacation tours in Nusa Penida. Nusapenida.com – https://www.nusapenida.com/
Images Credit:
Nusa Penida Bali – https://bit.ly/2Ym50E0
Kelingking Beach – https://bit.ly/2FMhyyi
Broken Beach – https://bit.ly/3gjhRNI
Angle's Billabong – https://bit.ly/31nU9vz
Atuh Beach – https://bit.ly/2Yo351L
Diamond Beach – https://bit.ly/31kfDsQ
Crystal Bay Beach – https://bit.ly/34n0toU
Peguyangan Waterfall – https://bit.ly/2YonXGk
Pura Goa Giri Putri – https://bit.ly/3glvMCE
Toyapakeh – https://bit.ly/34oNFyq
Manta Bay – https://bit.ly/2YqFs8V
Malibu Point – https://bit.ly/2CNpttV
Crystal Bay – https://bit.ly/32lk2LM