Bunaken is a place you have to visit when you come to Indonesia. Find out why here in this Finansialku article.
Unique Fact
Want to have a different experience of a summer holiday in the land of Sulawesi? Just visit Bunaken National Park on your next trip.
Bunaken National Park is indeed a renowned draw in North of Sulawesi that exhibits an outstanding marine biodiversity.
As one of the most popular sites for divers, and travelers in Indonesia, Bunaken National Park offers the sheer joy of experience on wonderful beaches, and a graceful view of underwater world abundant with marine life that's worth an exploration.  
Location
Situated near the center of the Coral Triangle in the North of Sulawesi Island, Indonesia, Bunaken National Park comprises habitat to 390 species of coral, fish up to around 2000, mollusc, reptile, and marine mammal species.
The park is located in the district of Minahasa, Manado, where majority of the people are Christians.
The park area also consists of 5 islands namely Bunaken, Manado Tua (Old Manado), Mantehage, Nain, and Siladen which all of them provides great diving locations along with Tanjung Kelapa coast settled in the southern of the park.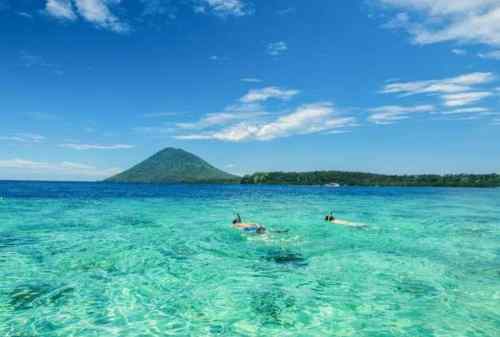 [Read: Exploring Karimunjawa Island, The Paradise of Java]
The convention of traditional life of the locals can be experienced in the 22 villages inside this densely populated park. There are about 35,000 people inhabited the area most of whom are fishermen, and farmers.
They export agriculture products such as coconut, sweet potato, banana or seaweed.  The small number of locals work as dive guides, boat operators and cottage staff in tourism sector.
The area are flourish with tourism industry. Lodging business can be found ranging from backpacker cottages to 5 stars resorts. Around 25% of international visitors are made up the total number of 32,000 to 39,000 of visitors between 2003, and 2006.
History
Bunaken National Park has a total area of 890.65 km², most of them are marine habitat with a small part of the park' terrestrial including the five islands.
Before its establishment in 1991, Bunaken National park was a very remote area in Soeharto regime. Travelling was a rare thing, and not a part of leisure activity by many Indonesians at that time. Only several people with certain professions could access remote places.
In 1970's, an exploration was made by several divers in the park. Mystical beliefs about the park still strongly influenced the locals at that time. When the divers found the paradise of marine life on the area, they reported it to the government.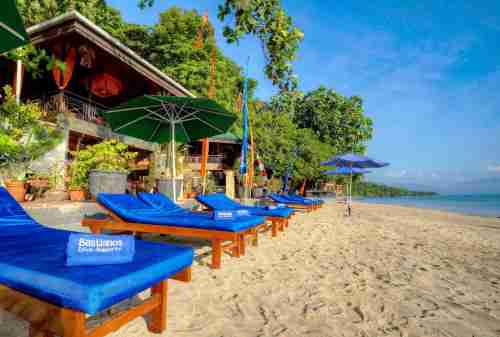 [Read: A Paradise in The Eastern Indonesia, Raja Ampat]
The park is among the first of Indonesia's growing system of marine parks.
It was listed in the World Heritage List of UNESCO In 2005. However its status as a national park doesn't protect it from a continuous degradation. Activities that threaten the park are coral mining, anchor damage, blast fishing, cyanide fishing, diving, and trash.
Because of these degradation, The World Wildlife Fund gives a conservation support in the National Park as part of the Sulu Sulawesi Marine Eco-region Action Plan. This includes participatory enforcement, and patrol, which resulted in significant reduction of blast fishing.
How To Explore Bunaken National Park
Attractions in Bunaken National Park draw the spirit of adventure of its visitors by the exotic landscape of North Sulawesi Island.
Among them are 4 main islands where most of them have the great diving spots in Indonesia. Diving, and snorkeling are main activities to do in the park.
#1 Bunaken Island
The 20 incredible diving spots in Bunaken Island welcome their visitors with such an active, rich, and particularly rare marine life which is hard to find in anywhere else. That is why it is known as one of the top diving sites in Indonesia.
The water is unsurprisingly translucent that the vibrant marine life beneath the water can be seen. Bunaken Island appears gracefully especially in summer season from May to September that it is frequently crowded with visitors who want to experience its beauty.
The Island also is a home for an abundantly diverse marine life such as 70 different corals, five species of sea turtles, and many fish species.
White tip, and black tip reef sharks also inhabit the marine with the almost extinct dugongs, barracuda, and even saltwater crocodiles! So be careful when you dive, follow well the instruction of your tour guide.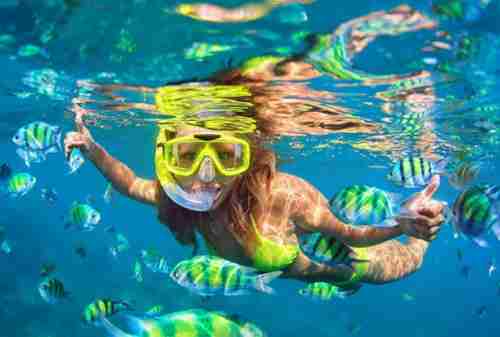 [Read: Bandung City: When Old Heritages Meet Beauty of the Present]
Diving can be challenging in Bunaken dive locations. They have some steeps walls, and their current can be strong with a sudden change. So it is best to dive with a diving guide for safety if you are a new diver.
Snorkeling to revel in its underwater world is also cool. Unwind at the beach with a cold drink where the voice of the sea is a fine music to enjoy.
If you look for secluded areas, Bunaken Island provide you the place. Hiking is the only way to reach the location with not so well-marked trails.
But if you love hiking, it will be a great experience to take in. Before hiking, please double check with the locals, and your guide on the trails.
To reach Bunaken Island from Manado, take a boat that takes around 45 to 60 minutes. Public boat operates daily except Sunday at around 2 to 3 pm from Manado to Bunaken. And some resorts can arrange for you the boat to Bunaken.
#2 Nain Island
Nain Island is located in district Wori, Minahasa, and is the farthest area in Bunaken National Park. The famous natural phenomena in Naen, another named for Nain in Bajo language, is the rising sand.
The phenomena takes place only when there is a low tide, and in time when a full moon appears. At that time, the fine white sand will come up from the water. If seen from afar it looks like forming a new Island which is so gorgeous with the immaculate blue water around it.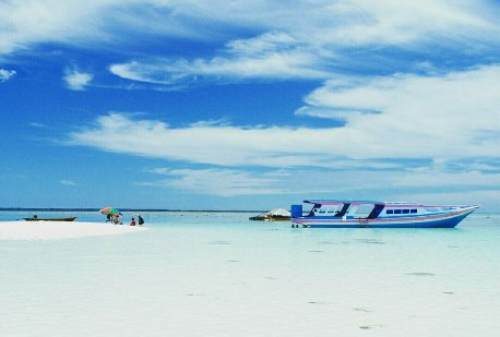 [Read: Amazing 8 Attractions To Visit In Wakatobi Island, Divers' Paradise]
Diving, and snorkeling spots with the view of lovely reefs, and fishes are available for those who love doing the activities in Nain Island. But beware of the strong current which is a dangerous spot for beginner divers.
To reach the Island, you need to take a longboat for around 2 hours from Manado port. The big waves will occur in several spots in the way to Nain which can be an exciting journey, and pump your adrenalin.
There are Bajo tribe who lives in Nain. You can take a short trip to visit them, and learn about their tradition. They are known as a sea traveler with diving skill whose livelihood is from the sea. Ask them to teach you the diving skill would be a great experience to have.
#3 Mantehage Island
Mantehage is an outermost Island in North Sulawesi. Despite the fact, it isn't too far from Manado, a city known for its unique Manado porridge, and spicy dishes.
Mantehage is different from islands around Manado. It is a flat sloping land surrounded by lush mangrove forest as wide as the land. The Island has potention to be an ecotourism destination.
From Manado to Mantehage it will take around 1 hour, and a half, passing through Bunaken, Manado Tua, and Siladen islands. The boat will dock at Dermaga Buhias, the biggest village in Mantehage.  
As you arrived, you may meet some of unique wild specimen in the Island such as Sulawesi Cuscus. In the mangrove forest, the distinct sounds of Pekaka Bua-Bua, the Great-billed kingfisher birds, and types of some kingfishers can also be heard.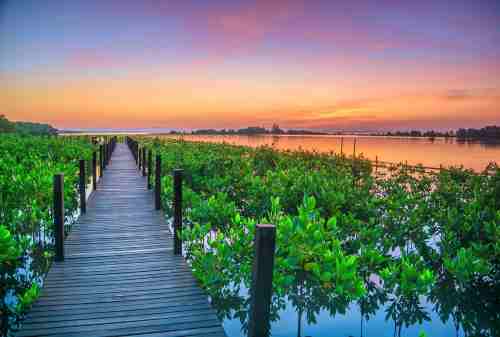 [Read: 6 Unconventional Attractions in Tana Toraja Every Traveler Should Visit]
Tarsius is another unique tiny primate with big eyes that inhabits Mantehage Island. It can be seen even in locals' farm. When the night come, their voices appear out of the bamboo trees.
They become the target of the owl that hunt them down. While in mangrove forest, locals often meet crocodile looking for its food which presents the abundance of the species in the Island.  
Villagers in Mantehage make living from cultivating their land into farmlands. Four villages in the Island are Buhias, Bongo, Tangkasi, and Tinongko. The inhabitants are mostly Sangir/Siau tribes who are friendly. You can stay at one of the locals' house to get to know their culture.
Nevertheless, come to Mantehage wouldn't be complete without seeing, and tasting the traditional alcohol drink made from sugar palm tree. It is called 'Cap Tikus' or Rat Brand.
It will be a lovely experience to watch the people taking the sap of Seho (sugar palm tree), and cook it for hours to produce the drink.
#4 Manado Tua Island
Manado Tua Island has one of the most incredible dive spots in the world. It comprises a total area of 89,065 hectares. The Island is an inactive volcanic cone island off the west coast of North Sulawesi which is fit for farming, and close to the capital city of Manado.
The Island' waters is relatively free from city garbage, and silt. The law to protect the reserve are forbidding spearfishing, coral or fish-collecting, and dynamite fishing.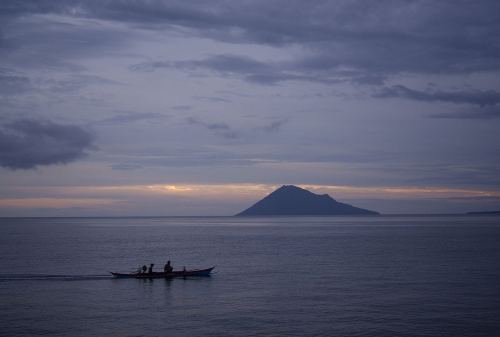 [Read: 6 Fascinating Activities To Do During Your Tour In Banda Islands]
In one of the summit in Manado Tua, hikers can revel in the stunning view of the other islands, and Manado Bay. Particularly in the good weather Gunung Soputan is flaming its smoke out of the cone.
And if you love jogging, mountain biking, and camping, facilities for these outdoor activities are available.
For those who love culture trip, visiting Papinda village in Manado Tua will be an interesting journey to enjoy. From Bunaken Island it's just about 30 minutes by boat.
Start your trip before dawn because the ultimate exotic picture of North Sulawesi's volcanoes and islands begin to appear just amazingly.
#5 Siladen Island
Siladen Island offers its visitors with lovely marine park tourism made up of numerous colorful fishes, and coral reefs as well as a beautiful cave.
The Island is filled with its famous quiet atmosphere that's just suitable for a perfect getaway from the city' whirl to a peaceful solitary. It is a perfect place for doing a retreat, and meditational works.
What's more is it provides you with the best sunbathing spot, its fine coastline with the white sands for unwind.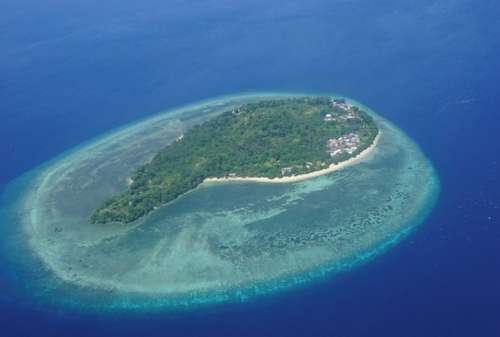 [Read: 6 Best Activities In Tanjung Puting, The Largest Orangutan Habitat]
This small Island also offers opportunity for both professional, and inexperienced divers to enjoy its marine life. Other than diving, snorkeling, trip using catamaran (glass boat), and underwater photography are some activities to take in.
However, the fine appeal of this small island's view is a marvelous work of nature where people can have their perfect relaxation.
The Island is located in the northeast of Bunaken. To reach it you can use boat for around 45 minutes from Bunaken.
How To Get To Bunaken National Park
Manado is the gate to enter Bunaken National Park. If you come from Singapore, Silk Air flights 4 times weekly to Sam Ratulangi International Airport of Manado.
Manado also receives domestic flights such as Garuda Indonesia, Lion Air, and Batavia Air from Jakarta, Makassar, Surabaya, and Bali.
The route to Bunaken National Park is only via boat. So you can rent a cabin cruise or motorboat.
Where To Stay In Bunaken National Park
Now here are some options of affordable yet delightful places to stay during your visit to the park.
#1 Two Fish Divers Bunaken
Located in Pangalisang beach in Bunaken Island, the resort is a wooden based building with a scenic ocean view. It is designed especially for divers' convenience. The cottages feature cooling fans, hot water showers, and large balconies with hammocks.
It provides the guests with a swimming pool; 24 hour electricity; relaxing area; beach café; free Wi-Fi internet, and a book swap facility for book lovers. You can restfully stay with a quiet atmosphere since this small, and cozy building only covers 20 up to 22 divers.
#2 Bunaken Beach Resort
Situated right in the middle of Bunaken National Park Island in Pangalisang beach, Bunaken Beach Resort has a private beach with cozy, and convenient stay to offer. You can relish the beautiful beachfront view with mountainous mainland as the background during your stay here.
The resort features luxury bungalows to more basic rooms, all with a private terrace, and a hammock to chill out in the comfort tropic weather. It is also facilitated with restaurant, a professional dive center, and a comfortable, and large dive boat.
All these amenities plus the ocean view will make your stay more comfortable.
#3 4Sistershomestay
Situated 300 meters from Pangalisang Beach, Foursisters Diving & Homestay is a lodge with a very affordable price. Those who travel on budget will find this accommodation fit for them.
It features rooms, a restaurant, a shared lounge, and a 24-hour front desk for your convenience. The homestay also provides dive equipment. You can revel in the beautiful beach of Pangalisang only several steps away from your door.
Conclusion
Known as the most popular marine tourism in Indonesia after Raja Ampat, Bunaken National Park is a paradise for divers, traveler enthusiasts, and tourists to spend the great moment on its remarkable islands' attraction.  
To prepare for the budget, download Finansialku application to calculate easily. It's now available for both Android's Play Store and iOs AppStore.
Are you ready to enjoy Bunaken National Park? Share it with other people who love to delight in the Island' breathtaking appeal.
FREE Download! Financial Planning For 20's Ebook (Bahasa Indonesia)!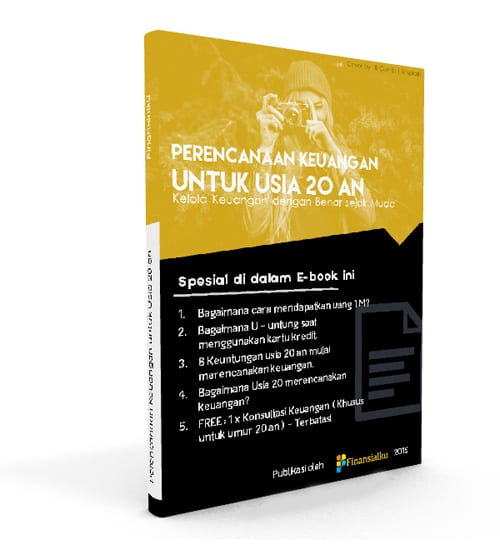 References:
Bilz. November 29th, 2018. Taman Nasional Bunaken, Pesona Bawah Laut Keren Abis. Nativeindonesia.com – https://bit.ly/33kGJS8
Admin. November 11th, 2019. Panduan Cerdas Eksplor Taman Nasional Bunaken. Mytrip.co.id – https://bit.ly/3gsdZuw
Rafika AR. Taman Nasional Bunaken, Wisata Alam Bawah Laut Cantik. Celebes.co – https://bit.ly/2XlhA6h
Admin. April 26th, 2017. Mantehage, Destinasi Ekowisata di Dekat Manado. Travel.kompas.com – https://bit.ly/3k7NuN0
Rachel. Bunaken Island, North Sulawesi. Allindonesiatravel.com – https://bit.ly/2PmbpKs
Admin. October 22nd, 2018. Pasir Timbul Pulau Nain, Sepenggal Surga di Sulawesi Utara. Kumparan.com – https://bit.ly/3ftXjle
Admin. Manado Tua Island. Indonesia-tourism.com – https://bit.ly/33lGCWK
Admin. Siladen Island. Indonesia-tourism.com – https://bit.ly/3fmWTgj
Image Sources:
Image 1 – https://bit.ly/31aOYOa
Image 2 – https://bit.ly/2Dr23KT
Image 3 – https://bit.ly/2Dr26q3
Image 4 – https://bit.ly/3i4F2wv
Image 5 – https://bit.ly/3goTeQi
Image 6 – https://bit.ly/2Xj5OJi
Image 7 – https://bit.ly/30r5Ukp
Image 8 – https://bit.ly/30mZtyt