Looking for some places to go in one of those popular places in Sumbawa? Check out here where to visit and stay when you are in Sumbawa!
Sumbawa
Getting in touch with the amazing natural attraction of Sumbawa Island will make the vacation for nature enthusiasts fascinating.
Escaping from the hectic life of working from 9 to 5 is in fact relieving.
And a good dose of nature view can be the antidote to free your body and mind from the daily pressures.
Strolling on the breathtaking sandy beach, climbing up to spot the incredible mountain view, or excellent surfing on the big waves of Sumbawa will make you forget your stress, and bring an uplifting sense during your holiday.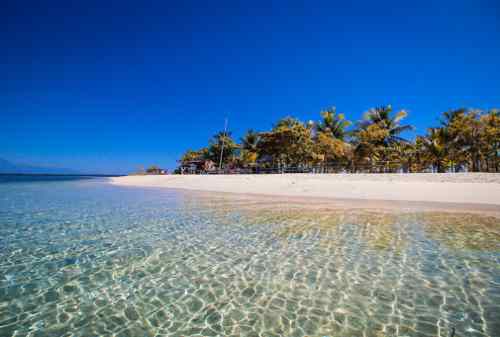 [Read Also: 5 Thrilling Things To Do In Wae Rebo Village]
Settled in the eastern Lombok, Sumbawa encompasses both popular appeals, and the new gem of nature to for anyone to take in.
If relishing in and exploring the remarkable view of nature are memories you want to create for your first trip in 2021, then Sumbawa is the right choice.
With its well-known waves, wild terrain, and unspoiled islands and beaches that come with the authentic culture of the local, the trip to Sumbawa will energize you with a rich experience of nature.
How to Explore Sumbawa
Geographically, bodies of water surround Sumbawa namely Alas Strait in the west, Indian Ocean in the south, and Saleh Bay in the north.
Add with its savanna-like climate and vast grassland, you get the typical environment that makes anyone want to visit the Island.
You also are guaranteed a thrilling experience as you go into the adventure of these six best tourist spots of Sumbawa.
#1 Climbing at Mount Tambora National Park
The super-colossal eruption that brought the whole planet into one of the longest winter seasons, was from this well-known mountain, Tambora.
A 7 km huge caldera is proof of how vast the eruption was, back in 1815. 
Tambora is 3.000 meters high, makes it the highest summit in Sumbawa. To set off your journey you'll need to start from Pancasila village where you'll need a guide. The hiking itself takes more than a day.
Some consider climbing as a sport, others perceive it as a contemplative journey.
So if you look for either a challenging activity or a memorable journey before starting your routine in 2021, climbing up Tambora is what you might need. 
As you hike through the trails, expect the array of breathtaking countryside views, fall-season forests, and high-landscape forests, the captivating savanna field, as well as the sense of excitement from camping before getting to the top.
Tambora Mountain National Park was officially designated in 2015. Besides hiking and camping, visitors can explore other adventurous activities ranging from jungle trekking, horse riding, off-road to river-tubing.
The national park is also a home for endemic species besides other species such as rajumas, and kukun.
You also can take in its natural water spots inside the park such as Oi Marai River in Kawindatoi village that provides you seven waterfalls along the river stream.
Address: Doro Ncanga Hiking Trail of Tambora National Park, Dompu Regency, Sumbawa
Ticket Price: Rp 150.000 (for non-local tourist) and Rp 5.000 (for local tourist)
Open: 24 hours
#2 Escaping to The Hidden Gem of Kanawa Island
Want to escape from the hustle and bustle of work to a remote Island in Sumbawa?
The idyllic hideaway of Kanawa Island is a perfect spot to be alone and enjoying yourself, far from all the noises in the city.
This hidden gem provides a shooting combination of the turquoise ocean and the sparkling white sands that blend naturally with the fine golden savanna. What a treat to spend a day, and night camping in this small paradise?
Not only that, you also can go snorkeling or swim in the crystal clear water of this uninhabited Island. Taking a short strolling along its pristine white sands while enjoying the ocean breeze is also relaxing.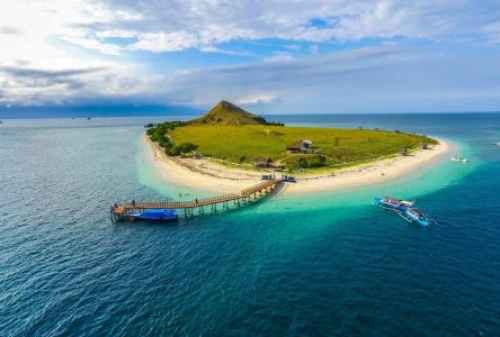 [Read Also: Recommended! 9 Places You Must Visit in Kuta Bali]
If you want to spot the best view of the savanna, make sure to come in the summer where the green grass already turned into golden color, make the landscape real stunning.
The dock is a great vantage point. If you need a collection of amazing natural photographs. You can take some pictures from this dock, there are a few palm trees, savanna, and wooden houses that bring out serene tranquility near the beach.
To reach Kanawa Island, cross the route from Poto Tano Harbour using a wooden boat of the locals.
Price: Rp 500.000/boat. The boat contains up to 10 people only.
#3 Travel Back In Time to Dalam Loka Palace
A building that established from hundred years ago, Dalam Loka Palace, is a legacy of Sumbawa Monarch. It is a good spot if you want to learn about the history of Sumbawa.
The palace is settled 3 km away from Sumbawa airport. Instead of nails, you will find that the building only uses wood to joint each of its parts, and it was made out of the best teak wood in its era.
This makes the palace become an earthquake-resistant, and it is still in a good condition after so many years. With 1.251 meters wide, the palace becomes one of the largest stilt house in the world. 
The house that faces the south symbolizes a looking-back to the past. It means that anyone can learn from the past to make a wise, and informed decision in the present.
Ticket: Rp 15.000/person
#4 Unspoiled Gem of Kalela Waterfall
Sumbawa indeed keeps the best and unspoiled natural gem that not many people know yet.
Situated in Jereweh Village, Kalela Waterfall is a new gem in Sumbawa that has a captivating panorama. It is 48 km away from Poto Tano Harbour.
The water in the pool has crystal clear turquoise water that blends harmoniously with the brown huge stones. A couple of aged roots are hanging near the stone.
You will walk through a row of rice fields before reaching this stunning gem.
As you arrive, soak your body in its freshwater pool while enjoying the adorable nature around you. What a mind refreshing treat it is.
The high cliff has hollow spaces that form small caves. Going inside through the curtain of the waterfall and get your waterproof camera to take this exotic view of Kalela Waterfall.
Ticket: Rp 15.000/person
#5 Visit the Stilt Houses in Bungin Island
Sumbawa not only has adorable beaches, and world-class surfing spots to revel in.
While you are there, take the chance to also visit the place where a variety of fishes and lobsters are cultivated in Bungin Island. 
Houses of the Island are built on water. If seen from above, the houses form a half-round shape that is facing against a mountain.
They are wooden stilt houses. And they look like floating on the crystal clear blue water.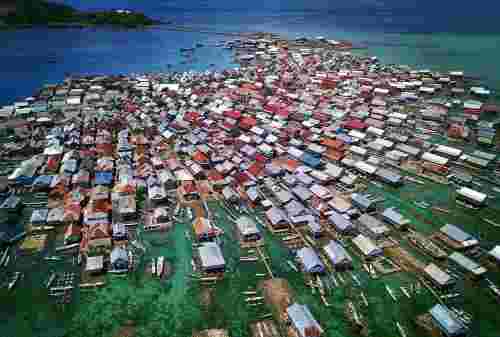 [Read Also: 6 Fascinating New Gems in Sumba Island Worthy of Exploration]
It is said that Bungin is the densest Island in the world. Almost all spaces on the Island are fully filled with houses, public facilities such as mosques, and docks to chain the boats.
Activities you can do to enjoy the Island can be learning how the locals cultivating the farm, mingling with the locals, strolling around, or capturing local's life near the sea with a camera.
Ticket: Rp 50.000/person
#6 Riding On Maluk Beach's Wave
For surfer enthusiasts, you should not miss the opportunity to ride on the world-class waves on one of Sumbawa best-surfing spot, Maluk beach.
The waves of Maluk beach is known as one of the best in Sumbawa. They can reach up to 2 m high. Many surfers will come in June and August to ride on the waves.
This explains why most of the hotel rooms around the area are fully booked during this time. 
If surfing is not your thing, you can still enjoy the scenic view of Maluk beach that has long white sands, or hike up to the tip of hills that surround the beach.
To reach Maluk you need to take a trip for 3 hours long from Sultan Muhammad Kaharuddin Airport.
Download Sekarang! Ebook PERENCANAAN KEUANGAN Untuk USIA 20-an, GRATIS!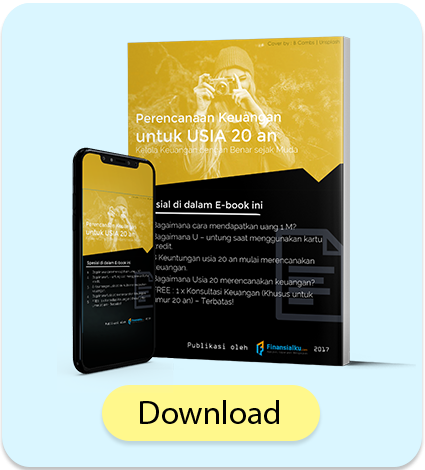 How to Get to Sumbawa
Sumbawa is settled in eastern Lombok. You need to reach Lombok first before getting to the Island.
From Denpasar, Bali that has more international flights than other places in Indonesia, book a ticket to Lombok International Airport. The plane ticket cost starts from US$ 25 or Rp 356.000.
But if you prefer enjoying the sea road, take a slow ferry from Pandang Bai Port, Bali, to Lembar Harbour in west Lombok.
The crossing takes around 5 hours. And It has a cheaper price of around US$ 4 or Rp 57.000, to Lombok.
As you arrive in Lombok, the easiest way to get to Sumbawa is via sea road. Go to Labuan Lombok, Lombok eastern seaport, and take a fast boat to Poto Tano Port in Sumbawa.
The crossing takes around 1.5 hours, and boats are available 24/7 except in bad weather.
Where to Stay in Sumbawa
Here are some comfy and well-appointed places that bring the experience of comfortable and cozy staying near lovely beach in Sumbawa.
If you travel with family or friends or you want to escape from the hectic and noise of the city, these hotels are for you.
Scar Reef Resort Taliwang
A wooden cottage surrounded by a lush green forest, Scar Reef Resort Taliwang is an eco-resort with a great beachfront view where you can surf its world-class, and still be able to enjoy the luxury accommodation.
The location allows you to get in touch with yourself and tune in with nature since it is settled in a remote island.
Embrace the solitude, and make yourself feel at home in this remote paradise.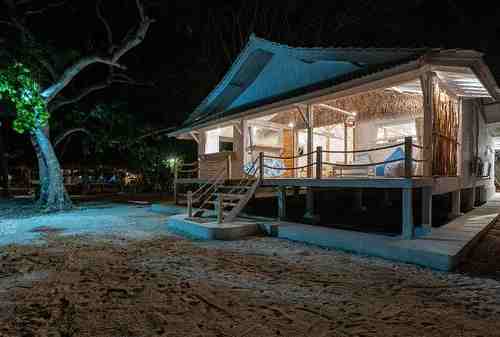 [Read Also: Way Kambas National Park, Home for Endangered Species of Sumatra]
The building comprises of 9 room types with well-appointed style, ranging from superior double or twin rooms to luxury villas.
Each room has air conditioning, Wi-Fi, TV, en-suite bathrooms with hot water, fresh towels and toiletries, safety boxes, and mosquito nets, all to make you rest satisfied and comfortably.
What a wonderful experience to relax in this hidden gem of a tropical paradise.
Address: Jelenga Village, Kecamatan Jereweh, Taliwang, Sumbawa
Contact: +62 812 39 80 48 85
Whales and Waves Beach Resort
Looking for a spacious room that offers you privacy and a calm ambiance to enjoy yourself?
Whales and Waves is an eco-friendly resort that offers you exactly that. The resort provides a family room type that is fit for family or group vacation. It features a large garden with some palm trees and a volleyball yard.
Your room is only a short walk from the beach and is equipped with air conditioning. You also can relax in its restaurant that has a delicate design of bamboo materials with an adorable view of the turquoise ocean.
The hotel also offers you fun outdoor activities from surfing, snorkeling, fishing, trekking, mountain biking.
Address: Kertasari, Whales & Waves, Taliwang Kertasari, Sumbawa.
Contact: +62 821 44 666 777
Myamo Beach Lodge
An ocean view lodge located in the gorgeous beach of West Sumbawa, Jelengah Bay, travelers will love the beautiful view of white sands and blue ocean, while the surfers won't hesitate to ride on its big waves.
Myamo lodge brings you a comfy experience near the beach.
Equipped with unique wooden furniture, the room featured air conditioning, a private balcony to enjoy the wonderful private ocean that is an only short distance from your room.
Other amenities for your convenient stay also available such as restaurant, airport transportation, beach, and canoeing equipment.
If you enjoy surfing and canoeing with the best view of the ocean this place is for you.
Address: Jelengah Bay, West Sumba
Contact: +62 823 4047 833; +62 823 414 482 42 (WhatsApp)
Conclusion
Letting go of stress, reenergizing, and relaxing body and mind through outdoor activities in nature do help boost your energy and mood.
A trip to the natural attraction in Sumbawa will help you create inspiring moment and good memories, a good way to start 2021.
Through Aplikasi Finansialku preparing your trip budget become a lot easier, and faster. Download it now. It is available in iOs, and Android versions. 
Download Aplikasi Finansialku Sekarang!!

Have you been to Sumbawa? Tell us your story!
Also, who are other people you want to take with you to Sumbawa? 
Reference:
Primadita Rahma. April 18, 2019.13 Wisata Sumbaya Besar dengan Daya Tarik yang Mengagumkan. Tripzilla.id. https://tinyurl.com/yc6s9gdg.
Image Sources:
Sumbawa 01 – https://bit.ly/3omR1sM
Sumbawa 02 – https://bit.ly/397F9ob
Sumbawa 03 – https://bit.ly/3nqjxIt
Sumbawa 04 – https://bit.ly/38iNKFh
Sumbawa 05 – https://bit.ly/39eLX3s
Sumbawa 06 – https://bit.ly/399ijML
Sumbawa 07 – https://bit.ly/3oqaYPe
Sumbawa 08 – https://bit.ly/38jTgat
Sumbawa 09 – https://bit.ly/397ZObt
Sumbawa 10 – https://bit.ly/3nmUc2r
Sumbawa 11 – https://bit.ly/3pXAV9e